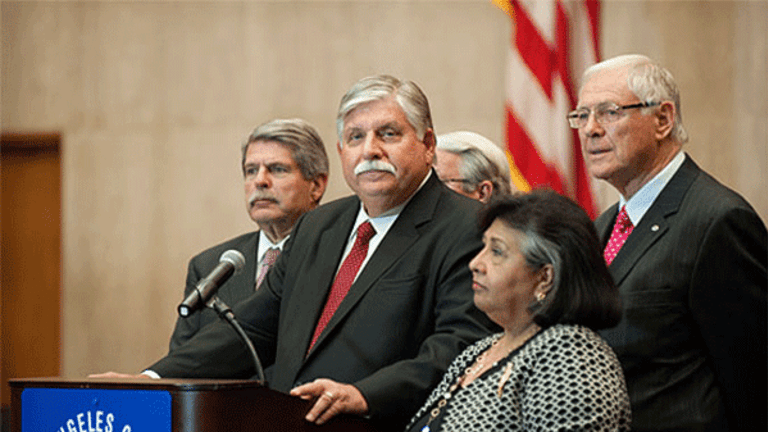 New Sheriff in Town—For Now
Sheriff John Scott -- The truth is many of the problems that now face the department precede Baca.
Los Angeles County Sheriff Lee Baca stepped down today. In so doing, he kept his word. He is now part of the department's past and not its future.
He leaves behind a scandal-ridden department that is at the center of three federal probes, including two civil rights and one criminal investigations.
But the truth is many of the problems that now face the department precede Baca. The gang-like deputy cliques excessive force by deputies on patrol and the jail house violence date back decades.
In fact, the ACLU of Southern California sued then-Sheriff Peter Pitchess more than 30 years ago over conditions in the jails—conditions that a federal judge concluded were unconstitutional and inhumane.
Since then, we have continued to denounce the abuses that take place in the nation's largest jail system. The sheriff has dismissed our findings each time, even when confronted with more than 70 affidavits from victims and eyewitnesses, including chaplains and an ACLU monitor, who witnessed brutal beatings of inmates.
Baca's departure and the arrival of John Scott as the interim sheriff of the department is an historic moment. This change could finally result in transformation of the culture of a department that has for too long prized loyalty to the top brass over honesty and accountability.
Scott has pledged to push for much needed changes during his 10-month tenure. He isn't the first to offer such promises. Baca also vowed to usher in a new era of policing when he took over.
We look forward to working with Scott to implement many of the vital recommendations the ACLU and the Citizens' Commission on Jail Violence have made. Those reforms include greater transparency when dealing with complaints of deputy misconduct and adoption of clear rules on use of force and a zero tolerance policy towards deputies who fail to follow the rules, or who lie to protect their fellow officers.
We also urge Sheriff Scott to take the lead in dealing with the long-festering problem of jail overcrowding by, among other things, pushing the Board of Supervisors to give him the authority to release on electronic monitoring pre-trial detainees who pose no risk to public safety.
That authority, which the Orange County Board of Supervisors has already given its sheriff, will help relieve jail crowding, allow for the long-overdue closure of Men's Central Jail, and minimize the need for unnecessary and expensive new jail construction.
Of course, much of the work can't be finished in 10 months, and will require the cooperation and commitment of the next elected sheriff. He or she will be tasked with ensuring that the department doesn't revert back to business as usual.
The LA Sheriff's Department has become a national example of law enforcement gone wrong. Scott and his successor can change that sorry example and make it a department that demonstrates real reform is possible, if only they seize this rare opportunity.
Hector Villagra
ACLU SoCal Executive Director