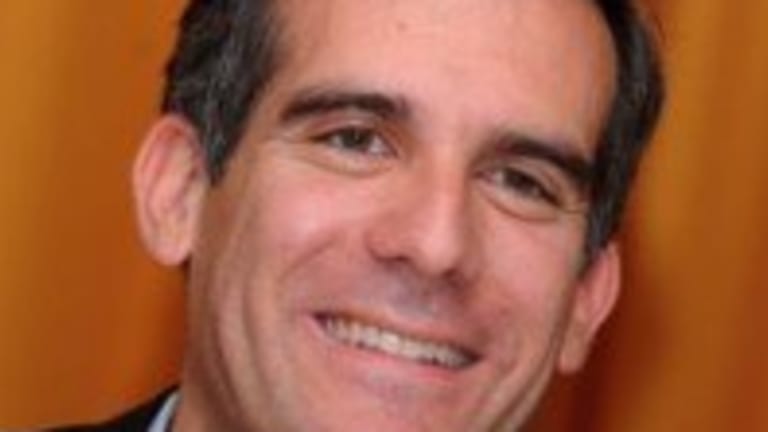 Why I Support Eric Garcetti
Jan Tucker: With Wendy Greuel's track record, I have no confidence whatsoever in her ability to make the right choices for administration and public policy in Los Angeles. I have the confidence in Eric Garcetti that something will get done
My first choice for Los Angeles Mayor was Jan Perry, but Eric Garcetti was by far and beyond my second choice over Wendy Greuel. I could analyze and re-analyze where the two stand on issues just like every other self-appointed pundit in town, but as my readers know, I much prefer to deal with original facts and experiences that you're not going to find anywhere else.
One of the key reasons I'm NOT supporting Wendy Greuel is because of the City Controllers Office—and her role personally—in spending hundreds of thousands of dollars on questionable and even outright bogus prosecutions concerning the Parking Occupancy Tax. After attempting to obtain a tape for months (the audio tapes of the Commission On Revenue Efficiency, CORE) which was in limbo while being transferred to the custody of the Los Angeles City Clerk's office, I finally got my hands on the audio of a hearing in which the Office of Finance, the Police Commission, and the City Attorney's office all made presentations about the administration of the Los Angeles City POT (Parking Occupancy Tax). There are about 23 more audio tapes I may have to peruse until I find the specific testimony I'm looking for (more about that shortly), but in the meantime what these three city departments said in the hearings are actually less interesting than what I know that they either knew or should have known and didn't bother to tell the commission.
After listening to hours of testimony before CORE commissioners, here's what I didn't hear that I should have heard if those departments were intent upon being fully forthcoming. As has been many times repeated, "The cruelest lies are often told in silence". – Robert Louis Stevenson:
The Office of Finance claimed that it supposedly does not refer cases to the City Attorney for collection or criminal prosecution until it has completed an internal office review with the taxpayer; in the most egregious case which CORE commissioners specifically queried about, the city employee charged with working the case out retired, moved to Arizona, nobody bothered to inform the company which was trying to work out differences over what was owed, and then without warning the City Attorney charged the company and its president in criminal court. Nobody from either the Office of Finance or the City Attorneys office owned up to this behavior to the commissioners.
The Office of Finance claimed that they send out tax assessments to the taxpayers which the taxpayers then have an opportunity to contest. Conveniently, they didn't bother to admit to the fact (I have personally witnessed the documents, the mailing dates, and accompanied the company representatives to the Office of Finance which could come up with no rational explanation for this and made no effort to fix the problem) that the City of Los Angeles contracted with a Sacramento mailing house to send these tax notices. That mailing house saved up the assessment notices for months at a time and then sent them all in bulk to the taxpayer well after the date that they were allowed to contest the assessment.
When a taxpaying company for the POT no longer owns or operates a parking lot, they are supposed to send in a change notice. Those change notices would go to a post office box of the City of Los Angeles. During court testimony though, not one single Office of Finance witness was able to say who picked up and processed or how those change notices were processed. The company that was being prosecuted, as just one example, had been charged by the Office of Finance for years no matter how many notices they sent in for tens of thousands of dollars a month for the purported parking lot which was in fact the construction site for the new Los Angeles Police Department headquarters, which now houses the unit of the Police Commission which is supposed to grant police permits for the operation of that very location as a parking lot. My contention that the Office of Finance, Police Commission, and City Attorney knew or should have known that the construction site of the Police Headquarters really is an accusation that demands an answer!
Now for the $64,000 – er – make that $65 million question – is, how did the City of Los Angeles, specifically, Wendy Greuel, have the chutzpah to accuse my client, Prestige Parking, Inc. at a press conference (not to be confused with other companies with similar names) of owing $65.1 million in POT right in the middle of a criminal trial over the issue. According to the Los Angeles Downtown News (July 24, 2009):
Tops on the list is Prestige Parking Inc., which operates about 30 parking lots throughout the city and is headquartered in Downtown. The list said Prestige owes $65.1 million [later upped to $72--JBT] in parking occupancy taxes, though company representatives strongly dispute that.
and:
Names do not go up just because of a late bill. Christovale said delinquent taxpayers are sent a certified letter advising them that they have 30 days to settle or pay their debt. Those who do not respond or begin to negotiate a settlement are then posted on the list. Consequences for non-payers can include added penalties, interest and the loss of their business license, Christovale said.
As I have explained, what Christovale claims happens doesn't really happen. Prestige Parking was in the middle of negotiating with the City – or thought it was while the guy they were negotiating with retired and moved to Arizona – when the City chose to prosecute them criminally.
To get up the gumption to make this accusation—announced by Wendy Greuel personally at a press conference—first, she had to have a way of fabricating the figures. Unless you put $65-$72 million dollars on a single company, she had no way of getting to at least over $100 million that she could blame on "tax scofflaws" to be used as scapegoats for the City budget deficit. These figures were also thrown into contract negotiations with City unions to lay the blame for deficits not on real waste, fraud and mismanagement, but on falsified city financial records showing higher tax receivables than actually existed. How do I know……?
Source Number One (SNO) who I interviewed a couple of years ago is a whistle blower employed by the City of Los Angeles. According to SNO the enormous figures that Wendy Greuel publicly accused Prestige Parking of owing to the City was generated by a "glitch" in the computer programming of the Office of Finance. At least one or more city employees had offered to fix the glitch and were ordered not to fix it. Based upon my interview of this whistle blower I sent a California Public Records Act request to the City (see below) and received the following:
Request:

All writings constituting memoranda, reports, notes, cmails, and/or any other communications to and/or within the Office of Finance concerning and/or recommending changes, fixes, and/or corrections to the algorithm, logic (including but not limited to prepositional calculus and/or rules of inference), algebraic equation, mathematical calculus or other methodology used to calculate parking occupancy tax delinquencies authored by:

(a) employees of the City of Los Angeles

(b) independent contractors of the City of Los Angeles

(c) elected officials of the City of Los Angeles

Response to Request #3: The Office of Finance was unable to locate any records that are responsive to Request #3.
Source Number Two (SNT): SNT was an employee of CORE (Commission On Revenue Efficiency, as discussed above). According to SNT, the response to my CPRA request is non-sense because there was a deliberate methodology used by the Office of Finance designed to produce the maximally false POT figures to be levied against Prestige Parking. The Office of Finance computer program was intentionally set to produce a figure under the assumption that all of Prestige's parking lots were full up 24 hours a day, 7 days a week and everybody who had any interest in the matter in the Office of Finance, the City Controller's office and the City Attorney's office had to know that little tidbit. SNT told me that this emerged during testimony to CORE which is contained in one of the 23 other audio tapes that I have yet to listen to.
Another way that Wendy Greuel helped to generate these phony figures was by the Controller's Office hiring complete incompetents as "Investigators." For example, one "Investigator" who refused to be interviewed by me during the criminal trial proceedings, used to be an IRS Criminal Investigation Division (CID) special agent but left federal service well before staying long enough to get his 20 year pension…..something nobody does unless they're incompetent and about to be fired. He went into private practice for a couple of years as a certified fraud examiner, couldn't make it in the private sector, and went to work for the City Controller. Why the city would hire somebody who couldn't hold a job with the IRS or make it in private practice is beyond me, but they wound up with a guy who wound up testifying that he destroyed the notes he made of his investigation of Prestige.
The notes he destroyed included his notes of a surveillance of a Shell Gas Station at 3201 Wilshire Blvd (Los Angeles CA 90010). His destruction of his notes was convenient because in his sworn testimony in court, he tried to justify why the Office of Finance was assessing tens of thousands of dollars per month on the location even though there was no evidence that Prestige ever owned, operated, or had anything whatsoever to do with the location. Incidentally, this location was about three blocks down the street from an Office of Finance unit and personnel there refused my invitation to walk or drive down the street so I could prove to them that the figures they were generating against Prestige Parking for 3201 Wilshire were obviously bogus. This City Controller "Investigator" also refused to be interviewed by me prior to the criminal trial, something which is his right, but which is also a ground for impeachment of him as a witness since refusal to be interviewed by either side demonstrated his bias against the defense.
While the City was busy fabricating receivables it knew didn't really exist and pretending that so-called tax scofflaws were to blame for the City's budget deficit, Wendy Greuel's Controller's Office was letting very serious real troughs of money "fall through the cracks" in its audits. As the Los Angeles Times recently pointed out:
Laura J. Nelson, Los Angeles Times May 9, 2013, 10:33 p.m.

During years of cuts to basic services, Los Angeles city officials say, nearly $43 million piled up unnoticed in a Department of Transportation fund because of an accounting error.

The discovery of $42.6 million will be a welcome one-time infusion into next year's budget, officials said, but has left them worried that other such funds may still be undiscovered.

Had the money been discovered sooner, it might have added a few million dollars annually to the city fund that pays for police, fire and other basic services during years that city employees were forced to take furloughs and pay cuts.

"It frankly makes me a little concerned about what other costs aren't being accounted for," City Councilman Paul Krekorian said during a budget meeting Wednesday. "$42.6 million is a lot to fall through the cracks."
The Bottom Line
With Wendy Greuel's track record, I have no confidence whatsoever in her ability to make the right choices for administration and public policy in Los Angeles. I have the confidence in Eric Garcetti that something will get done and frankly, I'm confident that his performance has to be a major improvement compared with Antonio Villaraigosa. Eric has pledged to ask all city department heads to re-apply for their jobs…..that's a great start especially when it comes to the Office of Finance. Wendy Greuel couldn't possibly do that with the Office of Finance because their administrations have been thick as thieves, quite literally, and lord knows who in the Office of Finance knows what other bodies are buried in the City Controller's office.
Jan Tucker
May 13, 2013
Republished with Author's Permission
To read this post in it's entirety go to: The Detective's Diary