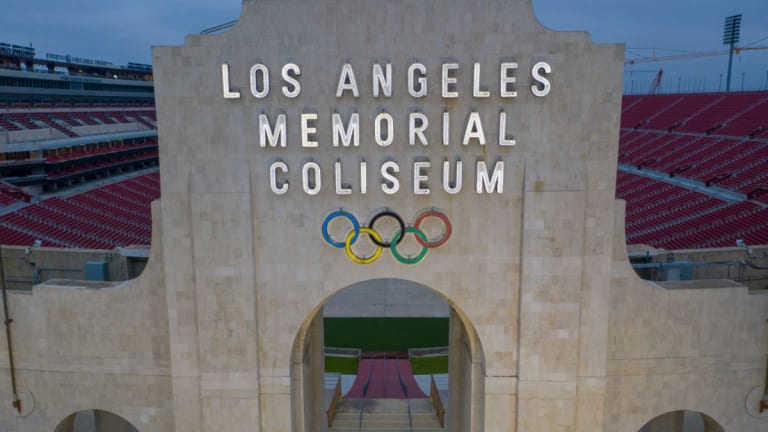 The Olympics Offer a Chance to Create Real Change
Bobbi Murray: In 2000, Sydney, Australia used the Games to enact environmental remediation, cleaning up a toxic waste site among other improvements.
Will L.A.'s 2028 Olympic Agreement Address Homelessness and Jobs?
Few Angelenos are thinking about it yet, but seven years from now, the 2028 Olympics are on track to arrive in L.A. It could cost the city billions — a Los Angeles City Council committee in 2019 estimated a $6.9 billion public expenditure. As the city approval process quietly moves forward, voices from various constituencies — labor, advocates for unhoused L.A. residents — are asking what public investment is required, where money gets spent and what the city gets back.
A pending city council vote would approve the Games Agreement that outlines budgets and city costs and affirms a contract between the city and LA28, the nonprofit body representing the International Olympics Committee (IOC).
But recently, the Los Angeles Olympics push has stalled. The city council's vote to approve the contract, scheduled for Nov. 1, has been postponed — with no word yet on when the multimillion dollar deal will come up for a vote, or what will be in it.
In 2000, Sydney, Australia used the Games to enact environmental remediation, cleaning up a toxic waste site among other improvements.
The City Ad Hoc Committee on the 2028 Olympics, chaired by Councilmember Mitch O'Farrell, was until recently in negotiations with LA28. O'Farrell "plans to schedule a committee hearing as soon as the draft [of the agreement] is transmitted to the City Council — which has not yet occurred," read a statement from his office.
LA28 is loaded with such luminaries as entertainment executive Casey Wasserman, former Walt Disney Studios chair and DreamWorks co-founder Jeffrey Katzenberg and Jeanie Buss, controlling owner and president of the Lakers.
Most Olympic cities bet on public investment to boost tourism and the shopping and spending that visitors can bring. The selling point for public expenditures is a projected boost in visitors and jobs, so it is noteworthy that last week, UNITE HERE (which represents workers in the hospitality industry) Local 11 filed a lawsuit under the California Public Records Act demanding the city council respond to questions about the process and provide details.
Local 11, representing 32,000 tourism workers in the Los Angeles region, wants to get particulars on public investment in the Olympics and what the returns will be in terms of job standards for those working in arenas and hotels. The L.A. tourism industry generated $22 billion in revenue from hotels, restaurants and shopping and more than a half million jobs in 2019, according to the Los Angeles Tourism and Convention Board. An Oct. 12 union event on City Hall steps called for transparency.
"What are they basing the agreement on?" asks Kurt Petersen, co-president of UNITE HERE Local 11.
"These Games should transform Los Angeles into an Olympic city where people can live with one job, with housing they can afford," he says.
"My guess — obviously I haven't seen it — is that there's nothing in there about the quality of jobs, or how the Olympics are going to help be a solution to the housing crisis," Petersen says of the pending agreement between the city and the IOC.
The affordable housing piece may be of particular interest. AirBNB has been in an agreement with the International Olympics Committee since 2019.
What's known is that short-term rentals have exacerbated L.A.'s crowded and expensive housing market — according to a 2017 city of Los Angeles analysis, short-term rentals can reduce the availability of long-term homes by 6,000-10,000 units. That's because it can be more financially friendly for landlords to do several short-term rentals a month for tourists rather than rent to a single tenant long term.
The California state budget transportation plan for 2021-2022 puts it right out there — public investment is intended to "help complete high-priority projects to move people throughout the state seamlessly in time for the Los Angeles Olympics in 2028." An expansion of LAX will include a new concourse and terminal, add parking and more roadway construction. A new transit line is under construction to connect L.A. visitors with other transportation facilities.
Security issues have haunted big city events since 9/11. L.A. has established a memorandum of understanding with the California Olympic and Paralympic Public Safety Command, a cooperative constituted by the city, the Los Angeles Organizing Committee for the Olympic and Paralympic Games 2028 and the California Office of Emergency Services that will help coordinate law enforcement on the city, state and federal level during the Games.
Two council members — Mike Bonin and Nithya Raman — opposed the Public Safety Command, concerned about its reach.
There's a precedent for concern — the public expenditure on security for the 1984 Olympics in Los Angeles included bomb-sniffing dogs, the National Guard and the FBI. While the federal government forked over for about half the cost, taxpayers were certainly on the hook for the rest of what the New York Times called the "security net," the largest and most expensive in peacetime.
The 1984 Games saw what's become a common approach to the homeless, one the Los Angeles Police Department described at the time as "trying to sanitize the area." During the 2016 Rio Olympics there was a draconian campaign to transport homeless residents far from where tourists could see them.
None of the specifics regarding public investment in jobs or treatment of unhoused residents for the 2028 Games have yet been publicly addressed.
"When the draft agreement comes before our committee and then the full Council, I'll be looking for key elements including: local hire provisions, ample small business involvement, a thoughtful and inclusive approach to arts and culture, comprehensive insurance policies and environmental impact protections," Councilmember O'Farrell's office said in a comment.
John Rennie Short, author of Hosting the Olympic Games: The Real Costs for Cities, says the oft-cited claims of a public return on public investment don't generally hold up. "All the studies say that actually it is a bit of a wash," he attests.
Short is no fan of the IOC — in a clip from NBC News he calls it a small, nontransparent, private organization that should be abolished. "The IOC just wants to make money. They don't really care about the city, to be honest," he declares.
Atlanta never recovered from hosting the 1996 Olympic Games, Short says. "Huge congestion. You had the knocking down of low income African American communities, public funds to rebuild the Atlanta Braves baseball stadium for a millionaire who never really needed any public money. Atlanta was what could definitely go wrong."
But in other cases deliberation by local governments resulted in creating social equity. What it took was strong fiscal management, he says.
In Sydney, Australia, in 2000, the city used the Games as a way to enact environmental remediation. "The city cleaned up a toxic waste site and basically got a brand-new suburb," Short says.
He calls the 1992 Barcelona Summer Olympics "a great success story of how you can leverage hosting the Olympics. The city plan was about general city improvement with an eye toward who benefits afterwards."
Dan Flaming is president of the Economic Policy Roundtable and has worked on community development and housing issues for decades. "I'd like to see responses to homelessness that aren't simply cosmetic, responses that would provide stable and ongoing solutions" — trash collection, city access to showers and bathrooms, rent subsidies — not to mention investments in affordable housing.
A lot of the money that typically comes in goes into capital investments in Olympic facilities — to build or adapt them, he says. Flaming observes that public debt builds up on investment in one-use venues. The IOC calls on localities to provide state-of-the-art venues for various sports. "My concern is that they've always been demanding it in the past — they probably are demanding it now," he explains.
Instead, some of the investment might better be directed toward the most visible image of Los Angeles, he says. "When we're going to show our face to the world, we may want to up our game about homelessness."
Bobbi Murray
Capital & Main