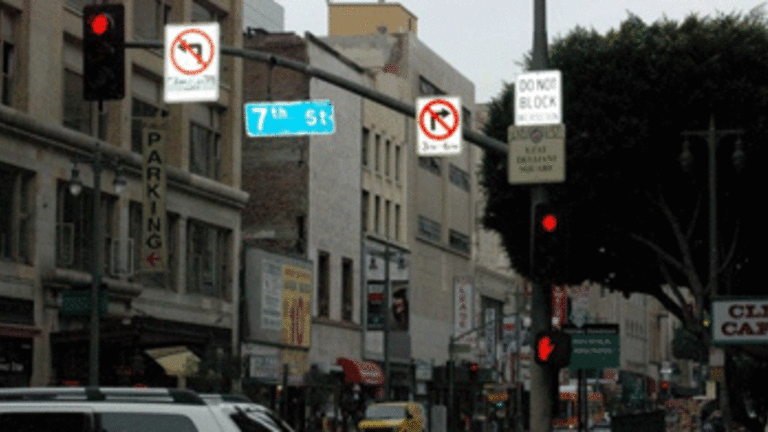 LAPD Loses Downtown Ticket Trap
Dan Bluemel: Thanks to one Angelino, who braved police intimidation in the process, downtown Los Angeles is now without a needless ticket trap.
An incorrectly placed traffic sign, as unimportant as it may seem at first glance, can cost motorists hundreds of dollars in fines. However, thanks to one Angelino, who braved police intimidation in the process, downtown Los Angeles is now without a needless ticket trap.
The intersection of Seventh Street and Broadway used to be a favorite spot for police to pick up easy citations from northbound motorists attempting to turn east. The two hitherto-posted "no right turn" signs were in effect daily from 3 to 6 p.m. According to D.J. Prator, the downtown resident who advocated the removal of the sign, sometimes as many as 20 tickets a day were being written.
The site was so lucrative that often two motorcycle cops would work together, taking turns stopping motorists. Sometimes police would stop up to four motorists at a time, says Prator.
Had the sign been posted to ensure the safety of motorists or pedestrians, then the citations would have arguably been for a good cause, but according to the Los Angeles Dept. of Transportation, no records could be found as to why the sign was ever posted in the first place.
Each citation written would cost the offender $234, a hefty sum for a neighborhood that has a median income of $15,003, according to the Los Angeles Times. It is very possible, considering the number of people cited on a daily basis, the "no right turn" sign made the city over $800,000 a year.
Prator first became aware of the ticket trap in July when he observed a jewelry store employee warning motorists not to make the right turn onto Seventh Street.
Having never observed the sign before, he walked around the area to see if there were any similar "no right turn" signs. There were none. The anomalous sign made him suspicious.
"[It] seemed like a little set-up or something," he says. "That's what I thought of it at the time. So I decided to delve into it further and do some investigating."
Prator assembled some rough statistics based on his observations while watching the street corner. Within three hours he witnessed 52 illegal right turns. The far majority of motorists – over 70 percent — were Hispanic. He began to suspect a racial motivation, but without evidence, he admits, he couldn't prove anything.
"I just felt it was a legal form of profiling," he says, noting the tickets were being written for people heading east, not west toward the jewelry district.
Most would not consider protesting a traffic sign as the most exciting kind of activism. However, a little drama was kicked up when Prator began alerting motorists nearly every day between 3 and 6 p.m. of the sign and the motorcycle cops in waiting.
"Sometimes they would get by, but, man, I stopped a lot of citations," he says.
Though Prator was preventing people from making illegal right turns, which most would consider is a good thing, at the same time he was drying up an easy source of almost infinite traffic tickets for the cops, which they did not see as a good thing.
On Prator's website, 7th-and-broadway.com, he documented his encounters with police. While taking photographs of the many police stops he observed, an officer told him he was not allowed to take pictures of police. Knowing that was not true, Prator held his ground.
The officer then told him he was blocking the sidewalk and threatened to take action against him. Later, the same officer told him the police were receiving complaints from business owners that he was blocking the entrances of their stores.
None of these excuses to get rid of Prator worked. He kept observing, warning people and taking photographs. However, Prator lost his cool, he admits, when the officer told him they had received a call that he had been taking "inappropriate pictures of little girls."
"Oh, when he said that, I went off on him," he says.
Fred Mohamdy, an employee of L.A. Girl, a jewelry store at the corner of Seventh and Broadway, witnessed the harassment. (Mohamdy is the man that Prator saw originally warning people not to make the illegal right turn.)
"He never bothered anyone," he says. "He didn't take any pictures of little kids. He was doing a good thing. People can't afford that kind of ticket."
One motorcycle cop had driven up onto the sidewalk just to tell Prator to "stop doing his job." This was witnessed by George Rodriguez, another store employee who works at Royale Jewel Co, which is located at the opposite corner to L.A. Girl. This same officer, says Prator and Rodriguez, became frustrated by Prator's efforts and began pulling motorists over, whether they made the illegal right turn or not.
"The motorcycle [cop] pulled very close to the car," says Rodriguez while relaying one story. "The police didn't let the car go straight. The police gave a ticket, even though he didn't do anything."
That went on for a week. Prator has no idea what citations were being written on these motorists, but figured the cops behavior was another attempt to discourage his campaign.
"I didn't let it deter me," he says. "I just kept coming out there, and then slowly but surely the police presence started to dissipate."
The "no right turn" sign at Seventh Street and Broadway was posted in 1997. Numerous complaints were filed over the size of that sign, thus in 2004, an additional, larger sign was posted at eye level.
Prator notes, however, that despite the change, it was still hard to observe the sign because busses could easily obscure it. This generates some anger within him over police taking advantage of the situation.
"They just sat there and enforced it, and they would have enforced it for another 10, 15 years if someone hadn't come along and said something about it," he says.
Prator, 57, has lived in downtown for 15 years — about as long as the "no right turn" sign had been posted. He never got involved in any activist organizations or activities. He says his motivation for fighting the traffic sign was based on an experience he had with the LAPD in 2007.
While down on his luck and needing cash — he was $10 short on his phone bill — Prator went to the Staples Center to sell three plush toys he had for five dollars each. He figured that would be enough to settle his debt and give him a little extra spending cash. Instead, it earned him three days in jail.
The police said he was an "illegal merchant." Prator says he pleaded with the cops to warn him and let him go based upon his good record, or at the very least, write him a ticket, but failed. The experience, which he documents in detail on another website of his, unnecessary-arrests.com, made a lasting impression on him.
"It just totally changed me," he says. "I just don't have the respect I used to have for law enforcement."
However, he acknowledges that the negative event had a favorable side effect.
"When I see an injustice now, I kind of act on it," he says. "I just don't walk by or ignore it. I definitely felt that "no right turn" sign was wrong, especially the way the police just sat up there like they're at a picnic waiting for the car to come to them."
Prator reached out to several city officials about the traffic sign, but none replied. It wasn't until he inquired with the Dept. of Transportation that things began to turn around.
On Oct. 30, Prator received an email from Mehrdad Moshksar, a transportation engineer with the department, stating the sign would be removed.
"We have now completed our investigation which included checking old records, available in our office with no luck of finding any records of the original installation which took place more than 15 years ago," he wrote.
Though Moshksar told Prator to allow some time for the sign to be removed, surprisingly, it was taken down the next day.
His success has made Prator a bit of a star amongst a few store employees at Seventh Street and Broadway. Rodriguez, acknowledging the risk Prator took to warn people of their possible citation, calls him a hero.
"He is something special," he says. "He protected the people."
For Prator, victory was its own hono "It is like the most rewarding thing I've ever done in my life," he says. "I felt like I really accomplished something; I felt whole inside. It was just a wonderful feeling."
Dan Bluemel
LA Activist
Posted: Monday, 12 November 2012