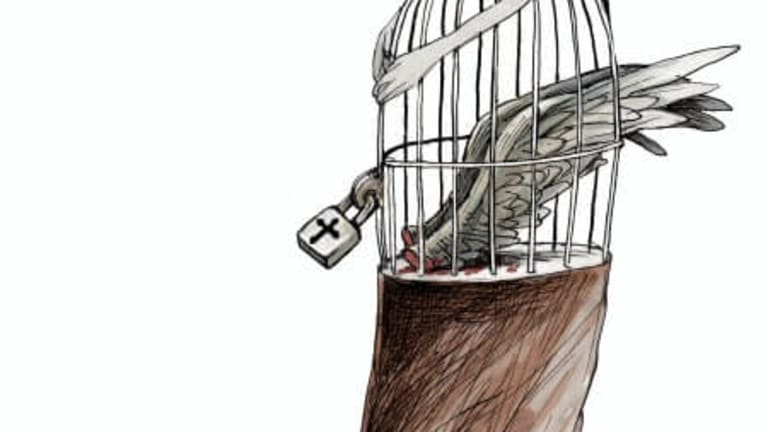 Dear Mister President: Your Abortion Spreadsheet Takes the Cake
Dan Embree: The clear winner is E. Scott Lloyd. His penchant for controlling women made him a zealous crusader against abortion and contraception and qualified him as Director of Refugee Resettlement
Dear Mr President,
I am proud to announce that results of the Third Annual Trump Administration Creepoff are in at last.
An early lead was taken by White House reptilian and Trump whisperer, Stephen Miller, who always gets extra points for his combination of Jewish ethnicity and fascist leanings. But after his declaration on CBS that "the powers of the president . . . will not be questioned!" he was confined to barracks and faded from view.
Last year's stand-out, Jared the Silent, has been so silent lately that had he not been filmed sharing a laugh with notorious cut-up Mohammed Bin Salman over the fate of Jamal Khashoggi, he would not have made the Final Four.
A late surge for Secretary of Labor Alexander Acosta was bolstered by the almost forgotten story of his non-prosecution agreement, while US Attorney in Miami, with billionaire child-predator Jeffrey Epstein, who was allowed to plead guilty to two state counts of prostitution, despite an extensive FBI investigation that documented about 50 girls, some as young as 13, whom he seduced and made to perform at parties. That much looks like just plain corruption. The creepy part is that Acosta wasn't even invited to the parties.
But the clear winner is E. Scott Lloyd. His penchant for controlling women made him a zealous crusader against abortion and contraception and qualified him as Director of Refugee Resettlement – the agency charged with, among other things, confining (and not resettling) girls arrested at the border. He forbid abortions for girls 12–17 who were pregnant, often from rape. And he had spreadsheets prepared and constantly updated with dates of pregnancy, how it had occurred, whether it had been consensual, and most important, details of menstrual cycles, so he could calculate when abortions would become illegal.
The courts have overruled his abortion ban. The spreadsheets were not destroyed, but he is forbidden to view them except in the presence of a secretary.
Dan Embree
Received by the White House at 12: 25 AM EST, 19 April 2019