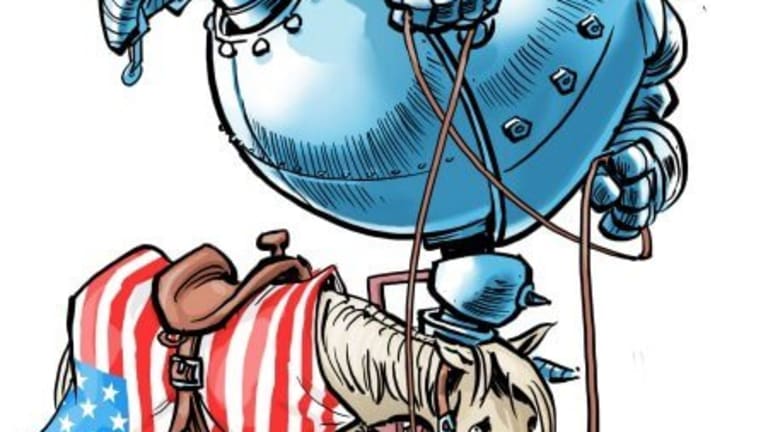 Dear Mr. President: About Your New War
Dan Embree: "First, we'll have a parade. All wars start with a parade. These guys march, and those guys ride horses. I'll be on a horse."
Friday, 6 April 2018
Dear Mr President,
This is from this week's Western Flicker.
Washington. Trixie Gavilan, Immigration Reporter – When I arrived for my scheduled interview, C of S Kelly said the president was out in the Rose Garden. "He goes out there to clear his head. It certainly helps to clear ours."
I found him on his knees in freshly dug ground.
"Excuse me, Mr President, we had an interview? Are you planting new roses?"
"No time for roses! We're at war! I had them dug up to make space for military exercises. No photos! Top Secret!"
I noticed an Amazon box the size of a steamer trunk, filled with toy soldiers, which the President was arranging in rows.
"First, we'll have a parade. All wars start with a parade. These guys march, and those guys ride horses. I'll be on a horse."
"First, we'll have a parade. All wars start with a parade. These guys march, and those guys ride horses. I'll be on a horse."
"I don't think they use horses much any more, Mr President."
"Yes they do! Yes they do! You can't have a parade without horses."
"I see. But you know, those don't look like modern soldiers. Their uniforms are kind of old-timey – like maybe Spanish-American War."
"Exactly! Because I'm fighting the Spanish caravans coming up from Cuba. And we're the Americans. A hundred percent!"
"I think they're just civilians from Honduras."
"Whatever. From some shit-hole. Not their best people. Rapists and welfare queens. Anyway, these matches stuck in the dirt are the wall. You can see through it, which is very important. Over here is the Iowa National Guard. Over there in the red coats are the caravans. But no camels. Amazon didn't have camels. I'm going to destroy them."
"The camels?"
"No, Amazon." He waved a toy plane in an arc. "Eeeiiiooow . . . kaboom!"
"Very impressive. But why do the planes have one wing on top of another."
"That's back-up. And here are my tanks. I'm going to hide them behind this rock, see, and then they'll spring out as a surprise."
[dc]"W[/dc]ell, Mr President, I've got a deadline. Good luck with your war."
But he was lost in thought, pushing a tank around. "Brrruumm, Brrruumm!"
Dan Embree
Received by the White House at 4:24 AM EST, 6 April 2018