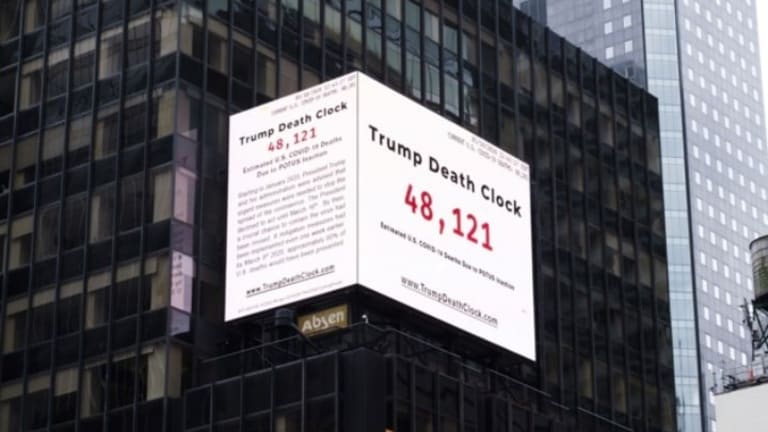 There's a Public Health Strategy for Beating Covid-19
Paul Rosenberg: Donald Trump is the epitome of what it looks like when you no longer have a democratic process at work.
But America Isn't Following It
Pulitzer Prize-winning science writer Laurie Garrett, author of The Coming Plague and similarly-themed books, made two attention-grabbing comments the first week in May.
Appearing on Pacifica's Democracy Now! on May 6, she warned that the COVID-19 pandemic could last 36 months as a best-case scenario. "36 months is my best-case scenario," Garrett told host Amy Goodman. "Worst case is that it becomes a new permanent feature on the landscape for generations to come."
Then, on MSNBC's The Last Word, she warned that we don't have a national strategy to deal with COVID-19, in part because we've lost the distinction between strategy and tactics.
"Anybody's who's ever been in the military knows the difference between strategy and tactics. Most people in sports know the difference between strategy and tactics," Garrett told host Lawrence O'Donnell.
Donald Trump is the epitome of what it looks like when you no longer have a democratic process at work.
"But somehow when it comes to national policy, we've completely eliminated that distinction," she said, and almost all our attention was focused on tactics.
Both comments hold germs of truth, but there actually is a successful strategy for dealing with COVID-19 in the short term, until medical treatments are developed, and there's a 4-pronged strategy on the medical treatments from the National Institute of Allergy and Infectious Diseases, headed by Dr. Anthony Fauci. Getting a vaccine is just one part of that strategy. What's more, there's even an existing (if badly underfunded) forward-looking strategy to seek out and fight zoonotic viruses like COVID-19 in the wild animals where they originate.
The problem is, Donald Trump's disastrously incoherent response has continually undermined the short-term strategy, thus placing too much weight on the medical treatment strategy in a too short time-frame.
With just over 4 percent of the world's population, the U.S. has almost a third of the COVID-19 deaths. A very conservative estimate of the costs of Trump's mismanagement — only capturing excess deaths from a one-week delay in implementing containment guidelines — runs to 60 percent of the U.S. total, now displayed over Times Square as the "Trump Death Clock." It was created by filmmaker Eugene Jarecki, who told Goodman, "Donald Trump is the epitome of what it looks like when you no longer have a democratic process at work." So, we need a political strategy as well, to overcome the deadly situation we're in.
20 Countries Show The Way
The successful short-term strategy is shown by the results of 20 countries identified by Endcoronavirus.org, (a project of the New England Complex Systems Institute), which have survived and crushed the initial wave of infection, and instituted additional measures to quickly identify and isolate new cases as they occur. Almost all — like Australia, Austria, China, Iceland, New Zealand and South Korea — show declines in their case rates as sharp as the preceding rises.
They haven't fully beaten COVID-19. Antiviral drugs, vaccines and other medical breakthroughs are very much still needed. But they've made waiting for those breakthroughs far more bearable, with only a handful of new cases a day, sometimes none at all. When flare ups do occur — as just happened in South Korea — they have the capacity to respond, and limit the spread.
Things are different in the U.S. Whether it's angry protesters storming state capitals over lockdown orders or earnest public health experts advocating, "Test! Test! Test! Test!" they have one thing in common, Garrett noted. "These are all just tactics. They are not, 'What is your long-term strategy? What is your strategic goal?'"
But lockdowns and testing are just two of nine measures identified in the Endcoronavirus strategy, the first of which, "Get Everyone on Board," clearly can't be done nationally with Trump in the White House, pushing as hard as possible to "reopen" the economy, even as a majority of Republican think it's not safe.
"All levels/aspects of government, communities, companies, individuals have to go all out to stop this disease, even small 'leaks' can sink the ship," they explain. Thus, the need for a practical anti-virus strategy underscores the need for a political strategy as well.
"The lockdown can be completed within five weeks because the exponential decline can be as fast as the exponential growth," they also explain. That's a function of how the disease works — but it crucially depends on a holistic strategy that starts with getting everyone on board, and includes other measures like travel restrictions (with quarantines), isolating identified cases, wearing masks in shared spaces, keeping essential services safe and supporting medical care (hospitals and workers), as well as testing methods to help guide everything else. Although it's less clearly articulated, the Centers for Disease Control and Prevention has roughly the same strategy, only parts of which have been made public, as the Trump administration continues to suppress it.
The most successful countries show this can be done. But not with a leader like Trump constantly pushing to reopen, repeatedly ignoring, contradicting and undermining his own public health advisors. "Reopening too early runs the risk of triggering exponential growth again," Endcoronavirus warns. "This might erase all of the benefits gained from the lockdown so far."
Even when the ideal isn't realized, a great deal can be done. A middle tier of 21 "countries that are almost there" includes three whose outbreaks have been most notorious: Iran, Italy and Spain.
America Last
But the U.S. is one of 30 "countries that need to take action" in the third tier. Some have yet to reach their peak; others, like the U.S., U.K. and Sweden, appear to have peaked, but remain on a high plateau, which, as a Stat News headline warned, "portends more spread."
Of course, there's considerable variation within the U.S. But only 5 U.S. states are in the top tier — Idaho, Montana and Vermont are the only ones in the continental U.S. None of the rest are in a truly safe position to end their lockdown phase, even as dozens are beginning to. Some, like California, may have "flattened the curve," so that their healthcare systems aren't overwhelmed, but they haven't "crushed the curve," so that it's possible to test, trace and isolate new cases, and thus prevent the recurrence of exponential spread.
Indeed, they've categorized California as a third tier state that needs to take action, rather than a mid-tier state that's "getting there," but that's probably due to increased testing, as our deaths peaked at 115 on April 23. Since then, tests per day have risen by more than 20,000, while positive results increased by only 76 as of May 9.
In contrast, some states clearly have growing problems, including Kansas, Nebraska, Iowa and Illinois, where meat-packing plants have become high-profile hotspots, even as Trump has used the Defense Production Act to force plants to reopen — an action he refused to take to produce needed medical supplies. But this only backed up policies that GOP governors had initiated.
A recent ProPublica story reported that public health officials in Grand Island, Nebraska, wanted the JBS meatpacking plant there to close for two weeks starting the first week in April, and to have a solid screening program in place before reopening. But Nebraska Governor Gov. Pete Ricketts rejected any action.
"Cases in the city of 50,000 people have skyrocketed from a few dozen when local health officials first reported their concerns to more than 1,200 this week as the virus spread to workers, their families and the community," ProPublica reported.
There had been just 210 cases statewide on April 1, and just 4 deaths. There were 641 new cases on May 9 alone, with a statewide death toll of 96, and many more surely to come.
"In Grand Island and other cities with packing plants, workers are literally making the decision between providing for their family and staying alive," Nebraska Democratic Party Chair Jane Kleeb told Random Lengths.
"Instead of putting workers first, Gov. Ricketts has decided to hide the numbers — the public and the workers do not get to see the exact number of cases at each workplace anymore."
While Trump has joined forces with GOP governors like Ricketts, he's gone right to the edge of advocating forceful overthrow of Democratic governors, simply for following his own CDC-developed guidelines.
In a White House briefing on April 16, Trump announced his "Opening Up America Plan," which laid out criteria for phased reopening of states or regions. The first criteria was a downward trajectory of influenza-like illnesses and COVID-like cases reported within a 14-day period. No state met that criteria, as Trump admitted at the time.
But the very next day, in response to a Fox News segment on protests against Democratic governors in three states, Trump tweeted his enthusiastic support for the protesters: "LIBERATE MINNESOTA!" then, "LIBERATE MICHIGAN!" followed by, "LIBERATE VIRGINIA, and save your great 2nd Amendment. It is under siege!"
"Trump incited insurrection," Mary McCord, a former acting U.S. assistant attorney general for national security wrote in response. "The president undercut his own guidance by calling for criminal acts against the governors for not opening fast enough." The Michigan protests — cosponsored by a group partly funded by the family of Trump's Education Secretary, Betsy DeVos — featured chants of "Lock her up!" directed at Michigan Gov. Gretchen Witmer.
Other wealthy funders behind the reopen protests included Robert Mercer and the Koch brothers, through a web of organizations described by former justice department official Lisa Graves in the New York Times. "America is now facing three calamities," she wrote: "a deadly contagion, a capricious president and a well-funded right-wing infrastructure willing to devalue human life in pursuit of its political agenda."
The contagion can be contained. Twenty countries have shown that it's possible, as have five U.S. states. Therapies are being developed, even if a vaccine doesn't arrive as soon as hoped for. The real challenge is Trump and the forces supporting him, the focus of Part 2, in our next issue.
Paul Rosenberg
Random Length News
Did you find this article useful? Please consider supporting our work by donating or subscribing.