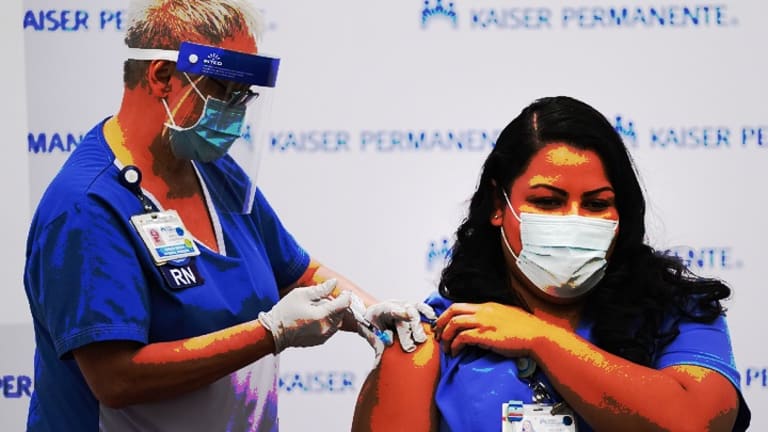 Black and Latino Vaccine Rates and Vaccine Hesitancy
Mark Kreidler: Vaccine Hesitancy among Black and Latino residents has been a factor, and addressing it will play a huge role in growing vaccination rates.
The Key to Beating COVID
From the outset of the pandemic, California has faced a specific set of challenges. Its population is heavily concentrated in a few metropolitan areas, but it also has vast rural spaces where health care access for hundreds of thousands of residents can be limited or inferior. The state's Latino and Black populations, including many working in service sector or agricultural operations, have been vectors of infection, yet outreach to those communities has been uneven and at times sorely lacking.
By the state's own accounting, Latinos have so far received 30.1% of the available COVID-19 vaccines, but they make up 39.4% of the people eligible to receive shots. Black residents of the state make up 5.7% of the eligible vaccine recipients but account for just 4.3% of those who've been dosed to this point.
Health experts and community activists have pleaded for more boots on the ground efforts at reaching Latino, Black and rural/agricultural residents with vaccines in the places where they live and work. It's a massive job, one that has been complicated by years of declining revenue and budget cuts among the state's 61 local health agencies, as well as by often contradictory COVID messaging from Gov. Gavin Newsom's office on down.
Partly as a result, California is again in COVID flux. After putting its number of cases and deaths in decline for months, the state's numbers appear to have leveled off — and in some instances they are again on the rise.
Data compiled by the Los Angeles Times shows that when California broadly reopened for business in June, it was averaging fewer than 1,000 new coronavirus cases a day. That number now is running between 5,000 and 6,000 a day — just as the state heads into the confluence of holiday gatherings, traditional cold and flu season, and the months in which more people stay indoors for longer periods of time.
Vaccine Hesitancy among Black and Latino residents has been a factor, and addressing it will play a huge role in growing vaccination rates.
California ranks 16th in the country in the percentage of its population that is fully vaccinated, and remains in the second-highest tier of COVID risk (26 states are in the highest-risk tier). Because the state has one of the lowest numbers of hospital beds per capita in the country, viral surges such as last winter's have the capacity to ravage its health care system.
"I want to be sober about the moment we're in, because in many ways it's reminiscent of where we were last (winter)," Gov. Gavin Newsom said last week upon receiving his COVID booster shot. "Let's not put our guard down. Let's get those booster shots. Let's encourage those that haven't gotten vaccines to get vaccinated."
The importance of that effort is becoming magnified, in part because of an obvious and ever-increasing political hardening of the arteries. And as California, like so many other states, becomes more divided by dogma rather than unified behind the science, the chance to keep COVID cases at bay may well depend upon its sustained outreach to communities that have historically fared poorly under its health care system.
California continues to experience enviably low transmission rates compared with most of the U.S. The state, though, is not immune from the political divide that has swept up whole swaths of the country. An analysis by the San Francisco Chronicle found that during the surge fueled by COVID's delta variant, California counties that went heavily for former President Donald Trump in last year's election suffered worse death rates than did counties that leaned more heavily towards Democrats.
That mirrors a national trend, one dubbed "Red COVID," that largely follows vaccination patterns. According to a poll published in September by the Pew Research Center, 86% of Democratic voters nationally had received at least one dose of a vaccine; only 60% of Republican voters had done so.
In the 23 California counties where more than 50% of voters last fall chose Trump, the Chronicle found, the percentage of deaths has climbed steadily relative to the state. As of March 2020, those counties accounted for 2.9% of all confirmed statewide COVID deaths. By September of this year, they comprised 15.1%.
In Mariposa County, where Trump pulled nearly 58% of the vote last November, only 36.8% of residents are fully vaccinated, and just 51.8% have even received one dose. Statewide, those figures are 62.3% and 68.7%, respectively.
"What has hampered us are the members of our community that do not see the value of either vaccination or nonpharmaceutical interventions such as masking," Dr. Eric Sergienko, Mariposa County's public health officer, told Capital & Main. "This segment tends to be conservative, rather than falling into a specific racial demographic."
Taken broadly, the Chronicle's numbers suggest what is by now obvious: Even the best vaccination effort isn't going to succeed with a significant percentage of California residents, who are politically aligned against it. It's all the more reason that attempts to reach populations that might still be swayed are so critical.
In Fresno County, which voted for President Joe Biden in 2020, health officials are taking their efforts directly to farmworkers in an attempt to boost the county's numbers (53.2% fully vaccinated, 59.8% with at least one dose). To date, the health department has assisted in administering more than 34,000 doses of COVID vaccines to workers at their workplaces and at rural clinics, with no appointments needed and minimum personal information taken.
Dr. Trinidad Solis, the county's public health physician, said in an interview that vaccine hesitancy among the Black and Latino populations "continues to be a contributing factor as to why some farmworkers are not getting vaccinated. There is a lot of misinformation… many Latinos in our region have concerns not only about the safety and efficacy of the COVID-19 vaccines, but also about how getting the vaccine may affect an individual's immigration status."
Solis, who speaks English and Spanish, said he has worked to stem the tide of misinformation via webinars with community based organizations, in local talks and in one-on-one sessions with patients. "It is important to continue providing culturally and linguistically appropriate messaging," he says, to ensure that more of the county's residents have their concerns heard and answered and thus feel safe in receiving the vaccine.
Those concerns aren't new to the conversation in California; vaccine hesitancy among both Black and Latino residents has been a factor from the start. Addressing those concerns, though, still needs to take a prominent role in regional efforts to grow the vaccination numbers — because it's one of the areas in which growth is still possible.
Mark Kreidler
Capital & Main