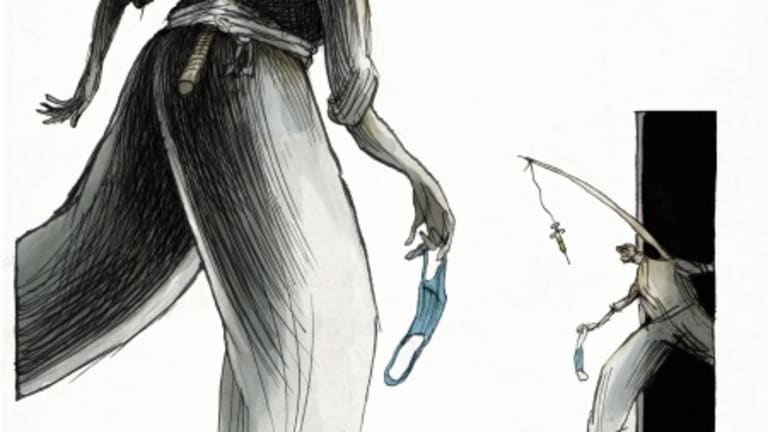 Critical California Clinics Excluded from Vaccine Push
Mark Kreidler: Given the demographics, the clinics represent Newsom and Biden's hope for vaccine distribution that approaches equitability in California.
If there is a path that leads to an equitable distribution of potential life-saving doses of COVID-19 vaccines in California, it almost inevitably will end at the doorstep of the state's battered community clinic system. Plagued by financial woes, fighting at times to keep the doors open, these clinics remain the primary point of contact for millions of low income and uninsured patients across the state.
But the early returns on California's vaccination rollout present a vivid study in contrast: The state's better off residents are commanding a disproportionate share of the doses. And as a recent letter from the clinics' statewide organization to Gov. Gavin Newsom makes clear, that won't change until the clinics themselves are fully incorporated in the vaccination effort.
"We understand that the state desires speed and is interested in large capacity providers," read the letter, signed by Carmela Castellano Garcia, president and CEO of the California Primary Care Association (CPCA). "But no [clinic] should be excluded because they are too small to achieve volume metrics."
The first steps of the Biden administration on this front have been halting. In announcing a plan last week to distribute 1 million Covid vaccine doses directly to clinics nationally, the administration selected just 250 federally qualified health centers as destination sites. In California alone, the CPCA advocates on behalf of 1,370 clinics, and the national total is put at more than 13,000.
Melissa Marshall is the CEO of CommuniCare, a federally qualified center that operates five clinics in Northern California's Yolo County. "By Monday," Marshall said, "those five clinics had vaccinated about 820 patients aged 65-plus, with all their doses coming from the county's allotment."
And as for the federal plan's vaccination doses? "We are not sure at this time," Marshall said. "The feds seem to be giving big allocations to only a handful of health centers in the next couple of weeks."
That likely will only further the divide between wealthier neighborhoods and those less well off in California, which already ranks among the states with the greatest disparities between its richer and poorer residents when it comes to the vaccine.
Given the demographics, the clinics represent Newsom and Biden's hope for vaccine distribution that approaches equitability in California.
According to research performed by the health website STAT, California is second only to Connecticut in this disparity, vaccinating 156 residents in richer counties of the state for every 100 doses administered in lower-income counties – a 56% gap. Among other states with the worst disparities, Connecticut is a national-worst 65%, New Jersey at 28% and Florida at 24%.
"I'm already very concerned that when we have a scarce resource that is first-come, first-served, we are going to have a situation where the privileged have access," Dr. Leana Wen, former health commissioner for the city of Baltimore, told the New York Times. "We need to see what is happening in real time so that interventions can be directed accordingly."
Such directed activity relies heavily on demographic data, and that has been difficult to come by. In the early weeks of the vaccine rollout, states rushed to distribute doses whenever and wherever they could, often neglecting to collect data on race, ethnicity and geography along the way.
After lagging for weeks on such reporting, California delivered data recently that showed only 16% of the state's vaccine doses have been administered to Latino residents, despite Latinos accounting for 38.9% of the state's population and 61.1% of its COVID cases so far. Latinos account for more than half of the patients seen by California's community clinic system, according to the CPCA.
Since the onset of the pandemic, those clinics have been under siege, as they shut down money-making facets of their operations (like family dental practices) to reserve resources for COVID patients. Many of their regular patients, meanwhile, avoided the clinics altogether out of fear of contracting the virus, thus tightening the squeeze on places that rely heavily on government reimbursement of in-person patient visits to survive, often through Medicaid or its local equivalent, Medi-Cal.
Yet, again, those clinics are the places to which the poorest Californians turn when they need help. Garcia's letter to Newsom noted that the community clinics in the state serve 7.4 million residents, including 860,000 agricultural workers and more than 360,000 unhoused people. By comparison, health giant Kaiser Permanente provides care to roughly 9.2 millionin the state.
Clearly, given the demographics, the clinics represent both Newsom's and Biden's best hopes for a distribution of COVID vaccine that approaches equitability in a massive state like California. For every superdistribution site like the one recently announced at the Oakland Alameda County Coliseum, the state can attack the virus in rural, agricultural and far-flung areas only if it gets vaccines distributed to the clinics that exist in those places.
"We have a sufficient supply of providers in BIPOC [Black, indigenous and people of color] and disadvantaged communities to meet the moment," Garcia wrote to the governor. "Equity must not be forsaken for volume or expediency. California must not lose sight of the communities most in need."
In announcing such large-scale vaccination sites in Oakland and at California State University, Los Angeles, Newsom told NBC News, "This is an equity-driven, community-based partnership. You've got to go where people are."
Fortunately for the governor, the state's vast network of community clinics are already located where the most vulnerable populations live. It's up to the administration and the counties to tap those pipelines, and the sooner the better.
Mark Kreidler
Capital & Main