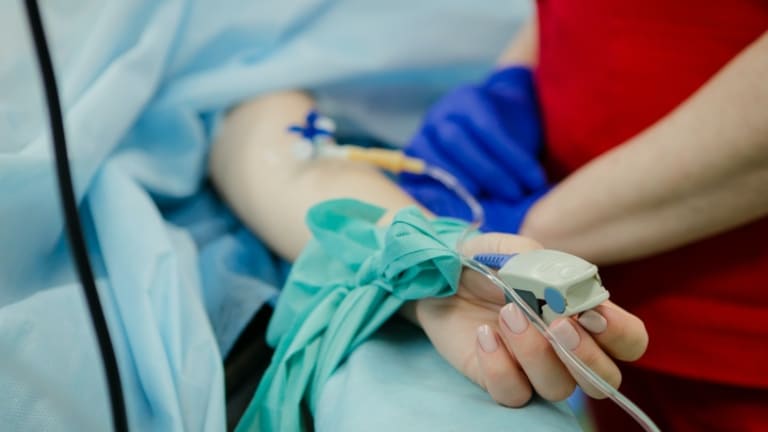 California's Hospitals Go Critical During COVID Surge
Mark Kreidler: The pandemic has also laid bare the potential price of the health industry's stripped-down, cost-savings approach to hospital bed space and staffing.
Even by the dark standards of a global pandemic, California's experience with COVID-19 has been grim. The state's Dec. 8 update put its total number of positive cases at 1.39 million, with more than 20,000 dead.
Meanwhile, 54 of California's 58 counties – comprising 99.9% of the population – remained in the "purple" status tier, indicating widespread infection and triggering lockdown orders on residents and businesses.
But the worst of it may be occurring at the hospital level, where, to put it simply, California is running out of space. With admissions to intensive care units increasing by 70% over the past two weeks, the remaining statewide ICU capacity is put at just 13.3% – an emergency by almost any medical definition.
How could this happen?
After all, the massive current COVID surge was predicted for months. Even as infection rates calmed during the summer, researchers and epidemiologists were warning that late fall weather would drive more people indoors and, along with things like holiday gatherings and the normal cold and flu season, spike infection rates into the stratosphere. How could hospitals still run low on ICU capacity so quickly?
The answers to that question reflect the state of health care in the U.S., not just California. They include factors unique to this pandemic, but also factors that date back decades. They go to notions of managed care and profitability.
The pandemic has also laid bare the potential price of the health industry's stripped-down, cost-savings approach to hospital bed space and staffing.
"The medical system we have is just not an efficient system," said a Southern California emergency department physician who spoke on condition of anonymity. "And what COVID has showed is that in a time of crisis, it all falls apart."
In some respects, the issue of hospital bed space long predated the arrival of the virus. According to data compiled by the Kaiser Family Foundation in 2018, California has just 1.8 hospital beds per 1,000 people, the lowest ratio in the U.S. except for Washington and Oregon, and 2.1 ICU beds per 10,000 people, a figure that ranks 39th in the country.
Those numbers are the result of "very intentional decisions that were made going back to the 1980s and '90s," said Jan Emerson-Shea, chief spokesperson for the California Hospital Association (CHA), which represents 400 hospitals and health systems across the state. "California has been a leader in managed care and new technologies, so more and more care can be delivered outside of a hospital setting."
Such care costs hospitals less money space and takes up less space, and that is absolutely the idea. As American Hospital Association vice president Nancy Foster told the New York Times, "In an era when you're focused on reducing the cost of health care, having excess capacity – that you're heating and lighting and cleaning and all of that stuff – is just antithetical to your efforts to be as lean as possible, to be as cost-efficient as possible."
Those kinds of sentences ring hollow to Californians who've found their health care systems either hopelessly difficult to navigate or so expensive that they shy away from using them at all.
But there's another problem: Even if hospitals can suddenly pivot to create more bed space (and in many cases they can do so), they still lack the staff to care for the resulting increase in patients.
Unique among the 50 states, California has laws that place strict limits on the ratio of nurses to patients in any given hospital mode. For basic or comprehensive emergency care, that ratio is one nurse for every four patients. In the ICU, it's 1:2.
In the early months of the pandemic, Gov. Gavin Newsom issued a 90-day blanket waiver to hospitals that allowed them to temporarily exceed those prescribed ratios. That waiver expired at the end of June, but hospitals can still petition the state individually if they want temporary relief from the numbers – a reality that has prompted statewide protests by the California Nurses Association, which argues that quality control and patient care suffer by such variance. (Disclosure: The CNA is a financial supporter of Capital & Main.)
And California hospitals' decades of contraction have led to a side issue, one that may truly be specific to 2020 and the COVID outbreak: Right now, at the height of the pandemic, they cannot simply borrow the high-level nursing help that they need to get through.
Even earlier this year, that was theoretically possible, thanks to the practice of travel nursing. Travel nurses essentially float around the country, taking short-term assignments as hospitals experience sudden staffing shortages. California hospitals have long relied upon that system for quick fixes to such shortages during times of location-specific crises: earthquakes, wildfires and the like.
But the COVID spread in the U.S. is so extensive that travel nurses aren't available. Most of them have all the work they can handle in their own areas of the country. Emerson-Shea mentioned the Midwest, which has often supplied extra staff to California facilities, as an example: "There are outbreaks all over that part of the country, so they're not coming to California right now."
Gov. Newsom attempted a statewide approach to patching this hole, creating the California Health Corps in late March to recruit recently retired or soon-to-be-licensed medical personnel into emergency service. Some 93,000 people answered the call; about 900, less than 1%, are currently available and qualified enough to actually be used.
When cases of COVID-19 skyrocketed in Southern California's Imperial County earlier this year, local and state officials leaped into action, opening an emergency facility at a local college. In November, they added a 50-bed tent in the parking lot of El Centro Regional Medical Center, the area's largest hospital. It wasn't enough to fend off the current surge. By the end of the month, the county had just four ICU beds available.
It is a scene being played out in areas up and down the state, areas that had known for months that a new wave of infections was coming and yet still found themselves unable to adequately respond.
And while California's mass system of health care has long been known for its asymmetry, with resources and supplies distributed wildly unequally, the pandemic has also laid bare the potential price – in any real and sustained emergency – of the health industry's stripped-down, cost-savings approach to hospital bed space and staffing.
"There is, unfortunately, no silver bullet here," said the CHA's Emerson-Shea, speaking of the multiple challenges facing both hospitals and those who need them. One place to start might be to reconsider the system that brought the state to this moment.
Mark Kreidler
Capital & Main