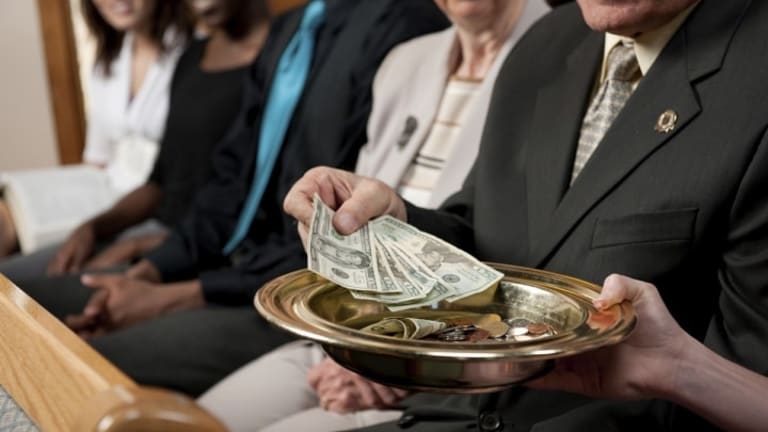 Church Petri Dishes and Trump's Hallelujah Lab Experiment
Larry Wines: There's just no way to make sense of Trump's ollie-ollie-oxen-free for church pew populations, coming as they do with unfettered encouragement for congregations to well, congregate.
Wen the key Coronavirus plan-and-precautions document from the U.S. government's Centers for Disease Control and Prevention (CDC) seemed endlessly stuck, sections of it began to leak to the press. There was real surprise when the report was finally released that the most substantial portions had been redacted, and even basic protocols for masks, distancing, and other effective measures going forward were missing.
A key entire section of the report, specifying requirements to re-open churches, was no longer there.
Early Friday morning, word came that the missing section would be provided by CDC for addition to the report. Then, an hour later, that was eclipsed by word of a briefing in the White House Press Room. And within minutes, there was a clarification that President Trump would be the one speaking.
He was uncharacteristically brief, saying only that all churches and houses of worship nationwide would reopen immediately, no matter what any state's governors thought, asserting, "and if they have any questions, they can call me but they won't be successful."
Within moments, the world press was publishing accounts with titles that included, "Trump designates houses of worship as essential, orders US governors to reopen them NOW." Their capitalization, not ours.
If Trump wants to argue that churches are a special case, he could be right—if he didn't have it all so backwards and hideously deadly.
In Mount Vernon, Washington, after 60 people attended the Skagit Valley Chorale's choir rehearsal at Mount Vernon Presbyterian Church, 45 of them— full 3/4 of those who attended—fell ill with the virus and two more were dead of the ravages of Covid-19.
Forty others contracted Covid-19 after singing in the choir at the Church of Liberty Square in Cartersville, Georgia.
A number of cautions were added to W.H.O. and to Trump's own White House Coronavirus Task Force recommendations this week, based on studies showing the projection of large numbers of virus microbes happens easily across a large room from a single loud talker. Questions posed about singing, and group singing, brought warnings that it was an obvious and dangerous multiplier.
There's just no way to make sense of Trump's olly olly oxen free for church pew populations, coming as they do with unfettered encouragement for congregations to well, congregate.
Later in the day, the CDC did release the guidelines expected before Trump's proclamations. They are at odds with what he said, recommending that all wear masks and observe social distancing, that singing "be limited," and that church services be held outdoors wherever possible—with attendees kept apart.
There's just no way to make sense of Trump's olly olly oxen free for church pew populations, coming as they do with unfettered encouragement for congregations to well, congregate.
Was Trump caving to his administration's chief religionistas, starting with Mike Pence, who has publicly said believers should precipitate the Apocalypse? Or was the Commander-in-Tweet simply playing his usual game of keeping anyone off balance before they can ask him a question he doesn't want to answer? He departed immediately after making his proclamation to the press, thus getting around his third usual technique of insulting and demeaning anyone who asks a question.
Let's get some context. At the time Trump spoke—in effect ordering an end to masks and safe distancing protocols for those inclined to pack themselves into churches—total U.S. Coronavirus deaths had reached 95,822, a bit less than a third of the world's total Covid-19 death toll of 334,054. Confirmed global cases were at 5,125,642, of which the U.S. has between 1/4 and 1/3, with 1,599,648 American cases.
Clearly, for Trump the agenda is elsewhere. Though where remains as much an open question as ever. With today's proclamation, he has declared that churches, synagogues and mosques are "essential" establishments. That order may or may not have the force of law to undo governors' orders against public gatherings of more than ten people. In any event, a mid-afternoon announcement on a Friday in Washington, D.C., makes it unlikely the courts will rule before Sunday of a symbolically major weekend in America.
Add to that the earlier move by one Catholic Archdiocese and a prominent Lutheran group, both in Minnesota, that unless that state's Governor Tim Walz relaxed the lockdown, they would begin congregating in defiance of his orders.
"These are places that hold our society together and keep our people united," Trump said Friday, adding that it's "not right" that some states have deemed liquor stores and abortion clinics as essential, but mandated that houses of worship remain closed due to the Covid-19 pandemic.
One TV reporter was quick to note, "someone may go into a liquor store to make a purchase. They may even mill around briefly. But they don't congregate in there, and in most places they're required to wear a mask."
Trump's assertion about abortion clinics—if it's even true anywhere— would describe a medical environment where all mask and PPE provisions would be in place. So it's easily dismissible as another of his red herrings.
Meanwhile, it isn't just states that are now set up by the reckless Orange Imbecile to face open insurrection from Branch Covidians. Several major cities, including Los Angeles, Chicago, New York, and the Washington, DC area, all remain under lockdown orders that prohibit public gatherings in close quarters.
While getting this story, a researcher remarked, "Doesn't look like lamb's blood is gonna fix things this time."
Indeed, a cross section of society reacted immediately to Trump's announcement, most predicting the long patient period of isolation will quickly be undone, and more people will get the coronavirus and die as a result. Actress Mia Farrow was among them.
Larry Wines
Did you find this article useful? Please consider supporting our work by donating or subscribing.