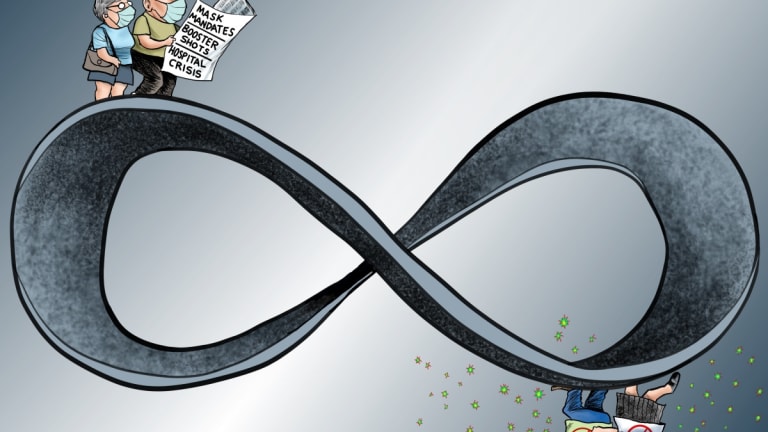 L.A. City Vaccination and Testing Requirements Begin
Mark Kreidler: The clock is ticking. San Francisco acted with urgency. Los Angeles' city leadership must now begin to understand the moment and follow suit.
Why Is Los Angeles Waiting to Enforce COVID Vaccination Mandates?
New York City was first. It was on August 3rd that the city's mayor, Bill de Blasio, announced that people wishing to dine indoors at a restaurant, go to a gym, catch a concert or take in a Broadway show would need to show proof of at least one dose of COVID vaccination first. "If you want to participate fully in our society, you've got to get vaccinated," de Blasio said.
"It's time."
San Francisco and New Orleans were next.
Taking de Blasio's effort a step further, San Francisco leaders declared last week that they'll require proof of full vaccination in high-contact indoor settings within their city (restaurants, bars, gyms, theaters). New Orleans' mayor said patrons of those same types of places in her city will have to show either proof of vaccination, or a recent negative COVID test in order to enter the premises. That order will be aggressively enforced beginning next week, but, said New Orleans Mayor LaToya Cantrell, "I'm encouraging our businesses, you don't have to wait, you can go ahead and activate."
These are aggressive public policy moves aimed at increasing vaccine uptake by denying privileges to those who won't get vaccinated, while perhaps enticing those who are on the fence. In combination with organic decisions by many smaller businesses to require proof of inoculation, they are part of a collective pushback against the Delta variant that has proven to be more than twice as transmissible as previous strains and at least as virulent.
And the second-largest metropolitan area in the U.S. is…where, exactly?
In limbo, that's where.
The clock is ticking. San Francisco acted with urgency. Los Angeles' city leadership must now begin to understand the moment and follow suit.
While other cities already have their measures in place or are about to deploy them, Los Angeles sits on the front end of what appears will be a drawn-out process. Members of the City Council voted last week to direct city attorneys to draft the language of a mandate that people show proof of at least one dose of COVID vaccination before entering bars, restaurants, gyms, shops, movie theaters and other venues.
Left unspecified by the council members were any details, such as: where the rules would apply, or how they would be enforced. They'll now wait for the attorneys to craft the wording of the ordinance, then reconvene to consider voting in favor of passage.
It's a time wasting process at a moment when timeliness is everything.
The Delta variant is fueling a rise in cases not seen since the worst of COVID's infection rates over the winter, and case rates are skyrocketing among children under 12, to whom a vaccine is not yet available. Public health experts have repeatedly suggested that the way to keep kids safe, especially with the new school year beginning, is to get those around them vaccinated — but the politicization of the vaccines themselves has contributed to vaccination rates far lower than officials had hoped.
As of Tuesday, only 59.5% of those 12 and over in the U.S. are fully vaccinated, with 70.1% having received at least one dose.
Enter Local Mandates
Across the country, state and local governing agencies have enacted vaccine requirements among their employees. Both Los Angeles City and Los Angeles County workers will be required to either show proof of vaccination, or undergo regular testing. Gov. Gavin Newsom's administration extended those vaccine requirements to all California state employees, as well as those working in health care settings.
And, as New York City, San Francisco and New Orleans have already demonstrated, local governments can go further. They have the authority — and, indeed, the obligation — to safeguard their cities and counties against a large scale public health threat, and their ability to issue health orders to do so is backed up by more than 100 years of legal precedent.
In New York, de Blasio said he would use a health commissioner's order and a mayoral executive order to put the mandate in place. San Francisco's order came from its mayor, London Breed, in concert with the city's director of health. In New Orleans, Cantrell made it clear the decision was hers.
What those announcements have in common is that they're driven by the urgency of the situation.
Moreover, they're being put into motion despite admittedly being imperfect. For example, de Blasio noted that children under 12 won't be excluded from the affected venues in New York, but that those details still have to be worked out. It didn't pause the timeline; first and foremost, the broader policy needed to be put into action. (It began Monday.)
Los Angeles Mayor Eric Garcetti has used his executive power previously during this pandemic. In March of 2020, Garcetti issued the Safer at Home directive, which essentially ordered city residents to shelter in place during the vicious early weeks of the virus's spread in L.A. But this vaccine mandate is going through the full council — and even at that, it's not in the clear.
After the council voted 13-0 to ask city attorneys to draft the language of an ordinance, a council member who missed that vote voiced his objection. John Lee, who stayed away from the session because he had been exposed to COVID-19 and was displaying symptoms, wrote in a Facebook post that the proposal "is arbitrary and will not lead to increased vaccinations of our residents."
He also suggested that L.A. residents might just drive to another town to dine in or see a show where they don't have to show proof of vaccination, and said the proposal doesn't address the reasons why many remain unvaccinated, "whether due to fear, misinformation or lack of time." Lee, who said he is fully vaccinated, ultimately tested negative for the virus.
This suggests that the slow moving Los Angeles proposal still faces headwinds, perhaps in the form of protracted debate. There is no clear timetable for the measure being brought back to the full council, much less when it might take effect. What's left to the city in the meantime is the enforcement of mask requirements in indoor settings, but although masks provide important protection, health experts say the vaccine is far and away the best option for containing COVID and its Delta variant.
And the clock is ticking.
"This is to protect kids, to protect those who can't get vaccinated, to make sure that we don't go backwards, to make sure that I never have to get up in front of you and say, 'I'm sorry, I know we just reopened and now the city is closed again because we are seeing too many people die,'" Breed said in announcing her city's move.
San Francisco acted with urgency. Los Angeles' city leaders must now understand the moment and follow suit.
Mark Kreidler
Capital & Main