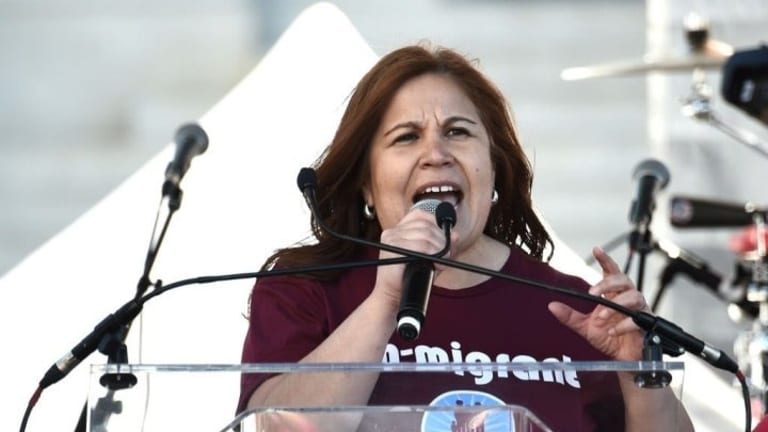 Community Organizers Double Down During Pandemic
Angelika Albaladejo: The crisis has hit marginalized communities especially hard, deepening inequities in access to housing and child care.
The crisis has hit marginalized communities especially hard, deepening inequities in access to housing and child care.
Maria Brenes has been in "virtual mode" for almost a month now. That's when Los Angeles closed schools and ordered residents to stay home to slow the spread of COVID-19.
Brenes is a community organizer on L.A.'s Eastside with the group InnerCity Struggle. She usually spends her days talking face-to-face with families, teachers and politicians to advocate for equal access to a quality education. It hurt Brenes a lot when she had to shutter the doors to the group's community center, which had been bustling with youth and organizers since its opening last year. Now, she's balancing video chats and phone calls for work with helping her own kids —second and fourth grade students in the Los Angeles Unified School District— to complete their online assignments.
While talking to Capital & Main by phone last week, Brenes was occasionally interrupted by her daughter who was eagerly playing a spelling game recommended by her teacher.
Brenes half-joked that she gives herself a C+ as a homeschool teacher. But she feels fortunate compared to many of the families her organization serves, and recognizes the importance of continuing, and expanding, her group's work amid the pandemic.

InnerCity Struggle is creating its own "stimulus" for 300 families to make up for the exclusion of undocumented immigrants from the federal aid bills.
"Engagement has been so important in a period of 'social distancing.' We call it physical distancing because we still want to maintain the tie," Brenes said.
InnerCity Struggle has talked with hundreds of community members in the early weeks of the outbreak to check in, assess their needs, answer their questions and learn how the crisis is impacting their families, and them individually. The group has delivered food to Eastside families, paid for with rapid response grants. And they're creating its own "stimulus," so far totaling $60,000 for 300 families, to make up for the exclusion of undocumented immigrants from the federal aid bills.
And they're far from alone.
Capital & Main spoke to half a dozen community groups across Los Angeles, and a couple of the foundations that fund them, about how they're adapting during the public health crisis and economic recession brought on by the novel coronavirus.
The crisis is hitting marginalized communities especially hard and deepening long-standing inequities in access to essentials like housing and child care, they said. So organizers are rapidly shifting their efforts online and launching "mutual aid funds" to get information and basic necessities out to vulnerable Angelenos.

While this moment is challenging, organizers said it's also a chance to build stronger coalitions, and for the most affected to have a say in the local, state and federal governments' response.
"We knew that this year was going to be a battle. Even with the conditions of the pandemic, we have our folks and our systems in place to do the organizing. And people still want to come together, even if it's virtually," said Patricia Guerra, the organizing director for Community Coalition in South L.A. "We want to make sure that the people's voices are heard."
"A Different World"
Albert Ramirez, an organizer for the advocacy group Los Angeles Alliance for a New Economy (LAANE), said that life has felt surreal lately. When Capital & Main caught up with him last week, he was searching his closet for T-shirts that he could fashion into face masks.
"It's such a different world," Ramirez said. "Especially for organizing, which is essentially one-on-one, in-person relationships… It's a close-proximity line of work, and that has changed."
Ramirez, like all of the other community organizers who spoke to Capital & Main, said that digital tools are "becoming the main artery to connect with folks." He said that Facebook and other social media platforms are now the communal stomping grounds for sharing critical information, and some light-hearted memes to raise spirits.
But the shift online is revealing the "glaring divides" in access to computers and the internet among the city's lowest-income and underserved residents, said Maisie Chin, the co-founder and director of Community Asset Development Re-defining Education (CADRE) in South Los Angeles.
Several of her colleagues don't have Wi-Fi at home, and some of the families she works with only have basic prepaid cell phones. So CADRE —and several other groups including InnerCity Struggle and Community Coalition— are purchasing tablets to distribute to home-bound students and organizers, along with instructions on how to download and use applications.
As groups shift from in-person to online, they are also dropping their usual issue areas to focus on educating their communities on their legal rights during the pandemic and how they can stay healthy.
Oftentimes, these grassroots groups are "the only trusted messenger in these communities," said Shane Murphy Goldsmith, who directs the Los Angeles-based Liberty Hill Foundation, which funds social justice organizations.
Without technology or trusted resources in their native languages, marginalized communities often don't have access to life-saving information. This has necessitated that groups get as creative as possible in reaching out to those in need, said Angelica Salas, the director of the Coalition for Humane Immigrant Rights (CHIRLA), a statewide group that organizes and provides services to immigrant communities.
CHIRLA is partnering with local food banks and churches to disseminate culturally and language-specific guidance. They've also transferred their immigrant hotline and legal services online.
"This is a very timely need," Salas said.
Trust and Solidarity
L.A. community organizations are also leveraging their resources and relationships to provide direct services. Many are converting their funding into direct cash aid or purchasing and delivering groceries or other basics.
"We like to call it solidarity for change, not charity," said Chin. She emphasized organizers have been able to quickly learn what's needed and roll out solutions because of the deep trust they've built over time.
Chin said her group is listening and responding to families' vulnerabilities and anxieties about "employment, education, mental health, food security, housing security, loved ones who are incarcerated and loved ones who are in ICE detention."
Although undocumented immigrants are among the least likely Angelenos to have health care coverage, and the most likely to be unemployed or working "essential" jobs right now, they can't access many resources like the federal stimulus checks.
Community groups have rushed to fill that void. But Salas acknowledged that while "it's good that there are all these mutual aid funds that are available… that should not replace a systemic change that needs to happen around the inclusion of undocumented immigrants into the safety net."
As such, many of the groups providing these services are also stepping out of their silos and joining coalitions pushing for local and state action on emergency housing and workplace protections, the release of prisoners and detainees, and assistance for immigrants.
Governor Gavin Newsom announced this week that California will partner with philanthropies to provide financial support to immigrant workers and the undocumented. But the one-time $500 aid won't go far.
Under the banner "Healthy LA," more than 200 organizations have signed onto a proposal urging a government response to "prevent this health catastrophe from metastasizing into a deeper social and economic crisis, with race and class defining who does well and who does not."
Goldsmith, who recently convened a virtual town hall of almost 100 community organizers, said that strengthening ties between groups will be key to their success. "We believe there's power in numbers."
"An opportunity to remake our society"
Right now, grassroots groups, government and philanthropy are focused on meeting short-term needs, said Jennifer Epps-Addison, the network president and co-director of the Center for Popular Democracy, a nationwide alliance of community organizations.
But 2020 is a critical election and census year. So once the blow of the immediate crisis is addressed, organizers will be reassessing how to ensure that the most marginalized aren't left out of these processes.
Epps-Addison said that instead of focusing on civic engagement and voter participation, many groups are now honing in on how elections will be administered. For example, vote-by-mail programs with signature match requirements could disenfranchise disabled, black or older voters.
When it comes to the census, groups like CHIRLA and InnerCity Struggle intended to canvas, phone bank and set up official kiosks to make sure their communities aren't undercounted. They've since moved their outreach online. The census will determine how trillions of federal dollars will be distributed to local communities for education and health care, among other programs that will be particularly vital in the aftermath of the pandemic.
Although groups' previous plans have been derailed by this moment of crisis, they haven't given up on hard won steps forward —like the Schools and Communities First campaign to roll back Proposition 13— which they plan to pick back up as soon as possible.
The crisis may even be "an opportunity to remake our society, remake our economy," said Goldsmith.
Aaron Dorfman, the president and CEO of the National Committee for Responsive Philanthropy, agreed. His group encourages wealthy donors and grantmakers to support "those with the least wealth, opportunity and power." (Disclosure: Dorfman sits on Capital & Main's board of directors.)
"The crisis will shake up the policy environment," Dorfman said, so "conventional wisdom no longer holds about what kinds of changes are politically possible."
Dorfman warned that during the 2008 Great Recession, conservative funders boosted grantmaking, while progressive funders pulled back. "I hope we don't make that same mistake again," he said. "We want to make sure that the groups that actually care about communities of color and low-income constituencies are well-resourced for this fight."
For Brenes, who is settling into the work of juggling digital organizing with homeschooling her kids, there is comfort in connectedness.
"Even though things seem more challenging day-to-day, we're going to continue to strategize, organize and keep that community intact," she said.
Angelika Albaladejo
Capital & Main