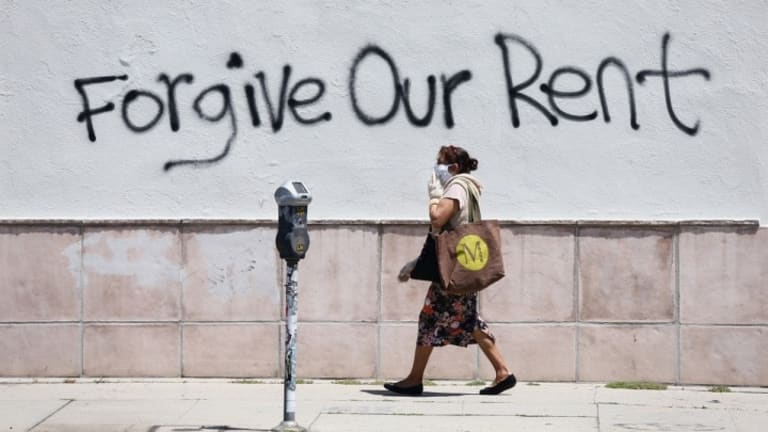 Covid-19 Rent Relief — LA County Resources
Larry Wines: Looking to existing laws for help gets crazy, convoluted, and excruciatingly complicated.
COVID Emergency Brings Renters' Assistance Funding in Los Angeles
The City of Los Angeles opened applications Monday morning for the largest COVID rent relief program in the U.S.
It is open only to residents of the giant sprawling city of Los Angeles, and applications are open through July 17th.
Successful applicants will have up to $2,000 per month of their rent paid directly to their landlord for the next two months. This is a subsidy program that allocates $103,000,000 to Los Angeles City renters "impacted by the COVID-19 health pandemic" and is anticipated to assist 50,000 Los Angeles households.
Those who think they are eligible can apply at: https://hcid.lacity.org
But don't panic. This is NOT one of those first-time, first-served small pots of funds. Everyone who applies anytime during the period will get an equal chance, because every applicant will be screened for meeting the same eligibility criteria, then put in a lottery with all the eligible applicants.
This won't cover back rent. In March, L.A. Mayor Eric Garcetti announced the city's eviction moratorium was indefinite and renters would have 12 months to catch-up paying back rent once the COVID-19 emergency declaration is lifted.
Looking to existing laws for help gets crazy, convoluted, and excruciatingly complicated.
Looking to existing laws for help gets crazy, convoluted, and excruciatingly complicated. Your rental unit may be subject to the City's Rent Stabilization Ordinance (RSO), but probably only if the property was built on or before October 1, 1978. Units constructed after July 15, 2007 that replace demolished RSO rental units may also be covered under the RSO. The RSO regulates rent increases and evictions. But it's not the only place to look.
The City of Los Angeles has investigated thousands of complaints of landlords illegally raising rents during the pandemic. To learn about what are the allowable criteria for rent increases, you go to the City's Housing Services, and check the Los Angeles Housing and Community Investment Department's criteria for handling of building code violations for multi-unit rental properties, and the Department of Building and Safety's handling of Code Enforcement violations for condos, single-family homes, and hotels. The portal for all that is: https://www.lacity.org/residents/popular-services/housing-service
County Program
We were talking about the City. The geographically much larger County of Los Angeles also offers some types of assistance.
Back on April 14, the Los Angeles County Board of Supervisors voted unanimously to allocate up to $100,000 per applicant in a program that included paying up to $1,000 per month for three months of rent for those in need. It was deemed "additional emergency funding to assist struggling renters and expand tenant protections during the coronavirus pandemic." But those three months have run out. Beyond that? "The eviction moratorium we have in place has provided some relief, but many families are going to struggle to pay back the rent they owe after this crisis is over," said County Supervisor Janice Hahn.
The Los Angeles County Department of Consumer and Business Affairs (DCBA), administers rent matters at the county level. With the COVID shutdown, that agency closed to the public at its walk-in all service locations, including its headquarters in the Kenneth Hahn Hall of Administration in downtown Los Angeles.
But you can call them for free help, at (833) 223-RENT (7368). You'll reach a counselor Monday through Friday, 8:30 am to 5:30 pm. One of their functions is to help you make a payment arrangement through the County's Rent Resolution process. There, "tenants and landlords can work out payment arrangements for any unpaid rent or alternative solutions during and after the moratorium period." But they warn, "Tenants must give proper notice. If you cannot pay rent because of the emergency, notify your landlord in writing using this template" which is one of the many things on their site: https://dcba.lacounty.gov/rentstabilization/
But the county's help is mostly as an information resource. Their bailout cash, unlike the billions in federal bailouts enjoyed by airlines and Wall Street banksters, was limited, and it's gone.
Other Places to Turn, Anywhere in America
You can find online listings like "Renters: How to Get COVID-19 Rent Relief." Most are based on CARES Act Tenant-Based Rental Assistance. In terms of help with paying your rent, the CARES Act provides the Department of Housing and Urban Development an additional $17.4 billion to help American businesses, and in some cases, individuals. The June 22 Investopedia article cites numerous Federal programs and things the government is required to do by its own code sections. So it offers more than social media's shoulder-crys, hand-wringing, and unvetted, sheepdipped political bloviation. It's at:
https://www.investopedia.com/renters-how-to-get-covid-19-rent-relief-4800858
Where Will This Go Next, for All of Us?
The standard advice of investment counselors has, for decades, been consistent on one point: no one should spend more than one-quarter of their income on rent. Yet, in some major cities, including Seattle, San Francisco, New York, the D.C. Metro area, and Los Angeles, it is impossible for most people to find adequate rental housing for anything less than half their income, and that easily ranges up to more than 70% of a single person's income going to rent. It has been a primary factor in the gig economy pushing people into second, third, and fourth jobs that have individuals violating the terms of their automobile insurance policies to use their cars as pseudo-taxicabs or delivery vehicles.
The City acknowledges that its program's $103,000,000 isn't enough to help all who are desperate for assistance in the greedily overpriced Southern California housing market. Indeed, hundreds of thousands of renters are facing eviction, with their jobs on indefinite hiatus during the pandemic.
But federal relief bills passed by the US House of Representatives weeks ago have been stuck ever since in the US Senate, where Senate Majority Leader Mitch McConnell (R, KY) refuses to allow them to come to votes. One of those trapped bills -- "pending legislation" -- is a $2 trillion stimulus bill that would provide a direct $1,200 check to most adult U.S. citizens. But It's trapped in the GOP Senate's undrained swamp.
Thus, economic survival is now a mosaic of trips to the pawn shop, selling your car, taking to eBay to sell personal possessions, and home-sewing cloth masks and selling them in store parking lots.
And where they exist, applying for every kind of state, county, and municipal program. All as piecemeal measures in various parts of America.
All part of what is, for far too many who never imagined themselves in such circumstances, the only games in this quasi-quarantined Twilight Zone that passes for "living through this," without becoming homeless in an already record-hot summer.
Larry Wines