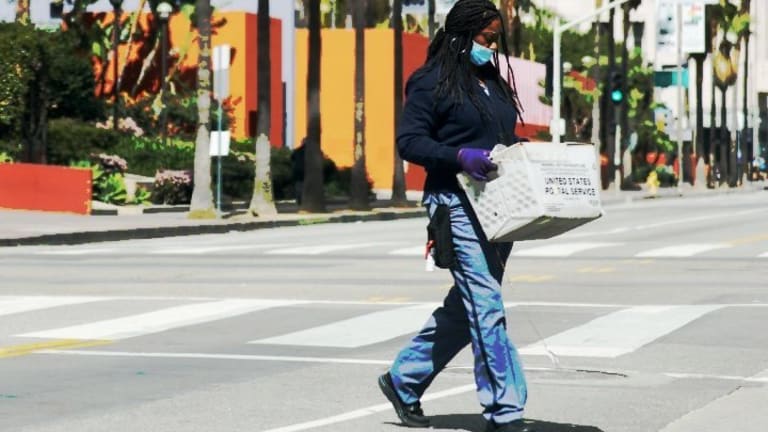 L.A. City Council Punts on Some Crisis Aid
Robin Urevich: An eviction ban failed by a single vote when two council members recused themselves because of what they said were conflicts of interest.
On March 27, the Los Angeles City Council considered a sweeping set of worker and tenant protections aimed at helping Angelenos survive the COVID-19-triggered economic crisis. However, a lack of action on some measures has angered both labor and tenant-rights activists.
During the 11-hour marathon session, 14 of the 15 city council members appeared on video from outside City Hall–council president Nury Martinez was the sole city council member on the dais. The council voted to guarantee two weeks of sick leave to employees of large firms – companies that employ 500 people or more nationally and which are exempt from having to provide the two weeks of sick leave required by the federal stimulus package. The new federal law only applies to companies with fewer than 500 workers, although it also grants waivers for small firms with fewer than 50 workers if they can show that the sick leave requirement would present a hardship for the firms.
An eviction ban failed by a single vote when two council members recused themselves because of what they said were conflicts of interest.
The L.A. City Council also broadened tenant protections previously announced by Mayor Eric Garcetti and Governor Gavin Newsom. New ordinances bar no-fault evictions in cases where a member of the household is ill, in isolation or quarantine, as well as evictions for nonpayment of rent from those who are ill with COVID-19, or who need to care for family members or who are out of work as a result of the crisis. The council also granted grocery, pharmacy and food delivery workers who are affected by COVID-19 the right to change schedules in case of illness or to care for family members.
But Kurt Petersen, co-president of UNITE-HERE, Local 11, the union that represents some 30,000 Los Angeles-area hotel and restaurant workers, described as a moral failure the council's inaction on a separate measure that would have required employers to rehire tourism workers in seniority order after the crisis, and to only fire them for just cause. The council tabled the measure for further study. (Disclosure: UNITE-HERE is a financial supporter of Capital & Main.)
"There needs to be some real soul-searching," Petersen told Capital & Main, adding that he hopes the council will pass the measure before "the onslaught of illness" for which the city is preparing.
The Los Angeles Chamber of Commerce and the Valley Industry and Commerce Association were among several business groups that lobbied hard against the measure. The worker protections "would cripple restaurants' long-term ability to function during and after the COVID-19 crisis," wrote Louie Ryan in an appeal to the council that he said he made on behalf of thousands of L.A. restaurants.
Petersen, however, noted that the L.A. City Council approved a similar worker retention law to protect airport hotel workers in 2006 after LAX Radisson Hotel workers lost their jobs following an ownership change. He added that today only a fraction of his union's members remain at their jobs citywide.
Tenant activist Larry Gross, who directs the Coalition for Economic Survival, was also critical of the L.A. City Council's failure to ban all evictions that might occur during the COVID-19 crisis.
The measure failed by a single vote, with council members Paul Krekorian and Curren Price recusing themselves because of what they said were conflicts of interest.
"In a crisis like this, you want to put the pedal to the metal and do the maximum protections to avoid increased hardship and chaos, and what they did is merely pumped the brakes," Gross said.
Other tenant protections the council approved included waivers of late fees for tenants, and prohibitions of nuisance evictions of those whose kids might make additional noise during the crisis, or who take in additional family members or pets. The council will next consider a motion by City Councilmember David Ryu to ban rent and utility increases during the crisis at its next meeting, which is currently not scheduled.
The patchwork of rules across the state will likely confuse tenants and landlords, Gross worried. "Most people don't know what their rights are. They act when they get the first notice and it creates this additional anxiety and fear among a lot of tenants, and we want to make sure that doesn't happen."
Robin Urevich
Capital & Main
Did you find this article useful? Please consider supporting our work by donating or subscribing.