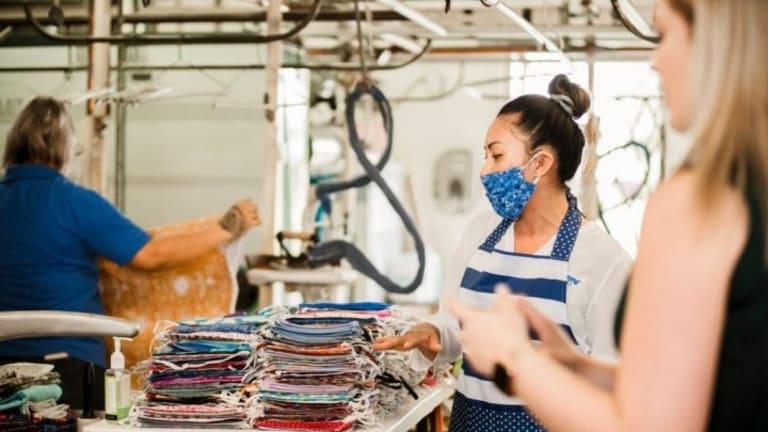 "I Feel Like Yelling, 'Governor Newsom, Help!'"
Joe Rubin: Kaiser nurse: "We were told that we would get adequate supplies from the strategic national surplus soon. But the cavalry never came. The supplies never arrived."
California struggles to protect its health care workers as they fight the pandemic.
Last week in an MSNBC interview, California Gov. Gavin Newsom announced what amounted to a game-changer when it comes to the dire shortage of personal protective equipment (PPE) for medical workers in California. "We decided enough of the small ball," he said. "Let's use our purchasing power. Let's go at scale." Newsom announced that the state had "secured, through a consortium of nonprofits and a manufacturer here in the state of California, upwards of 200 million masks, including 150 million coveted N95 masks, on a monthly basis."
That's a lot of masks. It's also a very big crisis with 2,243 California health care workers having already tested positive for COVID-19, as of April 10 — more than 10 percent of the state's total. That number jumped by 219 in just one day according to California Department of Public Health data, suggesting it is a growing problem.
2,243 health care workers in California have tested positive for the novel coronavirus as of April 10.
We spoke to health officials and more than a dozen doctors and nurses on the frontlines of the crisis at hospitals across California. In the desert city of Calexico on the border with Mexico, doctors staffing a mobile testing unit that has tested over 300 medical workers, border patrol agents and local residents had to buy PPE in Mexico when California officials were unable to provide masks and other equipment. In Sacramento and Brawley and elsewhere, local officials and medical professionals told the same story of nurses and doctors forced to wear clinical clothing all day long—and in some cases for multiple days—though it is meant to be disposed of between patient visits.
Then there is the issue of getting the equipment into the hands of those who need it. The system for obtaining PPE isn't as simple as a hospital official going online and ordering more supplies. Requests must flow through an alphabet soup of local and regional agencies, many of which have had inadequate financing for years. Public health experts and frontline doctors worried about the safety of their colleagues are urging Gov. Newsom to streamline the distribution system, and given the extent of the crisis, suggesting that he do so fast.
It's not just masks that are in short supply. "We had a patient; she coded," a Kaiser nurse recalled, meaning that she needed to be placed on a ventilator. The COVID-positive patient died a short while later. The doctor had used his stethoscope during the emergency, "and we couldn't find any bleach wipes to wipe it off. I had to run to the emergency room to wipe it off to give it back to him," the nurse said.
Newsom says that the state has already delivered 41 million N95 masks to hospitals and frontline health workers; the problem is that, in the unprecedented frenzy of activity, many health care workers still can't find what they need. Larry Lewis, CEO of the 107-bed Pioneers Memorial Hospital two hours east of San Diego in Brawley, told Capital & Main, "We only have enough N95 masks for health care staff directly treating COVID positive patients, and those are being worn for multiple days.
Kaiser nurse: "We were told that we would get adequate supplies from the strategic national surplus soon. But the cavalry never came. The supplies never arrived."
Several doctors and nurses, who said they feared a backlash from employers, spoke only on background. They described a troubling pattern that they worry is becoming the new normal.
A nurse who works at a Kaiser hospital in Sacramento recalls when things started changing in mid-March. "We were at a hospital-wide meeting and Kaiser executives passed out N95 masks from the California state stockpile. They were all expired, but they looked good and the CDC [Centers for Disease Control] approved them. President Trump had just declared a national emergency and we were told that we would get adequate supplies from the strategic national surplus soon. But the cavalry never came. The supplies never arrived."
Then a new CDC directive was issued, the Kaiser nurse recalled. "We were required to attend a class teaching us how to reuse our personal protective equipment. And I mean, people went crazy. Like, 'How can you be telling us this?'"
Marc Brown, a spokesperson for Kaiser Permanente, in an emailed statement said that Kaiser has "the appropriate PPE to protect our team today and stabilized the number of days' worth of supply we have on hand."
Sothy Shields, a cardiac nurse at a hospital in Sacramento, said that she was encountering so many nurses traumatized by having to wear what she and others informally call "wet masks," i.e., potentially tainted with the virus, that she decided to do something about it. Shields and another nurse, Joslyn Lewis, formed an ad hoc organization called Face Mask Makers with Love.
What started as a small sewing circle has exploded in less than a month. There are now over 100 volunteers, mostly in neighboring Elk Grove, creating masks. The group has gone high tech, utilizing computer-operated machines to cut fabric and a local dry cleaner who sanitizes the fabric before and after sewing. Some of the masks have pockets for homemade filters.
"These aren't to take the place of N95. But supplies are so tight that the hospitals are triaging masks. It's not 'OK, you need a mask,' it's 'Why do you need a mask?' says Shields. "I have an 8-year-old and an 11-year-old; we are dedicated to our patients, but we want to be there for our families too."
At facility after facility, nurses and doctors describe problems finding and using equipment as the pandemic spread. A doctor with the 55,000-employee Sutter Health network said they are currently required to use the same N95 mask throughout the day. Afterwards, they are told to place the disposable N95 mask in a paper bag with their name on it so it can be sanitized. The doctor expressed particular concern about anesthesiologists, who are among the most vulnerable to contracting the coronavirus because they frequently intubate patients, a process that involves snaking a tube down a patient's airway. "During intubation the patient typically gasps," the Sutter doctor said. "If the patient is COVID positive, it's terrifying."
In an emailed statement, a spokesperson for Sutter Health acknowledged that "given the severe national shortages of PPE, staff and clinicians are being asked to follow CDC guidance for conserving and extending use of PPE." Extended use, the statement explained, refers to the practice of wearing the same N95 mask for repeated encounters with multiple patients, without removing the mask between patient encounters. "Diminishing availability of Personal Protective Equipment (PPE) is a significant concern being felt acutely by health care organizations across the nation, including us, and we are doing everything we can to secure additional supplies."
While California hospitals have had little choice but to cut corners with PPE, health experts say lack of it is contributing to the spread of the deadly infection. "COVID-19 virus is spread by respiratory droplets," said Michael Hochman, director of the University of Southern California's Gehr Family Center for Health Systems Science and Innovation, and a physician in the Los Angeles County health care system. "So when you use PPE around sick people who have coronavirus infection, the PPE will get contaminated. And if you're not changing that PPE throughout the day, the next patient you interact with is going to be right there in your equipment and you could get that patient sick if there is physical contact. Also, that contaminated clothing or equipment is going to affect you, the health care worker. At some point in the day you have to scratch your nose. One does those things without even realizing it," Hochman said.
Health experts say the lack of personal protective equipment is contributing to the spread of COVID-19.
Doctor Peter Beilenson, director of Sacramento County's Department of Health Services, has tracked 699 confirmed COVID-19 cases and 26 deaths in Sacramento County as of April 11. He is flummoxed by why the Trump administration, when it had time to act in January and February, didn't shore up the strategic national reserves and enact the Defense Production Act to produce more PPE. "The two things that have been really, really frustrating about this entire outbreak are the lack of adequate tests, which is true to this day, and the lack of PPE. It just strikes me as incredibly short-sighted to not have the strategic national stockpile at a level at which we could actually deal with a crisis like this."
Beilenson and others, including a representative from the California Hospital Association, described a kind of broken loop when it comes to obtaining pandemic supplies. Under long-standing emergency plans in California, after hospitals exhaust their own supplies they turn to county emergency task forces that are part of the statewide Medical Health Operational Area Coordination program or MHOAC. When a county MHOAC runs out of supplies, it turns to the California Office of Emergency Services (Cal OES), which asks the federal agency FEMA for supplies from the Strategic National Stockpile.
Beilenson says that "in 30 years as a public health director, here [Sacramento] and before that in Baltimore, I never imagined I would be scouring the planet for PPE. It's catch as catch can with everybody bidding against everybody else."
Given Gov. Newsom's announcement that the state has a contract that should bring in 150 million N95 masks per month, it's possible that within a few weeks so much PPE will flood hospitals and MHOAC's that the crisis will abate. But it remains to be seen how quickly the state will obtain the necessary stock and how fairly and efficiently it will be distributed.
"This is a hard situation. Getting PPE out fast and equitably is not something our public health system is used to navigating amidst our siloed private health care system," USC's Hochman said.
Some are calling for a dramatic restructuring. Nick Vyas, executive director of the Center for Global Supply Chain Management at USC, told the L.A. Times April 1 that rather than the current ad hoc system, "We should have a SWAT team at the state level coordinating this effort on behalf of our hospital network."
Larry Lewis, CEO of Pioneers Memorial Hospital, said that a more transparent system, perhaps an online database, would be helpful. "Would I like to know what other counties and hospitals have in terms of PPE? I'm a numbers person. I'd like to see that," Lewis said.
USC's Hochman says, "I think there should be an organized, systematic approach at the population level to distribute protective equipment to avoid a situation where we have tons in places where it's not needed and not in places where it is needed desperately. I worry about bureaucracy, but I think that we need something better than the current free for all."
California is trying to adapt quickly, says Brian Ferguson, Cal OES's deputy director of communications. "We've been pretty blunt that our world is changing in real time as a result of this pandemic. We're trying to evolve."
"Why can't we communicate directly with the state rather than passing requests through underfunded county public health systems?"
One place Cal OES may want to focus on is in Imperial County, across the border from the industrial city of Mexicali, Mexico. Blanca Morales, director of the non-profit Calexico Wellness Center, says that getting PPE for the urgent care center she partners with has been a nightmare. "There is no hospital in Calexico, there is one hospital in El Centro, and it's overwhelmed and people are terrified to go there. So they come to urgent care.
"The urgent care facility we partner with has seen in the last 10 days 500 COVID-suspected patients and has 56 positive cases. When I went to the county for more supplies, they said, 'We just gave you some a week ago.' I then had to fill out these bureaucratic forms. That was Monday, today is Friday, and we have seen nothing yet. We're short on gowns, masks and testing kits, and it's making things risky.
"We are doing things in the old school, old system mentality. Why can't we communicate directly with the state rather than passing requests through underfunded county public health systems? I feel like yelling, 'Governor Newsom, help!'"
Another Imperial County program has experienced similar issues. A drive-through mobile testing unit set up by Dr. Tien Vo in front of his clinic in Calexico has also had a difficult time obtaining basic PPE equipment from Imperial County and the state.
A March 19 email from the Heffernan Memorial Healthcare District, which was trying to help the mobile testing site get started, asked for aid from Chris Herring, Imperial County's coordinator for the local MHOAC: "We formally request your assistance with the following (180) N95 masks, 500 3-ply surgical masks, 30 face shields and 2 non-touch infrared thermometers."
"This testing was desperately needed," Heffernan Memorial's CEO, Tomas Virgen, said. "We have among the highest asthma and diabetes rates in the nation. It's a bad cocktail, and our thinking was we want to identify who here is having other health problems and who has the virus to keep it from spreading."
But the appeal to the gatekeeper for the state supply chain did not yield rapid results. On March 20 Herring responded: "We should have some availability of N95s in the immediate future, however depending on the amount received from the state, we may not be able to distribute beyond acute care hospitals."
The clinic didn't wait for the state to come through. Vo took matters into his own hands, driving to Mexicali, Mexico, and obtaining enough PPE supplies to open drive-through testing on March 23. Imperial County's Herring told Capital & Main he did provide some supplies on March 25 and April 2; Vo disputes that and said he has received "absolutely no PPE" from the state or county.
Since opening, Vo says he has tested 327 patients, 27 of whom tested positive. "We primarily are testing essential workers. We've actually tested 50 border patrol agents. The first agent we tested had traveled to New York and contracted the disease, and his co-workers were very worried. So we tested all of them, [and] one came back positive. We test a lot of doctors and nurses. Five medical assistants from a single site tested positive. Their entire unit was shut down. I think that might have prevented a big outbreak."
Luis Olmedo, executive director for Comite Civico del Valle, an Imperial County nonprofit advocating for improved access to health care, said while he is encouraged by Newsom's plan, that such a vital testing clinic had such a hard time obtaining PPE shows the inadequacy of the distribution system. "It all comes down to how well our county and state emergency command centers are equipped. And are they coordinating with community health centers and nonprofits to figure out what they need?"
While the drive-through testing site in Calexico is now up and running, it still lacks one piece of PPE equipment that the testing clinic also requested from the state. Offering more protection for health care workers conducting COVID-19 testing, a powered air purifying respirator (PAPR) can cost around $1,400. (N95s may be scarce but they cost about a dollar.)
Most of the testing has been conducted by Vo and his wife, a nurse. Vo says of course it would be better to have a PAPR. "But we are being as careful as we can, and this clinic is absolutely vital to this community. We can't stop."
Joe Rubin
Capital & Main
Joe Rubin won an investigative EMMY in 2016 for his reporting on a chemical trial (ABC10) involving the City of Sacramento's drinking water which exposed the public to byproducts linked to cancer and low birth weights. He has also produced numerous national and international documentaries including for the Retro Report/NYTIMES, PBS's Frontline World, ABC's Nightline, Al Jazeera and PBS's Expose. Rubin has also reported for numerous public radio programs including The World, Marketplace and Morning Edition.