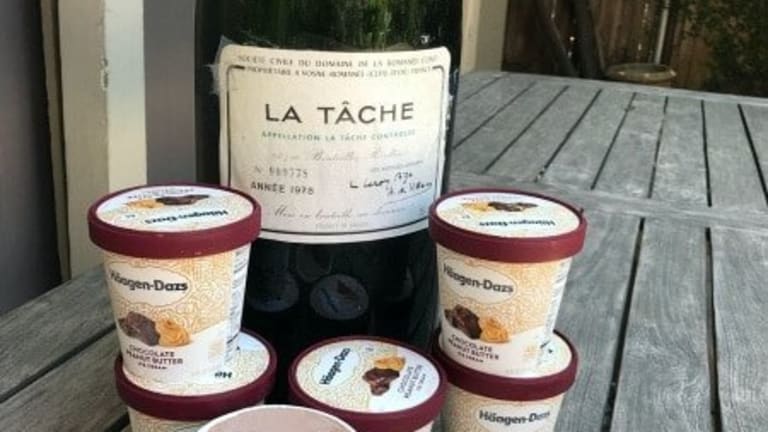 Haagen Daz Hoarder Pinched
Michael Krikorian: Even in the old days Haagen Daz Chocolate Peanut Butter, known among fans as "CPB", was difficult to find But, now? don't even make the effort.
Restauranteur Melina Davies Suspected in Huge Haagen Daz Chocolate Peanut Butter Stockpile/Giveaway Operation
While the hoarding for some items - paper towels, toilet paper, hand sanitizer - garnered a lot of media attention in the early Covid days, other products did not, though they were being grabbed nearly as frantically. Take the mysterious case of Haggen Daz Chocolate Peanut Butter ice cream.
Even in the old days Haagen Daz Chocolate Peanut Butter, known among fans as "CPB", was difficult to find But, now? don't even make the effort.
So it was major news in international ice cream circles Sunday, when federal officials announced they had made a breakthrough in the case known as Operation CPB when they named a prominent Burbank restaurant owner and cook book writer as a key player in a organization that has stockpiled literally dozens of their prime Haagen Daz flavor and then - remarkably - give them away.
Even in the old days Haggen Daz Chocolate Peanut Butter, known among fans as "CPB", was difficult to find But, now? don't even make the effort.
Melina Davies, who allegedly has connections to Armenia organizations throughout the Mid East and sectors of South San Fernando Valley, was named in an affidavit obtained by the Mozza Tribune. Davies, who with her husband Christian, owns Olive and Thyme, could not be reached for comment.
Nancy Silverton who wrote the forward for Melina's upcomong book "Olive and Thyme, Everyday Meals made Extraordinary" strongly defended her in these allegations.
"Fist of all, getting something you love and enjoying it is not hoarding, " said Silverton who lives with a man known for his over indulgence of CPB.
Silverton continued. "Indulging is not hoarding. Hoarding is when you take 400 rolls of paper towels. Melina is simply savoring and also making other people feel special by giving them a threat. There should be more people like her, especially now.."
With Auctions on Hold, Famed Auctioneer Billy Harris Turns to Delivering Tacos
In those long-ago before Covid days, Billy Harris, widely considered America's preeminent auctioneer, was a weekly feature as the master of ceremonies of the highest caliper food events. If you paid a slew of money to have dinner at Nancy Silverton's home in Umbria, like famed Oscar-winning producer Darla K Anderson did last year, Billy sold it to you. Not Billy "maybe" sold it to you. He did.
Harris had risen to the top of his field by starting off at the bottom, delivering Puerto Rican snacks to the shut ins in the South Bronx during "The Days" on the '80s.
Now, however, Harris is back to square uno. With no auctions, Harris, like most of the country, finds his old job doesn't cut it anymore. So ever resourceful he has figured out what people in Los Angeles can't do without; tacos.
Last week he became part of the now trending movement of 'Drop Drop Droppin' At Nancy's House (Bob Dylan released the single Saturday. ) as he brought several pork, beef and mushroom tacos from the highly sought after Tijuana based mini chain Tacos 1986. Nancy and her boyfriend ate them standing up.
Unlike the 1980s when Harris worked alone in one of America's roughest neighborhoods, this time he has help form his wife Sharon and daughter, G. The good news is you won't have to spend $50,000 for a auctioned lunch. Harris actually lost money on this delivery.
McLaren Formula 1 Driver Matt Molina Delivers Four-course Meal to Nancy's Porch
About four blocks away from her cell at San Quarantine, Nancy Silverton heard an unholy wail. Had all the animals escaped the zoo at Griffith Park and were charging down Western? Had a squadron of runaway Russian pilots scrambled their MiG 29s and were strafing Larchmont? Or was McLaren Formula One driver Matt Molina - who moonlights as a chef in Highland Park - making a food delivery.
It was Molina in a McLaren MC4-27 about to blast from Beverly onto Van Ness and drop, drop, drop at Nancy's house a delivery that has been called the fastest food in America.
This food was among the best delivered to San Quarantine. It was a multi course affair, with Hippo-made foccacia, two pastas - a parpardelle with ragu and spaghetti all'amatriciana, roasted chicken and potatoes and and three , count 'em, three carrot cakes each with a different sauce. The spaghetti was even better the next day.
With the food, considering the delivery, you woulda thought we would watch "Ford vs. Ferrari" or "Grand Prix" or that documentary abut Senna. But we stuck with Bogey and Bacall, this time in "To Have And Have Not".
So if you want some terrific food from Hippo just call them or go online. Better yet, just whistle. You know how to whistle, don't you'?
Michael Krikorian
Krikorian Writes