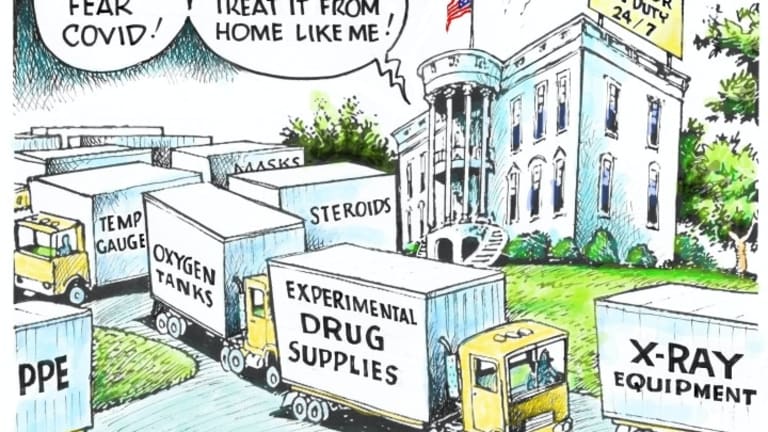 Health Care: Do You Really Get What You Pay For?
Mark Kreidler: For the poorest working Americans a different health care horror often exists: company insurance policies that, while technically available, are so expensive they can't be used.
Trump Receives Health Care Most of Us Can Only Dream About
The White House's conflicting and often contradictory statements about the severity of President Donald Trump's case of COVID-19 contributed little to a better understanding of either the disease or the treatments appropriate to any given stage of its progression. But through the confusion one thing became vividly apparent.
The president, and most of those in his orbit, enjoy a level of health care that many average Americans would envy – and that the most vulnerable among us will never see. As 2020 general election voting begins around the country, one question emerging from Trump's health crisis may well be why that truth exists.
From basic job levels on up, federal government workers, including members of Congress, have long been shielded from the realities of finding affordable health care in the U.S. The office of the president, of course, represents the top of that pyramid. But well below his pay grade, federal employees have coverage that goes beyond the boundaries of many of those who work in the private sector.
For the poorest working Americans a different health care horror often exists: company insurance policies that, while technically available, are so expensive they can't be used.
According to the Kaiser Family Foundation's 2019 Employer Health Benefits Survey, 57% of nonfederal public and private businesses in the country offered some form of health benefits to at least some of their workers, with employers covering roughly 71% of the cost of premiums. (The foundation's report for 2020 is due later this week.) That means that more than four in 10 employees worked at places that did not offer health insurance – and that was when they still had their jobs.
Last week, the Labor Department said 2.4 million Americans have been without work for 27 weeks or more – the department's definition of long-term joblessness – and another 5 million are expected to reach that level within the next three months. As their jobs go away, company-sponsored health plans go, too.
By contrast, 100% of federal employees, retirees and their families are offered insurance through the Federal Employees Health Benefits (FEHB) Program, with their specific agencies – via taxpayers – picking up between 70% and 75% of the premium costs. According to the nonpartisan Partnership for Public Service, the FEHB also offers the widest selection of health care options in the country, with more than 200 plans participating.
For members of Congress, things get even better. Although they are no longer allowed to use the FEHB and instead go through the Washington, D.C., exchange of the Affordable Care Act to purchase coverage, about 72%  of their costs are covered by federal subsidies. Moreover, House and Senate members may select top-of-the-line care from the Office of the Attending Physician (OAP), an on-site setup at the Capitol that meets a vast amount of their non-emergent medical needs. The total cost: a little more than $600 per year.
And then there is the presidency, where, for practical purposes, health care is free.
Although Trump may purchase health care in any form he chooses, he doesn't need to. As David Lazarus pointed out in the Los Angeles Times in 2017, that's because Trump can use the White House Medical Unit, with its cadre of military doctors and staff, any time he wishes. The clinic is fully staffed and provides care to the president and vice president, as well as their families.
It was within that unit, in fact, that Trump was first treated for the coronavirus last week by Dr. Sean Conley, his physician and the head of the medical unit. When the president was later choppered to Walter Reed National Military Medical Center, Conley accompanied him and was part of his care staff there. (Conley, an osteopath, first gained notoriety for prescribing hydroxychloroquine for Trump in May.)
Trump also has access to treatments that, while perhaps promising, aren't yet available to the public because they haven't passed through the requisite clinical trials. Such appears to be the case with the administering last week of an antibody cocktail by the drug manufacturer Regeneron, whose top executive told the New York Times, "When it's the president of the United States, that gets – obviously – gets our attention."
Trump received the drug infusion on a compassionate-use basis, which Regeneron officials said was approved by the Food and Drug Administration. As many people who've had COVID-19 already know, the FDA normally restricts compassionate use of an experimental drug to "an immediately life-threatening condition" or serious disease where no comparable or alternative treatment options exist. In this case, Trump administration officials reached out to Regeneron for permission to use the drug. (CNN reported Monday that Trump recently owned stock in both Regeneron and Gilead Sciences; Gilead makes remdesivir, the antiviral drug the president is taking.)
No one would argue that the president of the United States shouldn't receive the best medical care available, and at any time he needs or requests it. But the contrast between the upper levels of federal government and the average worker is staggering.
The total number of uninsured people in the U.S. has risen in each year of the Trump administration, hitting 29.6 million in 2019 – before the onset of the pandemic. The millions of Americans who've lost their jobs and their employer-based coverage in 2020 will drive those figures north; meanwhile, Trump's government continues to press for the dismantling of Obamacare as unconstitutional, a case the U.S. Supreme Court will take up in November – a week after the presidential election.
For the poorest working Americans, meanwhile, a different sub-class of health care horror often exists: company insurance policies that, while technically available, are so expensive they can't be used. We told you earlier this year of one such case, in which Los Angeles International Airport worker Amparo Ramirez ditched her employer's plan because the premiums "would take up half a paycheck" and the deductibles were sky high.
What does it take for a policy to eat up half a paycheck? Not much, when you make $15.25 an hour. Far from the halls of Congress, removed from the presidential suites, the hard work of surviving in the era of COVID goes on.
Mark Keidler
Capital & Main