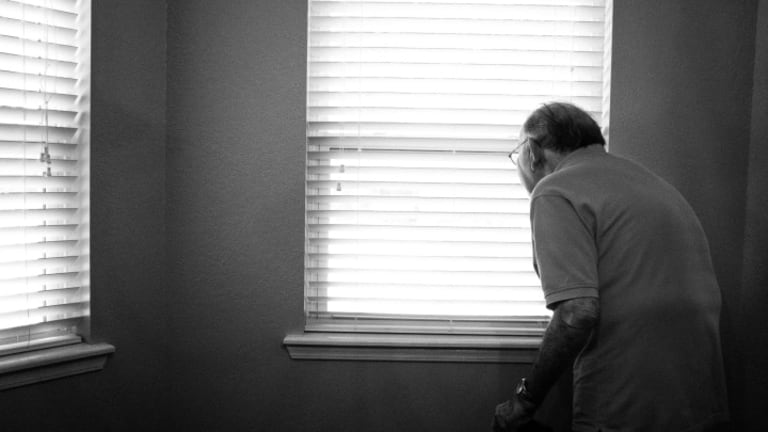 L.A. Nursing Home Covid Fatalities Were Preventable
Danny Feingold: When asked if some of the loss of life in L.A. County nursing homes due to Covid could have been spared had public health officials reacted differently, Wasserman said, "Absolutely."
The bleakest chapter of the history of COVID-19 in Los Angeles will be devoted to the demise of nursing home residents.
John is one of the lucky ones. That is, if good fortune can be ascribed to someone living at a nursing home where 83 residents and 30 staff have contracted COVID-19 – and 19 have died from the disease. The 66-year-old California native, who suffers from lymphedema, tested positive, but was asymptomatic. Two of his roommates died of COVID-19, he says, which he learned when a staff member disclosed it to him privately.
Like thousands of nursing home residents in Los Angeles County, John (who asked to be identified only by his first name) was not tested for the illness caused by the novel coronavirus until COVID-19 had already spread widely in the region's congregate living facilities. "They should have tested everybody right away and monitored them," he said. "It was in the news that nursing homes were particularly hard hit. You'd like to know."
When asked if some of the loss of life in L.A. County nursing homes due to Covid could have been spared had public health officials reacted differently, Wasserman said, "Absolutely."
As he waited to be tested, John watched the facility create a "phony isolation ward" for COVID-19 patients, blocked off only by a thin plastic drop cloth with tape. Sick residents were regularly moved past his door by certified nursing assistants who, he said, had to buy their own masks and other personal protective equipment in the first weeks of the outbreak.
Asked about the county agency charged with ensuring the safety of nursing home residents in L.A. County, John is direct but unemotional: "The Department of Public Health is useless."
When the history of COVID-19 in Los Angeles is written, the bleakest chapter will be devoted to the demise of nursing home residents, and the question of whether hundreds of lives could have been saved. To date, nursing homes account for nearly half of all COVID-19 deaths in L.A. County, with more than 1,300 fatalities. As the disease continues to spread in skilled nursing facilities, patient advocates and public officials are asking why the L.A. County Department of Public Health (LAC DPH) did not intervene earlier and more aggressively. The answer appears inextricably linked to the agency's long track record of neglect in regulating nursing homes, and mismanagement of the immediate crisis by the department and its leader, Barbara Ferrer.
On Friday afternoon, May 29, the LAC DPH issued its daily report on new COVID-19 cases and fatalities. The news was grim — another 50 people had died in the preceding 24 hours, while more than 1,800 had tested positive for the coronavirus. Just one minute after the report hit email inboxes, L.A. County's COVID-19 Emergency Response Center announced the reopening of hair salons, barbershops and in-person dining, part of a rapidly expanding normalization after 10 weeks of lockdown.
The near-simultaneous press releases not only revealed a lack of messaging coordination among county agencies, it captured the fractured reality playing out in the nation's most populous county, a sprawling region that is home to 10 million people. As everything from beaches to malls to restaurants reopen, with restrictions, COVID-19 cases and deaths in L.A. continue to climb. Indeed, L.A. County is far and away California's coronavirus epicenter, accounting for more than half of the state's COVID-19 fatalities but only a quarter of its population.
The staggering COVID-19 death toll in county nursing homes led the county's governing body, the Board of Supervisors, to vote unanimously on May 26 to appoint an inspector general to oversee the area's more than 300 skilled nursing facilities. Implicit in that decision was a rebuke of the LAC DPH — the only public health agency in California with direct authority over conditions at nursing homes (skilled nursing facilities in the rest of the state are overseen by the California Department of Public Health). Supervisor Kathryn Barger, who co-authored the inspector general motion, along with Supervisor Mark Ridley-Thomas, expressed little confidence in the LAC DPH, openly questioning whether the agency was conducting adequate COVID-19 testing in nursing homes and stipulating that the inspector general report directly to the board rather than to public health authorities.
Of the more than 116,000 Americans who have died of COVID-19, more than a quarter lived in nursing homes — with some experts putting the number much higher.
Barger is not alone in her concerns about how one of the nation's largest public health agencies has addressed the massive COVID-19 outbreak at skilled nursing facilities. Capital & Main spoke to former senior staff at LAC DPH, geriatric physicians, nursing home residents, and advocates for those living and working at skilled nursing facilities. Nearly all agreed that Ferrer and her team have badly mishandled the spread of COVID-19 in nursing homes, with deadly consequences. Many of those interviewed were emphatic in also assigning blame to the owners and operators of skilled nursing facilities, many of which have amassed dismal records of compliance with federal, state and local regulations. And while highly critical of this health care sector and LAC DPH for their responses to the COVID-19 nursing home outbreaks, these observers said that the failure was anything but a surprise, given the well-documented history of neglect by both the agency and the industry that has long plagued residents of these facilities.
Of the more than 116,000 Americans who have died of COVID-19, more than a quarter lived in nursing homes, according to the U.S. government. Several news organizations, including NBC News and USA Today, report that the number of COVID-19 nursing deaths is actually 40 percent or more of the total national toll.
Based on the federal government's estimates, California's COVID-19 nursing home deaths are significantly lower, both in total fatalities and in rate per 1,000 residents, than in New Jersey, New York, Massachusetts and several other states. But there is little dispute that health officials have struggled to control the outbreak of COVID-19 in skilled nursing facilities, where over 8 percent of the Golden State's more than 130,000 cases have occurred.
L.A. County's Department of Public Health, which has an annual budget of approximately $1.2 billion and employs nearly 4,500 people, has long been dogged by findings of lax oversight of nursing homes. In 2014, reports emerged that LAC DPH had been closing cases involving health and safety complaints without fully investigating them, under a program known as the Complaint Clean Up Project.
The agency was ordered by state public health officials to discontinue the practice, which had been going on for about two years. In 2015, data released by the state showed that LAC DPH was the slowest agency in California to complete investigations of patient mistreatment or substandard care. That same year, L.A. County secured a new contract with the state, providing an additional $15 million annually for inspections and investigations of nursing homes and other health facilities. In 2018, however, critics asserted that not much had changed. "We're in an environment where the enforcement body, which is the Department of Public Health, seems to cower to the industry," Molly Davies, who administers L.A. County's Long Term Care Ombudsman Program, remarked. "So they kind of allow facilities to run amok."
L.A. County's first confirmed COVID-19 cases among nursing home residents were reported in March, a few weeks after the first major U.S. outbreak in a Kirkland, Washington, nursing home. The acute vulnerability of the mostly old, infirm women and men living in skilled nursing facilities makes these settings a frequent vector for the spread of infectious disease. This fact, along with the Kirkland cases, should have set off alarm bells at the county's public health department, according to multiple people interviewed for this story."There is a huge contrast between the admirable public health efforts to keep the general population safe from the coronavirus in L.A. County and the deplorable failings to protect the lives of nursing home residents," wrote Michael Connors with California Advocates for Nursing Home Reform in an email to Capital & Main.
It appears that Barbara Ferrer, the head of the public health department, may not have had a clear understanding of her agency's testing policy for nursing homes.
A former LAC DPH senior official, who spoke on condition of anonymity, agrees that the agency's response to COVID-19 in skilled nursing facilities has been severely deficient. "We were so slow to pick up what was happening in nursing homes and put in place remedies to slow the virus down." The former official said that one of the agency's top infectious disease experts raised concerns about the need to prepare more for the potential spread of COVID-19 in Los Angeles in a variety of settings, but that the warnings were dismissed by Ferrer. "She did not believe it would escalate to where it has. But we could see early the pattern from other places. We should have doubled down on the highest-risk populations."
Ferrer, who was appointed in January 2017 to head LAC DPH, did not respond to multiple interview requests for this story. An email from her agency's Acute Communicable Disease Control Department stated, "Public Health worked as quickly as possible to roll out mass testing to skilled nursing facilities in L.A. County experiencing outbreaks through a concerted effort with L.A. City, the L.A. County Fire Department, the Department of Health Services and private laboratories."
Critics of LAC DPH's COVID-19 response reject this claim, asserting that the pace and scale of COVID-19 testing at nursing homes have been wholly inadequate. "It's unconscionable that weeks ago every single nursing home resident and worker should have been tested, and there should be protocols in place for ongoing testing," said April Verrett, president of Service Employees International Union Local 2015, which represents nursing home workers in L.A. County and other parts of the state. "I get that there have been challenges with [the] supply chain, but why this workforce and this nursing resident population have not been prioritized just stinks."
In early April, Dr. Michael Wasserman, president of the California Association of Long-Term Care Medicine, and Dr. Noah Marco, chief medical officer at the Los Angeles Jewish Home in the San Fernando Valley, began urging the public health department to conduct universal testing of nursing home residents and staff. Both physicians, who specialize in geriatric and long-term care medicine, communicated extensively with Dr. Zachary Rubin, head of the health care outreach unit at the agency's Acute Communicable Disease Department, as well as with other staff. They offered to assist the public health department in implementing disease control measures, including an expanded testing program. But Wasserman and Marco say that their recommendations were largely ignored.
"We have been trying to get L.A. County to do the right thing. We have literally been telling them what they need to do," said Wasserman.
On April 16, Wasserman received a message from a colleague with knowledge of testing capabilities at LAC DPH, who said that he had extensive COVID-19 testing capacity for skilled nursing facilities. He urged Wasserman to "rattle the cages."
In an April 16 email to Rubin, Wasserman did just that. Expressing his impatience with the slow rate of testing, he wrote, "I'm reaching out to see what is happening about the multitude of test kits that were supposed to be sent to the LA Jewish Home that were then to be used to test nursing homes throughout the city and county. The LAJH must receive an adequate number of test kits so that they can assist in carrying out everyone's collective goal of testing every nursing home in the city and county. I, and others, have been warning about the rapid escalation of outbreaks for some time."
Wasserman, who serves as medical director at LAJH's Eisenberg Village Campus, then laid out a four-part plan, developed with experts across the country, for controlling the outbreak of COVID-19 at nursing homes. The plan recommends aggressive infection control measures, ample personal protective equipment, robust testing and an emergency command structure.
A central dispute among experts and advocates has been whether LAC DPH should focus its COVID-19 testing only on nursing homes where there are already outbreaks, or also test facilities with no reported cases of the virus. Wasserman and Marco have been adamant that, because COVID-19 can be spread by people with no symptoms, it's imperative to do universal testing at nursing homes. Public health officials initially balked at this idea. Then, on April 22, Ferrer announced that LAC DPH had been wrong and promised that all nursing home residents and staff would be tested. She attributed the about-face to a better understanding of the asymptomatic spread of COVID-19.
But evidence that COVID-19 was being transmitted by people with no symptoms became available as early as February. In a February 26 New York Times story about asymptomatic spread, Dr. Anthony Fauci, director of the National Institute of Allergies and Infectious Diseases, said, "I don't think there is any question that someone who is without symptoms and carrying the virus can transmit the virus to someone else." In mid-March, a study from the University of Texas at Austin, based on the research of scientists from France, China, Hong Kong and the U.S., found that at least 10 percent of COVID-19 cases studied were transmitted by asymptomatic individuals.
In late March, the Chinese government reported that as many as 30 percent of those diagnosed with COVID-19 were asymptomatic in findings that were confirmed by Japanese researchers. On April 8, two weeks before Ferrer made her announcement about universal testing at nursing homes, the Los Angeles Jewish Home sent an email to LAC DPH confirming a positive COVID-19 test from an asymptomatic staff member. (LAJH has had 23 confirmed cases of COVID-19 and six deaths, according to Dr. Marco. There are no active cases in any of its skilled nursing facilities.)
Asked about early evidence that COVID-19 was spreading asymptomatically, LAC DPH responded, "Data from testing conducted at skilled nursing facilities revealed to Public Health that the asymptomatic cases of COVID-19 had a greater role in the spread. Once Public Health made this conclusion, a correction was announced, we redirected our course of action with skilled nursing facilities, and provided new guidance to reflect this shift."
But in mid-May, Ferrer backtracked on her commitment to test all nursing home staff and residents in the county, pledging instead to test only 10 percent of residents at skilled nursing facilities where no outbreaks had been documented and to bypass their staff. It appears that Ferrer may not have had a clear understanding of her agency's testing policy for nursing homes. On May 18, in response to an email from Wasserman in which he questioned the newly announced plan to limit testing, she wrote, "Let me check with our staff on current efforts. I know that we are testing everyone at all the facilities with a positive case and wonder if the 10 percent surveillance testing is referencing follow-up testing in facilities with low rates of positivity."
The following week, with the nursing home death toll continuing to rise, the California Department of Public Health stepped in, overruling Ferrer and ordering her agency to conduct universal testing of both residents and staff.

Even now it is unclear whether LAC DPH has secured enough kits to test all nursing home residents and staff for COVID-19. Asked why, given the widespread availability of COVID-19 testing in Los Angeles, the agency can't contract with partners to test those living and working at skilled nursing facilities, LAC DPH replied on May 28: "Public Health is currently working with the Department of Health Services to secure test kits and laboratories to get results in a timely manner." Asked his response to LAC DPH's statement, Wasserman replied, "Vague words like 'currently' and 'timely' have no place in a pandemic when hundreds are dying daily." On June 1, Marco told Capital & Main in an email that he spoke to a local lab that is at one-third capacity and can do tens of thousands of tests a day.
Critics of LAC DPH say that the testing fiasco was part of a much larger failure to protect residents of these facilities. "When it comes to the safety of nursing home residents, L.A. County DPH and [the California Department of Public Health] have taken the wrong turn at almost every step since the outset of the pandemic," asserts Connors of California Advocates for Nursing Home Reform. "They delayed testing that is needed to identify and manage outbreaks. They did not monitor nursing homes with known staffing problems and histories of poor infection control and neglect….They stopped regular inspections and complaint investigations. They halted all enforcement actions. They've done little to contain outbreaks and said less about what they are doing and whether it is working."
Cheryl Saldick's 90-year-old mother, Charlotte, lived at Burbank Healthcare and Rehabilitation Center until she passed away on June 7 after a battle with COVID-19. Before her mother was diagnosed on April 24, Saldick had called LAC DPH and urged it to act. "I was hoping they would go in and get going on PPE [personal protective equipment], cleanliness, testing, separation." Even as supervisors assured her that measures were being taken, the math told a different story. "More staff continued to be positive, more residents continued to be positive and the deaths continued to go up," Saldick said. As of June 8, 32 staff and 65 residents at the facility have had COVID-19, and 14 have died.
LAC DPH maintains that it acted early to prepare for a potential COVID-19 outbreak in nursing homes. "Back in February," said a department statement, "teams of nurses were sent to every skilled nursing facility to review infection control practices, including mandatory screening of all employees for signs of respiratory illness and capacity for isolation and quarantine, in preparation for possible COVID-19 cases." Capital & Main asked for documentation of LAC DPH's February visits to nursing homes to prepare them for COVID-19. None has yet been provided (the county's legal counsel is reviewing the request). A former senior manager at LAC DPH, who spoke to Capital & Main on condition of anonymity, also sees critical shortcomings in the department's response to the nursing home outbreaks of COVID-19: "When you have a respiratory disease out there, it's time to ratchet down and control more carefully what's happening in those nursing homes. To a certain extent they tried. But health orders for individual facilities weren't being issued until there were outbreaks of five or more."
This former manager questions whether Ferrer has a full understanding of infectious disease control and, like others interviewed for this story, points out that at her public briefings Ferrer is often the only one speaking from LAC DPH: "A lot of people, when they see 'Dr. Ferrer' on the screen, thought she was a physician, and when they found out she wasn't they were livid. They were looking for assurance from someone they considered had more experience." Generating headlines like this one from L.A. Times columnist Steve Lopez — "When it comes to coronavirus, she's L.A's. version of Dr. Fauci" — Ferrer has overshadowed Dr. Muntu Davis, the agency's top health officer, who is a medical doctor with a background in pandemic planning. Ferrer has a Ph.D. in social welfare and master's degrees in public health and education.
Connors and others are particularly outraged by the release of COVID-19 patients from acute-care hospitals into nursing homes. The rationale for such releases was the expected surge of COVID-19 patients at hospitals, and the need to free up beds for them. Dr. Marco points out that, while the surge never happened in California, "We still have policies in place and pressure on [skilled nursing facilities] to accept hospital transfers that are still contagious." He believes that these transfers are the source of many COVID-19 outbreaks and deaths. Wasserman argues that, rather than placing COVID-19 patients into nursing homes and risking further spread of the disease, local and state officials should have launched an emergency program to quickly build separate facilities.
Instead, on March 20, after the release of COVID-19 patients to nursing homes was sanctioned by the California Department of Public Health, LAC DPH held a phone meeting with nursing home administrators in L.A. County, according to an advocate for nursing homes residents who obtained the call-in number and listened to the meeting. Rubin, said the advocate, informed the nursing home operators that they had to accept COVID-19 patients. Rubin and LAC DPH did not reply when asked by Capital & Main to respond to this assertion.
In a statement, LAC DPH told Capital & Main that skilled nursing homes are self-designating to accept COVID-19 patients, and that the appearance of these facilities on the agency's website does not constitute a county endorsement. But the department's site states that facilities must be approved by LAC DPH after submitting a plan for how they will keep patients safe. In a May 5 email obtained by Capital & Main, Rubin wrote, "When we are approached by facilities to consider being designated as a COVID care site, we have a team vetting these requests to ensure the safest possible situation for patients who have unique needs while recovering from COVID-19." LAC DPH did not respond to questions about their vetting process or criteria.
Since the beginning of the viral outbreak in March, at least 240 residents of the 21 facilities that appear on the LAC DPH's list of designated COVID-19 sites have died of the disease. Eight of the 21 facilities have a Medicare rating of either one or two stars out of five.
The first nursing home to start accepting COVID-19 patients in L.A. County was Country Villa South — which was also the site of one of L.A. County's first deadly COVID-19 outbreaks. The facility has a record of recent infection control violations, and a one-star rating. "It's outrageous that the County is designating nursing homes that have been death traps during this pandemic to be dedicated COVID-19 facilities," said Connors in an emailed statement.
Wasserman, who served briefly as the CEO of the company that oversaw Country Villa South before resigning, had warned public health officials not to approve the facility. "As a geriatrician, I have been saying for two months that you don't take your worst facilities and make them COVID-positive facilities," he said. In an April 15 email sent to LAC DPH's Rubin, Wasserman wrote, "In my opinion…as the [former] CEO of the company that oversees CV South, this decision is ethically and medically unsound….To be clear, sending patients to CV South will overwhelm their ability to care for their existing residents, as well as any patients sent to them. This will literally assure the high morbidity and mortality being seen across the country, as well as in Italy and Spain."
Asked why Country Villa South was allowed to accept COVID-19 patients, LAC DPH provided this statement: "Under the Health Officer Order, skilled nursing facilities must cohort patients that test positive away from other patients who have tested negative. This particular facility is part of a larger campus and can separate patients in different buildings. A skilled nursing facility self-identifying as a designated facility helps other facilities coordinate with them and hospitals know of resources for discharging COVID-positive patients."
Responding to LAC DPH's explanation, Dr. Marco wrote in an email, "LAC DPH seems to be washing their hands of the responsibility that they publicized a facility that had known quality of care issues as a place for hospitals to discharge COVID-19 positive patients to. Washing hands to reduce infection spread is usually a good thing, but not when it comes to an answer from an agency that failed its mission."
The inspector general to be appointed by the L.A. County Board of Supervisors will have sweeping authority to demand reforms at the region's nursing homes. But that is no guarantee that changes will come soon enough to slow the lethal outbreak of COVID-19 at these facilities — or that change will come at all. The county's skilled nursing home industry has a checkered history, as does the agency charged with ensuring that residents are protected. "For nursing homes in L.A. County, [LAC DPH] has the ultimate responsibility," said Patricia McGinnis, executive director of California Advocates for Nursing Home Reform. "They are supposed to do the evaluations, ensure there is a notice of correction, issue citations, issue civil monetary penalties. They don't do that. They have never done that adequately."
Charlene Harrington, professor emeritus at the University of California, San Francisco, and a leading expert on nursing home reform, said that when it comes to LAC DPH, ultimate responsibility for the response to COVID-19 in L.A. County nursing homes lies with Ferrer. "The buck stops with the head of the department," said Harrington, who credits the agency for its public reporting of COVID-19 cases but insists that it could have used its expansive authority to rein in the virus.
There is no guarantee that the county's changes will come soon enough to slow the lethal outbreak of COVID-19 at its skilled nursing facilities.
We reached out to all five members of the board of supervisors for comment on how Ferrer and the agency they oversee have handled the COVID-19 crisis at nursing homes. Barger, in a statement, said, "We know that skilled nursing facilities provide critical care and support for many of our most vulnerable populations. And as the County continues to fight the COVID-19 public health crisis, we must greatly improve our ability to assess and oversee these facilities to ensure the safety and well-being of all those who have been entrusted to their care."
Sheila Kuehl's office sent this statement: "The COVID-19 related deaths in our skilled nursing facilities are one of the greatest tragedies among many. The Board has inquired as to whether specific policies and procedures might have helped prevent these deaths…."
Supervisors Ridley-Thomas, Janice Hahn and Hilda Solis did not respond to requests for comment.
Robert Kim-Farley, former director of the Division of Communicable Disease Control and Prevention at LAC DPH and currently a professor at the University of California, Los Angeles' Fielding School of Public Health, is reluctant to second guess the agency's actions. Noting such challenges as the lack of adequate PPE at nursing homes and the movement of staff between facilities, he said, "It's much easier in hindsight than foresight, but we all wish we had perhaps been more…protective [in our] response to these industrial congregate settings. It is not unique to L.A. It's a highly contagious virus, not easy to contain." Kim-Farley points out that as many as 380,000 people die every year in nursing homes due to infectious disease. "Would many of them have died in the next six months due to another infectious disease?"
Such speculation is of little consolation to family members of nursing home residents who died from COVID-19. Asked whether some of those lives could have been spared if public health officials had reacted differently, Wasserman said, "Absolutely. No question in my mind."
Danny Feingold
Capital & Main