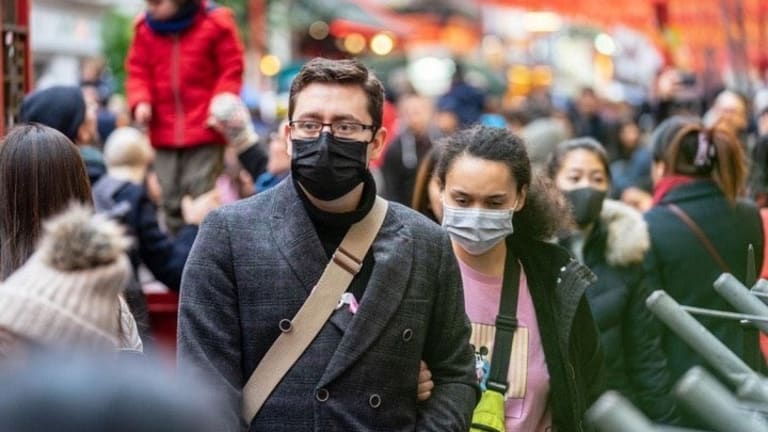 Latinos Are Dying in Large Numbers Due to Covid-19
David Trujillo: The convergence of xenophobia and Covid-19 has created a death trap for the Latino community and people of color.
This article is about more than just statistics. It is about living and dying.
Most people are following the overall coronavirus daily statistics. But it is only recently that concerns have been raised about the effects of Covid-19 on racial groups. Latinos, African Americans and other people of color are dying in high numbers from Covid-19.
Mayor of Los Angeles Eric Garcetti has stated that L.A. County has the highest rate of Latino deaths in the nation. Overall in California, of the 6,306 cases based on race, 30% were identified as Latino, as of April 14, 2020. This number is growing daily. We should all be concerned.
The reason for this concern was highlighted by Dr. Barbara Ferrer, Director of L.A. County Public Health, who indicated at a recent press conference. "The data on race or ethnicity of people who have died are incomplete and we don't know the total numbers."
Racial data from around the country confirm something we already know. Bias in the health care system, testing, hospitalization, and admissions is causing fear as Latinos are continuing to die.
A casual observer might think the coronavirus has no boundaries, knows no racial identity or economic status. Yet its effects are most severely felt within the Latino community because of pre-existing health conditions which are the long legacy of sub-par health care for people of color. Even social distancing is less possible in such communities, as there is a higher density of population in neighborhoods, in homes, with many of the "essential" workers today, in transport, agriculture, grocery stores, health care at all levels, are Latinos and people of color who are at a higher risk of exposure.
The convergence of xenophobia and Covid-19 has created a death trap for the Latino community and people of color.
It seems highly unusual that there is a paucity of reporting information and data on the racial demographics of Latinos related to Covid-19. Relevant agencies are just beginning to release racial data. What do the reporting data on racial demographics show? There is no doubt that this coronavirus pandemic is devastating to the Latino communities and the overall economy. Latinos are disproportionately affected by the coronavirus pandemic. In the meantime, the lack of reporting on data still remains a major problem while all people are dying every day.
At a recent national press conference, the president stood before the American people and claimed that he was doing a good job, even as the death total has risen to over 32,000. Disappointment, confusion, frustration, and fear describe how the president has handled the coronavirus pandemic. He doesn't care about how Covid-19 affects Latinos, African-American, Asian and Indigenous Indian populations. The convergence of xenophobia and Covid-19 has created a death trap for the Latino community and people of color.
On a daily basis, the media and politicians discuss ways of dealing with this pandemic along with how to deal with the lack of national-level leadership. Some experts have argued that because of the limited data on racial groups being infected by the Covid-19, we just don't know for certain if people of color are dying at a higher rate. This is nonsense. As the pandemic continues, data on the Covid-19 clearly now show that Latinos and other people of color are dying now, they will die tomorrow and will die in the future.
New York Mayor Bill de Blasio has said, "It's sick, it's troubling, it's wrong." Governors are pushing their states to develop better data. The president, who only recently acknowledged that there is, in fact, some disparity in the death rate among Latinos and African Americans compared to other racial groups. His acknowledgment came only after a reporter raised it at a press conference. The President told a reporter that he would have a report on the matter in two or three weeks and that he is doing everything in his power to address this challenge. The same president who compared Covid-19 to a common cold.
Decisions and actions by the president create a suspicion that he just doesn't care or he doesn't want to know how Covid-19 has affected people of color, especially Latinos. He views this pandemic through rose-colored glasses. He views the problems associated with Latinos through dark lens sunglasses.
Farmworkers are being infected at an accelerated rate. The Navajo Nation is in crisis due to the Covid-19 pandemic. Immigrants fear for their lives and are dying as they hide in the shadows. Latinos who are mostly working-class are dying daily. Yet the president continues to claim there is no problem and everything is under control.
Latinos have known that systemic racism continues to penetrate our lives. Historically this has proven to be true. For now, once again, we must protect our lives, our family and community under some very difficult conditions. Be safe, be strong, stay healthy. We will endure and hopefully change is coming.
David Trujillo
David Trujillo is an LA playwright, writer, and community activist. He a member of the National Writers Union. He is a long-time union organizer and trade union activist.