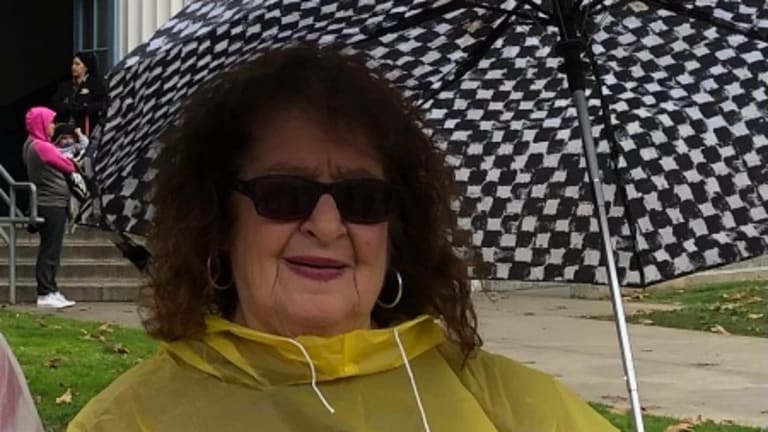 Lessons from Francesca P. Ochoa
Gilda Ochoa: Remembering those who have died is part of the grieving process and a reminder to keep working toward a society driven by love and justice
Remembering Loved Ones Who Have Died From COVID-19 Is to Not Forget the Failures of the State
As of today, over 514,000 people have died from Covid-19 in the US and 2.54 million worldwide. This should not have been. They have often died alone away from their loved ones, yet their deaths are communal. They reflect systemic inequalities, state violence and the multiple governmental failures where the economic interests of a few are valued more than the majority of humanity. 
Remembering those who have died is part of the grieving process and a reminder to keep working toward a society driven by love and justice over profit, inequalities, and exploitation.
We have lost the woman who formed the nucleus of our family, and our wider community has lost a beloved teacher and friend — Francesca P. Ochoa. Our hearts are broken. Known as Mom, Dai, Francesca, Fran, and Ms. Ochoa, she was a loving and caring person with a deep sense of justice. She enjoyed music, the beach, dancing, traveling, marching for justice, and time with family.
Born in 1941, Francesca began life in the Bronx and grew up in Farmingdale, New York, where she graduated from Plainedge High School. She was the oldest child of Sicilian immigrant parents. Her self-taught father was a union organizer and business agent for Local 89, the Italian Local, of the International Ladies Garment Workers Union and instilled in her a lifetime of learning and a radical egalitarian commitment to justice. She often remembered him quizzing her on the capitals of the world and his stories meeting leading anarchists and labor leaders. 
Remembering those who have died is part of the grieving process and a reminder to keep working toward a society driven by love and justice
In 1960, she moved across the country with her parents and sisters Luisa and Luce to La Puente, California. As a first-generation college student, she attended Mount San Antonio Jr. College and Cal State Los Angeles during the time when California was expanding low-cost higher education for working people. She received a BA in Spanish Language and Literature in 1964. In college, she loved learning and meeting new people. There she met Henry José Ochoa. Together, they navigated racism, sexism, and conservative laws and practices of the times. They eventually moved to Hacienda Heights where they raised their two children Enrique and Gilda until Henry passed away in 1989.
Francesca dedicated nearly 40 years to teaching in La Puente at Sparks Middle School in the Hacienda La Puente Unified School District (HLPUSD) — even having multiple generations of families in her classes. She taught Spanish, Language Arts and for a couple of years a Chicana/o Studies class that she initiated. Many students remember her for bringing joy to literature and her fierce advocacy for working-class and Spanish-speaking students. She was recognized in 1995 with the HLPUSD Teacher of the Year Award and was grateful to have the opportunity to teach and support young people during middle school. She stayed connected with students after they graduated — even teaching alongside a couple of them at Sparks and continuing to offer advice and friendship decades later to many more via Facebook.
After retiring from teaching in 2008, she remained committed to educational transformation, including supporting the work of ¡Juntos Podemos!/Together We Can! and the struggle for equitable representation on the HLPUSD school board. She could often be found at local demonstrations and other events in support of immigrants, workers, Medicare for all, Black Lives Matter, and Ethnic Studies.
She also continued her education and zest for life through travel. Usually in the fall when it was a little cooler and everyone was back in school, she boarded a plane with her partner Jesse Henderson and together they would leave the country for months at a time making more memories, riding trains throughout Europe, and taking cruises in the Mediterranean.
During the pandemic, she found pleasure in staying home. She enjoyed gardening, reading, playing lexulous, and of course Jesse's home cooked meals. She started planking in August, and in our family plank challenge she outlasted everyone -- planking for at least one minute daily until a couple of days before being rushed to the hospital. She had also begun taking Zumba, boot camp and cardio classes via zoom.
Five days before her first vaccination at the Pomona Fairplex in Los Angeles County, she started having allergy-like symptoms. 
Nine days after what she initially thought were seasonal allergies, we called 911.
As it has with far too many, the deadly coronavirus infected her. She struggled to fight it off with the generous care of nurses, doctors, and the staff at Queen of the Valley Memorial Hospital in West Covina. But the virus quickly devastated her lungs and kidneys, and the complications were too many. She died the morning of February 8th. 
This should not have been. 
If we had governments, policies and a society that value people, ethical science, the environment and universal healthcare over the power elite and corporate interests, deaths would have been prevented. Instead, as a society, we've seen on full display failed government responses to the virus, virus deniers, anti-maskers, the unequal distribution of care and disparate access to vaccines by race/ethnicity, geography, class, immigration status and need for the most vulnerable. This pandemic has laid bare and amplified the vast disparities of health, wealth, care and resource allocation within the US and globally.
As we grieve with others who have also lost loved ones due to the failures of the state, we hold onto ideas and actions of love and justice rooted in fundamental transformation. This includes supporting issues dear to Francesca — free higher education, Medicare for all, the fight for $15, Black Lives Matter and immigrant justice.
Francesca is mourned by many, including her partner Jesse Henderson, children Enrique C. Ochoa and Gilda L. Ochoa, Julie Kaup and Eduardo Ruiz, grandchildren Sebastián, Ricky and Andres Ochoa-Kaup, sisters and their partners Luisa and Jim Smietana, Luce Palazzolo and John Rodriguez, and nieces and nephews.
We remember the laughs, lessons and memories shared, and we will be sure that her strong voice and commitment to justice are not forgotten.
Gilda Laura Ochoa