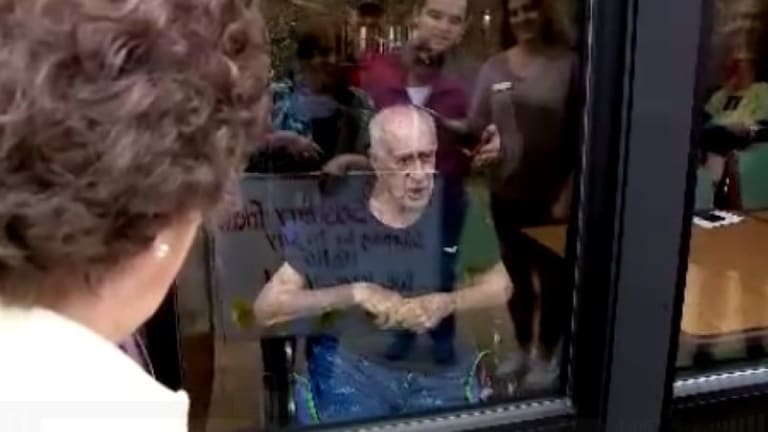 California's Long-Term Care Facilities Need More Attention
Suzanne Gordon: Not only should California immediately return to its minimum staffing requirements, staffing levels should be increased for any facility that cares for patients with COVID-19.
Over the past six weeks, California's Governor Gavin Newsom has shown great leadership in ordering shelter in place requirements and ensuring that hospitals have adequate intensive care beds, ventilators and personal protective equipment (PPEs) like masks, gowns, and gloves.
Newsom has focused on hospitals but released a new effort on April 10 to address the growing crisis for the state's nursing home residents and residents in residential care/assisted living facilities. By April 10, he announced that over 191 nursing homes and 94 small residential homes have residents and staff with the virus. These residents of long-term care facilities (LTCs) are the most vulnerable population in the state to the COVID-19 virus because of their age combined with their chronic diseases and disabilities.
In fact, when it comes to LTCs, the California Department of Public Health has issued regulations that may make the coronavirus worse. Instead of taking on the industry, the Department has relaxed oversight, allowed nursing homes to cut staffing, and is even forcing ill-prepared homes to admit the sickest coronavirus patients. This is a recipe for disaster.
The coronavirus has already highlighted the state – and nation's – long-standing failure to adequately control the for-profit nursing home industry. It was no surprise to nursing home experts that the first case of coronavirus in the nation was in a for-profit Washington state nursing home – owned by the national nursing home chain Life Care Centers of America, which had a long history of problems. The Life Care facility with the resident death had only 69 percent of the Certified Nursing Assistants (CNAs) and 88 percent of the total nursing staff that experts recommend to be necessary to care for residents who have even the lowest care needs. In addition, in 2019, Washington state inspectors cited that facility for failure to provide and implement an infection prevention and control program. Even though the facility probably was substantially under staffed and had many deficiencies, the Medicare Nursing Home Compare website gave the facility a four out of 5-star rating.
Not only should California immediately return to its minimum staffing requirements, staffing levels should be increased for any facility that cares for patients with COVID-19.
California's nursing homes suffer from the same problems. Most are so short staffed that workers don't have the time – or training – to follow basic infection prevention procedures – like washing hands, isolating patients, and keeping ill nurses and aide from coming to work. Nursing home aides are so poorly paid that they often work two or three jobs, thus spreading infection with them wherever they work and back home to their families and communities. We are already seeing the toll of years of lack of regulatory oversight and shortstaffing, as well as failure to adequately report on nursing home safety.
After announcing coronavirus infections at 121 nursing homes and other communal living institutions in Los Angeles County on April 7— including a home in Redondo Beach with four deaths and 38 confirmed cases — the county's public health director advised families it would be "perfectly appropriate" to pull loved ones out of long-term facilities. Clearly fearful about the institution's failure to provide testing and personal protective equipment (PPE), staff at a Riverside County nursing home didn't show up for work and the facility was forced to evacuate 84 residents.
This is only the tip of a very large iceberg, one that could turn into a statewide Titanic if the governor fails to reconsider a number of steps he has taken and act immediately to reverse them.
The state must assure that there is careful oversight and reporting about the safety of its nursing homes. No nursing home should be forced to admit COVID-19 patients. Instead only nursing homes with dedicated COVID-19 units should take such patients. Please read more here.
The inadequate availability of testing in the state is limiting the ability to test in LTC facilities. Because many people with the infection don't have symptoms, it's critical that nursing homes and assisted living facilities test all staff and residents.
Not only should California immediately return to its minimum staffing requirements, staffing levels should be increased for any facility that cares for patients with COVID-19. Plus nursing home workers must be paid more than the $500 stipend that the governor has allocated. As one nursing home advocate, said," this is a joke. It's not enough money to keep them at work or keep them from working two or three jobs. What's needed is hazard pay. The governor may think he's doing something, but it's way too little way too late."
Finally, we need transparency about the spread of the virus in the state's nursing homes and assisted living facilities. The California Department of Public Health has not reported which long-term care institutions actually have residents with the virus. Los Angeles County is one of the only counties that is reporting names of facilities on a daily basis. How can we know the full extent of the pandemic, without full reporting of the problem?
Other states and countries have acted effectively to deal with the threats presented by nursing homes and assisted living facilities. British Columbia has taken over the staffing the province's nursing homes, providing workers with adequate pay so they don't have to work two or three jobs and has assured there is adequate staffing in nursing homes. The governor of Maryland has taken aggressive measures to monitor the state's facilities.
It's time for Governor Newsom to address this emergency before it becomes a catastrophe.
Suzanne Gordon
Suzanne Gordon is an American journalist and author who writes about healthcare delivery and health care systems and patient safety and nursing. She is the author of Wounds of War: How the VA Delivers Health, Healing, and Hope to the Nation's Veterans.