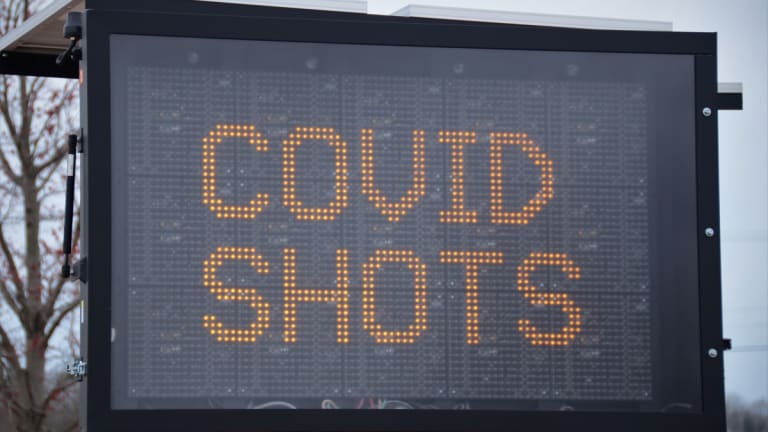 Los Angeles Workers Weigh the Risks of Orange Tier
Jessica Goodheart: Many frontline workers lack any shield from the virus at all and most are considered non-essential, making them ineligible to receive the vaccine until April 15th.
Jose Limas received his first shot of a vaccine earlier in the month, but the former cook at West Hollywood's iconic Chateau Marmont hotel doesn't want to wait until he achieves full immunity to go back to work, even though his occupation brings him into tight quarters and cooks had the highest excess mortality rate in the state during the pandemic, according to one study.
"The bills don't stop. They keep going," Limas explained.
Los Angeles County is moving from the red tier into the "orange tier" on Monday, April 5, and plans to increase opportunities for workers by increasing indoor dining capacity to 50%, and to allow the opening of outdoor bars that do not serve food. Is the county's loosening of restrictions on restaurants, movie theaters, gyms and museums a good thing?
"It could go both ways," said David, manager of the Third Street Promenade's Tilly's clothing store, and who preferred to only use his first name. "It's giving our employees more hours."
But not everyone is even as warily optimistic about California's grand reopening as David. A cross section of equity advocates and Los Angeles workers and residents interviewed by Capital & Main expressed fears that the state could be repeating the mistakes of last summer and fall, which led to the disastrous COVID-19 surge that nearly overwhelmed hospitals across the state.
Many frontline workers lack any shield from the virus at all and most are considered non-essential, making them ineligible to receive the vaccine until April 15th.
"We are moving into a new tier, but the essential workers, and the folks that have been on the front line, are still waiting to be vaccinated," said Joseph Delgado, director of Alliance of Californians for Community Empowerment Los Angeles, a grassroots community organization, speaking of Los Angeles' previous move into the red tier.
Whereas the summer's reopening involved only businesses, this current one will soon bring some children back into the classrooms. But fewer than one in three of the Los Angeles Unified School District's students will return to the classroom, according to a parent survey conducted by the district.
Jazmin Garcia, an East L.A. mother and parent leader, will be keeping her daughter, a second-grader, a virtual learner when City Terrace Elementary School reopens in April. By February, one in 360 people had died from COVID in her unincorporated East Los Angeles community — compared to one in 1,252 in Pacific Palisades, an affluent community with a much older population.
Garcia says many parents she speaks with do not have confidence that their children will be safe in schools that have not always been kept clean in pre-pandemic times. She doesn't want her daughter to get ill or bring COVID back to her grandparents, who live nearby. One grandparent had yet to receive the vaccine when we spoke.
"Once we feel like the cases are not rising and less and less people are dying, I'll feel a lot more safe," says Garcia, who has avoided the virus but knows plenty of parents who have not. "They've had it and they had [it] really bad, so, you know, that worries me."
Furthermore, many generations living in one household can create a brutal calculus, even if the learning conditions at home are less than ideal. "So you can say it's a very low risk event. But if it does happen, it'll be catastrophic. So that's a low risk you might not want to take," says Steven Wallace, a professor at the University of California, Los Angeles, Fielding School of Public Health.
But the very real anxiety about the loosening of restrictions is also tinged with hope among some of the region's low income communities and workers. That's because there is a hunger to start earning money again among those who face eviction, financial hardship or the loss of their businesses.
Nail salons, which employ tens of thousands of certified manicurists in California — were hit especially hard by the economic fallout of COVID-19. The industry is dominated by small mom and pop businesses. About a third of nail salon workers are self-employed and many others labor for low wages.
As far back as January 2020, their business suffered after salon patrons began to associate an industry that employs many immigrants from Asia with the outbreak of COVID-19 in China, says Dung Nguyen, the programs and outreach manager for California Healthy Nail Salon Collaborative, an advocacy organization for salon workers and owners.
That the industry has had to cope with rising anti-Asian sentiment on top of a pandemic was brought into sharp relief this month. Reached by Capital & Main on the day after six Asian women were gunned down at three spas in the Atlanta area, Nguyen said many salon workers were shaken and had chosen to stay home. "They don't feel safe," she said.
Nguyen said that after riding a roller coaster of openings and closings, many in the industry were upbeat about the recent move into the red tier and the arrival of better weather. Under the red tier, they are able to operate at 50% capacity, up from 25%. "They're just overall very hopeful that traffic is going to pick up again," Nguyen said. "I really hope that it does because they have been through the wringer."
Hospitality workers have also suffered a dark winter. Kurt Petersen, co-president of UNITE HERE Local 11, which represents 32,000 hospitality workers in Southern California and Arizona, lost 28 members to COVID-19 between December 1 and mid-January.
The vast majority of his members are out of work. "They're teetering on the edge," says Petersen. But he added that indoor dining is not the answer to the sector's economic woes while so many remain vulnerable to infection.
A state "flush with cash" from taxes on stock market gains and federal stimulus funds should step in to help workers in an industry that is not expected to fully recover until 2024, Petersen said. The Los Angeles region's leisure and hospitality industry shed 213,000 jobs and workers between January 2020 and January 2021.
One of those lost jobs belonged to Jose Limas, the former cook at the Chateau Marmont, which jettisoned most of its workforce following the stay-at-home order last March. Limas had worked there for 10 years and is joining other employees in calling for a boycott of the hotel until they agree to rehire their employees.
Limas is desperate to go back to work, but also feels the county is loosening restrictions too quickly. "I feel like people are not taking it seriously," he said. "I've seen on social media all these people partying and doing whatever. I feel like they're reopening too soon."
If he does land a job, Limas will face a different set of risks than those that confronted frontline workers last fall, according to Paul Simon, Los Angeles County's chief science officer. Simon estimates that about half of the county's population of 10 million has "some level of protection" from the virus when accounting for the estimated 4.5 million people who have been infected by the virus, the 2 million who have received at least one dose of the vaccine and the overlap between those two groups.
"Last fall, before the terrible surge, it was a very different reality. A much lower percentage of our population had any sort of protection. We were, in a sense, a sitting duck," said Simon, speaking at a recent virtual press briefing.
But he acknowledged that many frontline workers lack any shield from the virus at all, and some who work in close quarters, like garment workers, are not considered essential workers and therefore won't be eligible for the vaccine until April 15, when eligibility opens for everyone. "We are imploring employers. They have a responsibility to make sure that they protect their workers," he said.
Limas, who endured a nasty case of COVID-19 in early December and fears reinfection, made a similar plea. After he lost his job at Chateau Marmont last March, he worked for a time in the kitchen of a Pacific Palisades restaurant before they slashed his hourly wage by $3. He always kept his mask on, but the heat and the pace of work prompted others to remove theirs.
"Maybe have a functioning AC or something to help us," said Limas, who lives in Boyle Heights with his wife and 9-year-old son. "I don't want to be cramped up working like nothing happened when there's still a virus going on."
Jessica Goodheart
Capital & Main