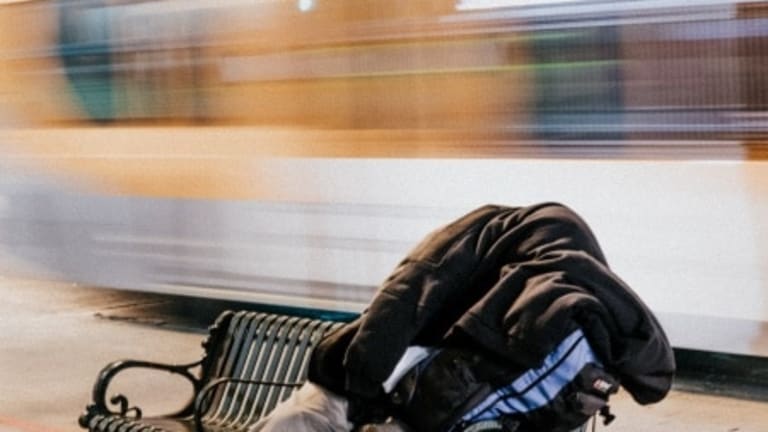 Michigan, Ravaged by COVID, Losing Faith in Trump
Mark Kreidler: Michiganders, like many others, have been battered economically by Covid. How that shapes the 2020 election is still not clear but recent activity speaks volumes with record early voting numbers.
In the early months of the pandemic, Michigan jumped into the national conversation because its numbers were so out of whack. At the end of April, Blacks, who make up 14% of the population in the state, had accounted for 40% of its COVID-related deaths, as the virus cut through Detroit's urban neighborhoods. The statistics exposed a harsh reality: Low income "essential" workers – in food handling, manufacturing, processing – were once again the most vulnerable players in Donald Trump's America.
By late summer, the virus had spread throughout the state, and Michigan's racial and ethnic breakdowns began to look more representative. But last month, a new concern arrived: Older residents were driving a surge in cases, a real worry to health officials because, owing to their existing comorbidities, older patients were more likely to need hospitalization. With flu season on the horizon, COVID-19 was rearing its head yet again.
Michiganders, like many others, have been battered economically by Covid. How that shapes the 2020 election is still not clear but recent activity speaks volumes with record early voting numbers.
The Trump administration's epic failure to manage this health crisis has been felt throughout the country, and in that respect, Michigan is merely one example. But its surge comes with a kicker: Michigan is one of the states Trump needs to win in order to get re-elected. And the numbers have swung away from him.
As of Oct. 13, FiveThirtyEight's polling averages showed former Vice President Joe Biden with 51% support in Michigan, compared with 43% for Trump. On Feb. 27, which is as far back as the site's model goes, Biden's advantage was fewer than three points. A New York Times/Siena College poll from Oct. 12 had Biden's lead over Trump at 48-40 among likely voters in the state.
As anyone who followed the 2016 campaign knows, polls are not votes, so a shaker of salt comes in handy at times like these. Trump's victory in Michigan that year, over former Secretary of State Hillary Clinton, came by a total of just 10,704 votes, the smallest such margin in state history. FiveThirtyEight's model that year had showed Clinton with a four-point edge heading into Election Day.
In 2016, Clinton received 295,730 fewer votes than President Barack Obama had four years earlier. But Biden may receive the benefit of a newly energized voting base in Michigan that, prior to Trump's victory, had gone blue in every presidential election dating to 1992. If that happens, Trump's mishandling of the coronavirus outbreak will certainly be one reason why.
On Monday, nearly 50 Michigan physicians wrote a letter demanding that TV stations in the state remove a pro-Trump ad that, the doctors said, contains false information about the pandemic. "We believe this ad is a dangerous, reckless threat to public health that will lead to more infections and fatalities," wrote the physicians, whose words appeared on letterhead from the Committee to Protect Medicare.
They were referring to the same ad that raised the ire of Dr. Anthony Fauci, the nation's leading infectious disease expert, by using comments of his that were taken out of contextto suggest he was endorsing Trump. "In my nearly five decades of public service, I have never publicly endorsed any political candidate," Fauci said in response to the ad.
The 30-second spot begins by stating, "President Trump is recovering from the coronavirus, and so is America." In fact, coronavirus cases in the U.S. are on a dramatic upswing over the past several weeks, and researchers at the University of Washington's Institute for Health Metrics and Evaluation are now projecting that domestic deaths from COVID-19, a number that currently stands north of 214,000, could soar to nearly 400,000 by Feb. 1.
Elsewhere in the ad, a narrator intones, "President Trump tackled the virus head-on, as leaders should," even though multiple examples of Trump repeatedly downplaying the seriousness of the virus are readily available to anyone with an internet connection or a phone.
With its 16 electoral votes, Michigan is one of the states Trump has to have if he's going to live in government housing beyond January of 2021. Staffers from both the Biden and Trump campaigns know it, too. Both candidates have made recent trips to the state, and campaigners from both parties are attempting to rally the vote in Detroit, a city that is 80% Black.
"Trump won Michigan by less than 11,000 votes," Wendy Caldwell-Liddell, co-founder of the grassroots group Mobilize Detroit, told the Associated Press. "And so, our thought process is, if we can just get an additional 15,000 or 20,000 to show up, that could change Michigan's trajectory for the presidential election."
Like workers in many other states, Michiganders have been battered economically by COVID-19. About 31% of households there are currently having trouble paying for everyday expenses, per recent U.S. Census data, and more than 1.18 million people have active jobless benefits claims. Not all of that has to do with the virus and its effects on the local and state economy, but the painfully slow and often misleading federal response to the crisis didn't help.
How that shapes the 2020 election won't be known for a while, but the activity of the past few weeks speaks volumes. Michigan opened early voting on Sept. 24. As of this week, nearly 1 million votes had already been turned in – nearly four times the number of early votes that were delivered by this time in 2016.
Mark Kreidler
Capital & Main