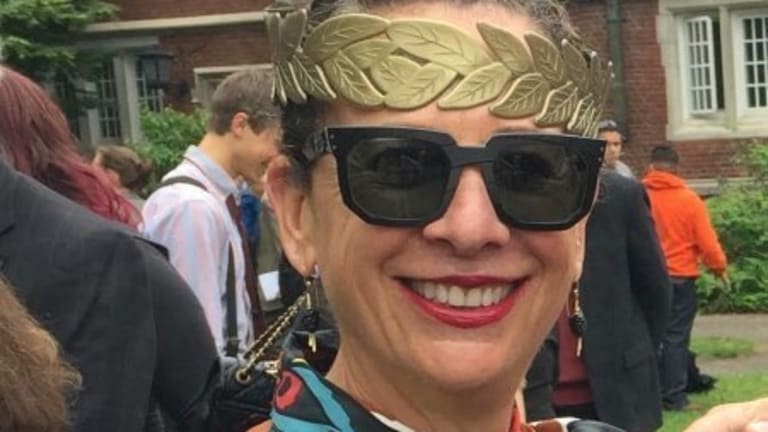 Nancy Silverton Named Executive Chef of San Quarantine Maximum Security
Michael Krikorian: That Nancy is cooking is a wonderful thing. We think of the countless worldwide who have contacted the virus and can't even eat. Let alone cook.
Sunday, April 5
Nancy Silverton, who last week was diagnosed with the dread of our time, the Corona virus, was named executive chef of the infamous maximum security institution known as San Quarantine, the Mozza Tribune reported today.
The Black Site at an undisclosed location in Los Angeles has housed Silverton since March 27 when she took the test after being in contact with a person who tested bad. (The Tribune's new policy is to no longer say a dreaded test result was "positive". That don't make no fuckin' sense.)
Anyway, the magnificent news is that Nancy Silverton continues to feel good. "I feel fine. I don't even feel "pretty good'. I feel good," she just now said.
She is showing NO symptoms. Right now, 8:25 a.m., she is on the Ruth Couch, blue mask and gloves on. reading the Sunday L.A.Times and the NY Times—the actual paper, by the way—while listening to New York Gov. Andrew Cuomo's daily briefing.
That Nancy is cooking is a wonderful thing. We think of the countless worldwide who have contacted the virus and can't even eat. Let alone cook.
But, last night, after mostly staying away from the food and letting her boyfriend cook, she took over as Executive Chef with a grilled thin-cut beef short ribs on the outside grill that were finished with black olive tapenade. They were accompanied by roasted carrots with cumin and coriander, little ges lettuces with an oregano vinaigrette. A 1961 San Pellegrino sparkling was served.
That Nancy is cooking is a wonderful thing. We think of the countless worldwide who have contacted the virus and can't even eat. Let alone cook. So, I know she has a lot of friends, lot of fans, lot of admirers out there and wanted to let you know that she is good. She is also strictly adhering to Dr. Gregg DeNicola's orders to stay away from people, except this reporter.
There was a disappointment last night when we realized we, after watching 23 episodes of the Sundance TV show "The Restaurant"—Season 3, Ep. 3—that we were all caught up and have to wait until Friday for a new episode
I'm still worried about her. And everyday that goes by without a symptom is wonderful.
Maybe the best news of today just happened. She was sarcastic to me. People not feeling well don't have time to be sarcastic. I had asked her "Should I call Sundance and talk to Robert Redford and tell him because of the Insanity to make the last five episodes of "The Restaurant" immediately available?"
"Yeah, Butch go ahead and call him. I'm sure Sundance would love to talk to you."
Nancy Silverton Tests Positive for the Virus: Friday, April 3
Nancy Silverton has tested positive for the Corona virus. Those are the most dreaded words I ever wrote. But, the most hopeful words I ever wrote are these; Nancy feels fine. She has zero symptoms.
We got the news this past Monday morning from Mary DeNicola, wife of Dr. Gregg DeNicola, whose staff gave us the virus test Friday, March 27. We were on a video conference call with Mary and she said those words "Nancy, you tested positive." My knees actually buckled. Nancy's didn't. "Michael," Mary continued, "You were negative."
She was right. I was negative, a negative angry motherfucker immediately after we got off the phone. But, what good is that? None. I rallied and my positive thoughts pushed the bad ones aside. They try and sneak in, those worst case scenarios, but I push them away. After all, I am Nancy's personal Delta Force operator and I got no time for the negativity.
Up top I said Nancy had shown no symptoms, she was acting totally normal. But, as the hours wore on, and I replayed the recent days and realized there was something quite strange that happened very recently. She was chomping at the bit Sunday evening to go on our three-mile walk and I talked her out of it. Maybe that was symptom, at least it was extremely unusual. It's extremely unusual Nancy to actually be talked out of something by me.
Last night, Thursday, we watched what has been a salvation of sorts this week, "The Restaurant," an Amazon show set at a high-end restaurant in Stockholm right as World War II ends in Europe on May, 1945. We are on episode 23, a record for Nancy and almost "The Wire" stats for me.
An hour or so ago. I walked her up to our bedroom which Dr. DeNicola and his wife Mary —and Nancy—had ordered me to stay out of. Nancy stood at the bedroom door for a couple seconds looking at me. I told her how I felt about her. She stared at me and smiled as she slowly closed the door. I tell you, and I ain't just saying this, but Nancy Silverton never looked more beautiful.
I'll keep you posted.
The Night Nancy Silverton Made a Mediocre Omelet: Friday, April 3
If Nancy Silverton had one single moment when she felt maybe something wasn't right with her, it was last Friday night when she made an omelet at her house in Los Angeles.
Earlier that day, March 27, she and I took the Corona virus test because someone we had been in contact with had tested positive. We hooked up an appointment with a family friend who is a doctor and made the drive to his office in the City of Orange, 42.5 miles away, which around here is basically a road trip.
I'm not a silver lining guy, but I would dread to have taken that drive in normal times. It would have been at least two maddening hours. That day, with the Frank Sinatra station on and all the songs about spring it took 40 minutes.
So we took the test, I shopped for eggs and cheese at a market in the same shopping center as the doctor's office, we drove home–this time almost sad there was no traffic because we knew why—and that night Nancy made an omelet for her son Ben.
'It was during the making of the omelet that I realized something was not quite right, " Nancy said. "When I cook I am very organized. I lay my mise en place out in front of me in the order I will use the ingredients.
"In the case of this omelet, I had the ingredients out—the eggs, butter, salt, Gruyere, a wedge of Parmesan and coarsely ground black pepper—and the tools to make it—a small nonstick skillet, a mixing bowl, a fork, a micro-plane, my heat-proof red spatula, a small glass of water to emulsify the eggs.
"But, they were scattered all over the work table. They weren't in my normal properly aligned order. I thought to myself 'This is not the way I cook. Why am I doing this this was?' This just did not feel right."
So Nancy Silverton made the omelet.
It wasn't the normal Nancy omelet. For one thing, it had a hint of color to it. Her omelets don't. It wasn't folded properly. Her omelets are. It's didn't lay seductively on the plate. I'm sure most people would have truly relished it. They woulda told their friends about it when they got home. Instagramed it. But, Nancy knew something was wrong.
"That's when I knew I was sick, When I made that omelet. That wasn't the way I cook. That omelet was cooked by the virus."
Three days later, the doctor's wife called. Nancy had tested positive.
That's hard to write, What I love to write is Nancy has has no symptoms. She is in lockdown at San Quarantine, aka her home, with her cellie Michael Krikorian who tested, somehow, negative. They have got hooked to two shows. "The Restaurant" and , of all things "Let's Make A Deal".
"I'm one of the lucky ones so far." Nancy said.
Day 4 Lockdown in San Quarantine with Nance: "LMAD" Latest
When Malakai came on "Let's Make A Deal", aka LMAD, he was thrilled to meet storied host Wayne Brady and asked for a "high five'. But, my boy Brady took it further. Along with his side kick Jonathan Mangum, the three hugged.
"See, grown men should be able to hug and show each other affection.' Brady told his zealous audience. And Nancy and me. The sad thing was Nancy and I couldn't hug.
"This show is clearly not live," said my Masked Marvel.
Malakai a UC Riverside student, passed on Curtain #2, praise Allah, as it was a "Zonk!" and opted for Curtain #1 and won a Vespa.
Let's Make A Deal, a show Nancy and I have watched since way back in April 2, 2020, has been a fun diversion from this Insanity. But, alas, today is Friday and we won't be able to watch until Monday.
Michael Krikorian
Krikorian Writes