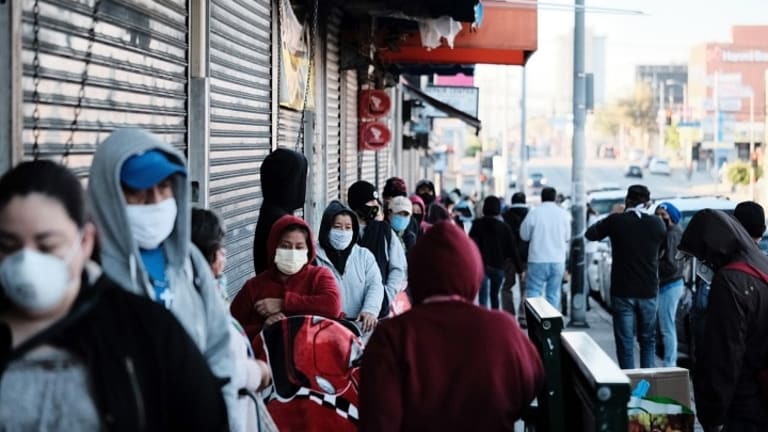 How the Pandemic Is Crushing the Poor
Brian Biery: With lines snaking through parking lots for blocks down streets in towns across the country, families are now wiling to wait in line for hours for food.
With the race to 're-open' the economy in full force and enormous pressure placed on elected officials and municipal government staffs to "not let the solution be worse than the problem", our society has forgotten a large portion of its members. These families will continue to suffer if political and economic decisions are not made with urgency over the next few months. Local governments should work diligently to protect the most vulnerable from even more devastating effects of the health and economic toll of the COVID-19 pandemic.
In most communities around the Southland nonprofits serve as a vital link to address disparities in health, economic, and educational outcomes for families. As such, they know well the conditions that these families endure in order to survive. In discussions with several area nonprofits these are the lesser-known truths about the severe damage that the pandemic and resulting shut-down have caused:
With lines snaking through parking lots for blocks down streets in towns across the country, families are now wiling to wait in line for hours for food.
Food Insecurity - Prior to COVID-19 there were nearly 40 million Americans who were food insecure or, in other words, weren't sure where the next meal was going to come from. Overnight, food banks and other food service providers like churches saw their lines double and even triple in size. With lines snaking through parking lots for blocks down streets in towns across the country, families are now wiling to wait in line for hours for food. While certainly generous in concept, Subaru recently announced that it will donate 50 million meals to 'Feeding America', but it doesn't come close to solving the problem. Nonprofit organizations that were surveyed state that families are so stressed by lack of food that they are rationing it between family members so that it lasts until the next food bank shipment arrives.
Rent/Evictions - While the County of Los Angeles and other municipalities have thoughtfully passed moratoriums on evictions, there are many households that still fear the threat of eviction; some due to unscrupulous property owners or those who don't yet know about these new local laws. Some cities that contract with advocacy agencies like the Housing Rights Center to protect renters from unlawful evictions. However, these organizations were already heavily burdened with protecting tenants, so since COVID-19 their work has become even more difficult. And once moratoriums are lifted, again with the intense push to 're-open' the economy, many families will not be able to pay what they owe. When living paycheck to paycheck it is hard enough to pay the rent each month, imagine if there were three or four more months piled up to be paid. Even with payment plans, adding a few hundred dollars to a monthly rent payment will be a crushing burden for many working class families, which could lead to even more evictions across the county.
Education Gap/Stress - As the result of extremely crowded conditions in many apartments and rental units around the city, families are experiencing a high degree of emotional/mental stress. In families with students there are enormous challenges to find enough space and quiet to study. With 'sheltering in place' there are few opportunities for family members to find privacy in over-crowded homes. In addition, there have been numerous cases of domestic and familial violence that have resulted from the strain of these living situations. In the move to on-line education many teachers report that some of their students have simply disappeared from sight. Even after phone calls and emails there are significant numbers of students who have just 'checked out'. When taking into consideration the conditions under which these young people live it is not surprising that they would stop coming to class. The reality is, however, that then many will fall behind academically and find it difficult to catch up.
Child Care - Now that child care centers are opening back up, one of the most vexing questions in the age of coronavirus is how to provide safe child care services. At what cost and who will pay for it? If class sizes are reduced does that mean that costs increase? And for subsidized child care how will that extra space be developed, especially in facilities that are already completely full? Before the pandemic there was already a huge demand for high quality, affordable child care. How will it be provided now around the county to ensure access to all families that need it? And how will those sites be supervised by city or county health officials so that they don't become potential transmitters of COVID-19?
Technology - The 'digital divide' is highly visible in many households around Los Angeles, particularly those with children. In this new era of on-line learning, socializing, shopping, traveling, etc. the fact that some families don't have a reliable internet connection has the same quality of life implications as not having electricity or water connected to your house. In addition, working class families don't have the needed technology to access the world of cyberspace. Broken computers often stay broken, headphones or lap tops are shared and then go missing, wifi connections are inconsistent, software is not updated, and technology is antiquated or incompatible with certain on-line platforms.
Immigration - With close to 1 million undocumented residents living in Los Angeles County, reports of ICE activities throughout the country has many worried that ICE agents will come knocking on their doors. As a result, these families are hesitant to shop, to work, to walk in their neighborhoods, to report crimes, to get tested for the virus and even to seek medical care. As with all unnecessary immigration enforcement activity, this threat of aggressive ICE interventions places public health and safety at risk.
In light of these daunting challenges for families what can city and county governments do to help them survive the pandemic without tragic suffering? Here are a few suggestions that will alleviate stress and provide relief for members of our community:
Provide reliable access to free wifi/internet to more parts of the city/county, especially in neighborhoods where there is high need and low levels of access.
Partner with school districts to ensure that all students have access to the technology they need to be successful in school. Reduce restrictions on software usage and internet access so that students have greater access to on-line resources.
Improve enforcement of the eviction moratoriums; ensure that all property owners in the city are informed about them and the significant consequences of violation. Prosecute those property owners who violate these moratoriums to the full extent of the law. Identify a reliable point person in each city's administration to receive and take action on reports of threats of evictions, increases in rent, or other discriminatory practices (outside of external nonprofit organizations).
Coordinate with local and regional food banks to increase supplies and distribution, thus ensuring that all families have access to food, even as demand continues to rise. Provide families in need with supermarket or gift cards to buy food, cleaning supplies, baby essentials, etc. Collaborate with area farmers and restaurants to make sure that no food is wasted.
Reduce the fear of immigration detention by requiring ICE representatives to register with City/County officials prior to starting operations. Reinforce the message that the municipalities do not support ICE operations nor do they coordinate with ICE on any initiatives.
Expand mental health and violence prevention/intervention services by forming collaborative partnerships with community based organizations (like Peace Over Violence, Pacific Clinics, etc.) with city and county health departments (PPHD, LBHD, DMH, etc.).
Provide access to free quality personal protective equipment - particularly face coverings and gloves. Open more public sanitation stations throughout each city in parks, commercial districts, etc.
Increase the number of quality and affordable child care options for working families. Identify and publish guidelines/protocols for a safe return to on-site service provision for after-school programs and child/day care centers. Provide oversight for those guidelines.
Expand free testing and treatment accessibility to all members of the community in addition to the current county testing and treatment sites.
Stay up-to-date - Invite the community based organizations to provide regular reports to Board of Supervisors, government committees, and city councils on trends in the community as the COVID-19 pandemic continues.
Obviously, this is an extremely difficult time for city and county governments to respond to the needs of the community. However, it is even more difficult for many of our community's residents. Many of them are the 'essential workers' that we say that we respect and appreciate. And yet we diminish the impact of our words if families continue to struggle with accessing enough food to eat, stable internet connections, threats of deportation, fear of eviction and inability to find safe and affordable child care.
These are the people who really keep the economy going, not the executives of Fortune 500 companies. They are the grocery clerks, truck drivers, delivery drivers, home health care aides, bus drivers, gas station attendants, etc. who make sure the rest of us are fed and taken care of. In recent months our country has diminished the value of all of these people as expendable rather than cherished. With the lack of a coherent federal response to the pandemic and its aftermath, cities and counties will have to take on the mantle of responsibility to protect and serve our most vulnerable. Let's hope they are up for the task!
Brian Biery
Did you find this article useful? Please consider supporting our work by donating or subscribing.