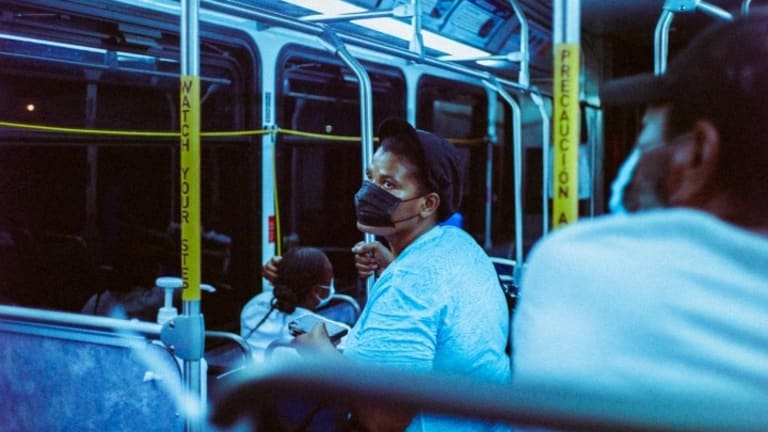 How People of Color Vanish in the CDC's Numbers
Mark Kreidler: For real progress to be made officials must "find ways to address the fact that people have been systematically disadvantaged over their life course."
The allegation that COVID-19 is ravaging people of color in the U.S. at disproportionately higher rates is no longer in dispute. To know how high and how damaging those rates are, though, officials need a more thorough demographic breakdown of the more than 1.95 million documented cases of the disease across the country.
They haven't been getting it, a source of public controversy during these crucial first months of the pandemic. But it's also a growing concern for health experts, because what information is available underscores an urgent truth: Long-established inequities in America's health care system have put poor people in the crosshairs of a medical disaster.
For real progress to be made officials must "find ways to address the fact that people have been systematically disadvantaged over their life course."
"We've been sounding the alarm for our entire careers," Elaine Hernandez, who researches health disparities at Indiana University through its sociology department, told Capital & Main. "Until we address health inequities squarely, we will continue to have significant outbreaks of COVID-19."
That's one reason, among others, that members of Congress blasted the Centers for Disease Control (CDC) for delivering a "lazy, incomplete, 2.5-page copy-and-paste job it calls a 'report,'" as Sen. Elizabeth Warren (D-Mass.) put it, in response to their requests for more detailed racial data of COVID-19 cases.
The CDC's running tally of COVID reports in the U.S., updated regularly, makes the stakes clear. Of the 1.5 million cases for which data have been collected, just 42 percent contain the racial breakdowns that experts say are needed to understand the patterns and characteristics of the virus.
Under a barrage of complaints, the Trump Administration finally relented late last week, saying that beginning Aug. 1 it will require that all lab results given to the CDC include a person's race, ethnicity, ZIP code, age and sex. CDC Director Robert Redfield fell on the sword during a House Appropriations subcommittee meeting, apologizing "for the inadequacy of our response." But in terms of gathering critical information, there's no way to make up for the six months that will have been lost.
"It slowed down our ability to mobilize to ensure that resources like tests and PPE [personal protective equipment] were distributed equitably," said Kiarri Kershaw, a social epidemiologist at Northwestern University. "We would have a better understanding of the racial and ethnic breakdowns of viral infections if the federal government had made this reporting a requirement from the beginning."
The CDC's original report, mandated under the Paycheck Protection Program and Health Enhancement Act, contained almost no useful new detail. Instead, it compiled a series of links to information already available to anyone with an Internet connection and a few minutes to spare. And lawmakers left little doubt that they believed top leadership had put no political will into improving the process.
"This wholly inadequate response tells us nothing except what we already knew: The Trump Administration would prefer to ignore the disproportionate impact this crisis is having on communities of color," Sen. Patty Murray (D-Wash.) said in a statement. "We are not done pushing for answers and action here – not by a long shot."
A fuller demographic accounting of infected Americans is critical on multiple levels. In addition to testing and deployment of PPE and other supplies, a more thorough understanding of the concentrations of cases in certain areas could be important once a vaccine is developed, helping officials to determine where medicine needs to be rushed.
Beyond that, Kershaw said, the detailed information could identify more clearly the places where "we aren't seeing this disproportionate burden. Understanding why some places are doing better at mitigating these health inequities than others would help us identify viable intervention strategies."
Small-picture samples of the disease's path are staggering as they pertain to people of color. Black South Carolinians comprise 27 percent of the state's population but have accounted for 42 percent of its reported COVID-19 cases. In Wisconsin, the city of Racine is about 45 percent African-American and Latino, but 85 percent of its confirmed cases are people of color, according to its mayor.
And the larger view, while incomplete, is little better. An analysis by National Public Radio found that blacks are dying from COVID-19 at rates twice as high as would be expected based upon their share of the population. In 42 states and Washington, D.C., Hispanics and Latinos comprise a greater share of confirmed cases than their populations would suggest.
For months, health officials and researchers have noted that infection rates were soaring in poorer, densely populated neighborhoods and communities across the country. These areas generally include low wage and service economy workers whose jobs are deemed essential, potentially exposing them to the virus on a daily basis.
Critically, they also suffer from inferior access to health care in general – not a new development by any means – and may live with medical conditions that make them more vulnerable to the worst of the disease.
For real progress to be made, Hernandez suggested, officials must "find ways to address the fact that people have been systematically disadvantaged over their life course." Added Kershaw, "This is a result of longstanding structural forms of discrimination that are embedded in many of our institutions and policies, including our health care system."
A rebooted effort at collecting data by the CDC won't fix that – but it's still a vital step toward knowing more about the coronavirus's effect on vulnerable Americans. Murray, the ranking Democrat on a Senate health committee, wrote to Secretary of Health and Human Services Alex Azar, demanding that he order the CDC to update and resubmit its report.
Said Murray: "The Trump Administration must stop ignoring the disproportionate impact this crisis is having on communities of color, people with disabilities, LGBTQIA+ communities and other underserved communities, and make some effort to expand the evidence base, as called for by the law."
Mark Kreidler
Capital & Main