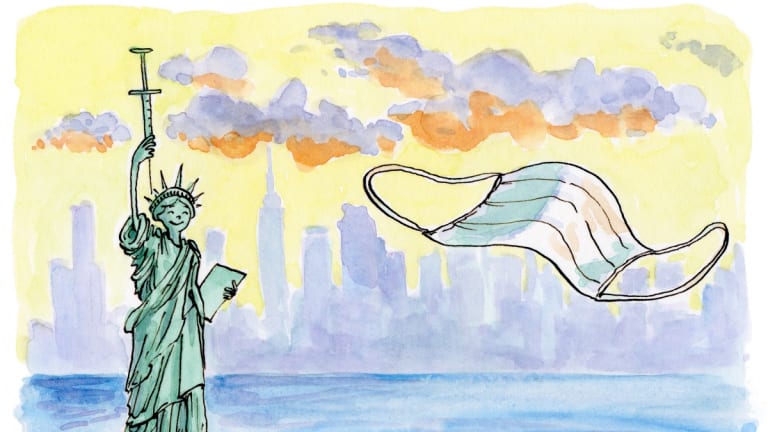 State Mask Mandate and the Rush to Reopen
Mark Kreidler: Changes won't likely be implemented for months. Unless Newsom changes his mind, Cal/OSHA's decision stands, confusion to follow closely.
California Struggles to Keep Workers Safe While the Door Swings Open
Reopening a place as large and unwieldy as California was never going to be uncomplicated, a point driven home last week by Gov. Gavin Newsom's acknowledgement that although the state will resume business as usual on June 15th, he won't be repealing his COVID-related state of emergency order.
"We're still in a state of emergency," Newsom explained. "This disease has not been extinguished. It's not vanished. It's not taking the summer months off."
Not surprisingly, the governor's comments backfired, leading to some pointed questions about where the state stands as it prepares to allow restaurants and other businesses to resume full capacity. But it was another, more specific announcement that caused the most upset and confusion — and this one won't be resolved anytime soon.
Changes won't likely be implemented for months. Unless Newsom changes his mind, Cal/OSHA's decision stands, confusion to follow closely behind.
After a fractious 9 ½-hour meeting in which it reversed its own position in back-to-back votes, the state's Division of Occupational Safety and Health Standards Board last Thursday approved new rules to mandate all employees to wear masks in the workplace, unless everyone around them has been fully vaccinated for COVID-19. Left unclear by the Cal/OSHA board was how businesses are to verify their employees' vaccination statuses, as well as what happens to businesses that fail to comply or simply don't get around to checking.
Since California doesn't have a vaccination passport system, it appears that most businesses will operate on the honor system when the rules take effect June 15th, the same day as the state's full reopening. Newsom appointed the seven-member board that made the rules, but he sounded disinclined to override the decisions of what he described as an independent body.
"This is the sausage-making process," Newsom said of the board's marathon meeting. "As you know, it was quite an intense conversation."
It's no small matter. The Cal/OSHA state mask mandate applies to virtually every workplace in the state, not just restaurants and retail stores. Further, a workplace is not considered fully inoculated against the coronavirus until all workers are at least two weeks past their second dose of the Pfizer or Moderna vaccine, or the single shot Johnson & Johnson vaccine. Only then, at 100% participation, could workers remove their masks.
During protracted public comments, many business owners and trade groups vehemently objected to the new policies. Some said they'll have to divide their workplaces into vaccinated and unvaccinated areas; others did not understand why the states mask mandate is so out of line with the latest guidance from the Centers for Disease Control and Prevention, which suggests that fully vaccinated people can safely stop wearing masks almost everywhere. (The CDC does not make workplace policy.)
"The problem with Cal/OSHA's decision is that they've failed to embrace the effectiveness of vaccines," University of California, San Francisco, infectious diseases expert Dr. Monica Gandhi told the news site SFGate. "California's continued interest in adhering to masks in the face of high vaccination rates, low case rates and the CDC guidance is unfathomable."
Katie Hansen, with the California Restaurant Association, told board members that under their proposed rules, "A fully vaccinated server could work a lunch shift at a restaurant, get off work, go home, change out of their uniform, and then go out to dinner with their family or friends at the same restaurant and not be required to wear a mask — even though they had to wear a mask earlier in the day while at work." 
According to data from the state Department of Public Health, 48.3% of Californians ages 18-49 are fully vaccinated, and the figure jumps to 63.8% for those ages 50-64. Those two demographic groups make up the vast majority of workers in the state. Officials announced last week, meanwhile, that 70% of the state's adults have received at least one dose of vaccine.
Keeping workers safe, though, is a complicated matter. Several workers' rights groups say they oppose any move toward unmasking either employees or the people they serve, and they believe the state is moving too quickly in that regard.
"There are a lot of questions, but one thing that is clear for us is we want to keep our workers safe, and masks are definitely a part of that," said Maria Hernandez, a spokeswoman for Unite Here Local 11, which represents 32,000 Southern California and Arizona workers in hotel, hospitality and food services, among others. (Disclosure: The union is a financial supporter of this website.)
In an interview, Hernandez noted that many of the union's workers interact with dozens or hundreds of strangers each day in the course of doing their jobs, and California's reopening is going to multiply that number in areas like hotels and restaurants. "Our workers are going to be on the front lines of this," she said. "Many of them also return to homes in which they may live with older relatives or larger extended families whom they might expose. We know the danger is still there."
The Cal/OSHA board initially voted against implementing the proposed rules, in part because of business owners' objections to a requirement that, beginning July 31st, they must provide respirators (such as N95 masks) for voluntary use by any worker who isn't vaccinated. Opponents noted the expense of stocking the respirators, and complained that they might not be able to build up a supply quickly enough.
But the board reversed itself after it was pointed out that, unless new rules were approved, the state would revert to the more stringent emergency standards and mandates — all masks, all the time, no exceptions — that were put in place last year. Board members then unanimously voted in favor of the updated rules, and appointed a subcommittee to examine possible modifications.
Any changes won't likely be implemented for months, observers say. So unless Newsom changes his mind about direct intervention, last week's Cal/OSHA decision is going to stand — and confusion may be the order of the day. "They say every worker has to be vaccinated, but how do you even prove that?" Hernandez asked. "There's still a lot more that we don't know than we do."
Mark Kreidler
Capital & Main