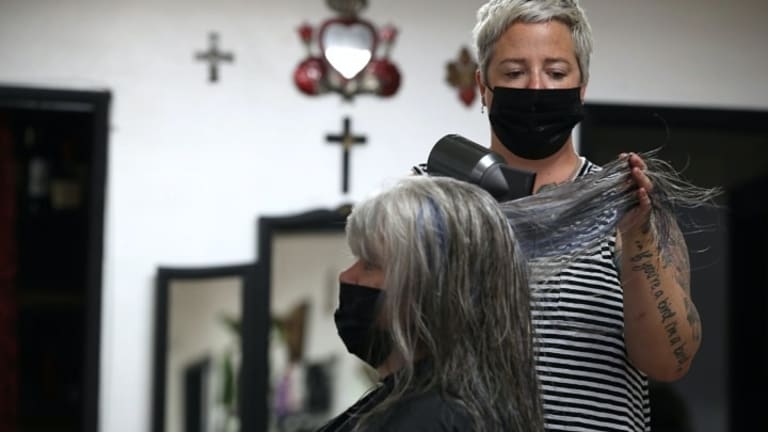 Cutting It Close: Hair Stylists Worry About Returning to Their Chairs
Bobbi Murray: Thousands of California stylists and barbers are anxiously wondering: What's the best way to reopen and start doing hair again – safely?
Thousands of California stylists and barbers are anxiously wondering: What's the best way to reopen and start doing hair again – safely?
As the coronavirus-mandated lockdown of most businesses finishes its third month, stay-at-home employees struggle to appear on Zoom meetings with well-groomed looks. Women feel obliged to cover roots that don't quite match, while guys grow beards to mark the passage of time. (Walmart reports that people are "panic-buying" hair dye and beard trimmers.) Don't even mention brows or nails – and forget the summer pedicure for now. Many of us simply ask, "When can I get a haircut?"
But the stakes are far higher for the thousands of California hair stylists and barbers anxiously waiting to see if or when there's a reopening possibility in the next few weeks. They are asking more urgent questions about how to pay bills during the shutdown, about unemployment benefits and Paycheck Protection Program loans. And above these hangs the question of the hour: What's the best way to reopen and start doing hair again – safely
"My clients mean a lot to me. They're more than just a paycheck for me."
And when? Counties have been applying to the state for variances on reopening plans for businesses if they meet metrics that demonstrate adequate hospital and testing capacity, along with enough personal protective equipment. Local health officials have authority to impose restrictions.
San Benito, Napa and Solano counties opened up with state blessings. Deeply red Sutter and Yuba counties had defiantly jumped their guns in early May by declaring all local shops open for barbering. The previous statewide stay-at-home order had triggered 400-mile trips from San Francisco and across state lines.
On Friday Governor Gavin Newsom announced that Los Angeles County, a virus epicenter with nearly half of California's confirmed COVID-19 cases, is cleared to join the 47 of California's 58 counties already authorized to begin snipping and coloring. He responded to a request for a variance from the Los Angeles County Board of Supervisors.
Some Bay Area and other Northern California counties are not poised to open up salons and barbering – Alameda, Contra Costa, San Mateo, Santa Clara, Santa Cruz and Marin counties have not yet moved into the second stage that would support the beginning of their reopening. San Francisco has a reopening plan that differs from the state's and so far delays haircut plans until July 13.
Stylists concerned about their physical and financial health have struggled to figure out a way forward, survive financially and reopen safely. Paul Bellantoni is an independent operator at Crop Salon in the Highland Park neighborhood of Los Angeles. Crop boasts a chill atmosphere and organic products.
He's a popular stylist with a reputation for knowing how to "cut with the curl" on wavy hair, while he streams Talking Heads and Tori Amos on his laptop. He also knows a thing or three about the hustle involved in the beauty industry—until recently he commuted monthly to a salon in Florida (where he began his styling career), has worked in the film industry and continually attends training to advance his skills. He calls himself a stickler on sanitation.
Bellantoni is prepared to open this coming week after Newsom's Friday announcement. Even prior to that he had been cleaning up the shop in anticipation of a go date. "I have done my prep. I have my guidelines. We set up the space to regulation." He and his colleagues have undergone COVID safety training. Clients will come in one at a time, wait outside until a text exchange says it's safe to come in.
You can worry about money until the day is done. But then that's an ethical decision that you have to make."
He emphasizes that hair salons have always had stringent standards enforced by Cal/OSHA and the state Board of Barbering and Cosmetology. The how-to's of salon disinfection have always been much discussed among hair professionals. But in these COVID-19 days there is much online talk about which cleaning products work best on which surfaces. (Vinyl salon chairs require different disinfecting tasks than the adjacent stainless steel tables with their clippers, trimmers and other implements, which are also disinfected.) Not to mention discussions about how to cut hair when you and the client are masked and you are gloved.
In March, Bellantoni says, "There was a foreshadowing, a slowdown" as the pandemic built. As the COVID numbers in California piled up, he stopped accepting appointments. "You can worry about money until the day is done. But then that's an ethical decision that you have to make." Like many independent contractors, his encounters with the state's unemployment system proved frustrating and he has yet to receive benefits.
Bellantoni encourages other stylists to reach out to professional networks that can help to navigate the crisis. He was able to access a loan, got advice from the different hair product lines he works with, and recommends that colleagues access the beauty industry website Beyond the Chair to stay up to date on COVID-related employment developments.
But he's as cautious now as he was when COVID-19 began to build and he started turning down work. "My clients mean a lot to me. They're more than just a paycheck for me."
San Diego, the state's second-most populous county, opened up salons this week following a go-ahead from local officials. "Hairstylists all want to get back to work," says Kimberly Creekmore, owner of Cultivate in suburban La Mesa, which she opened in 2006. In April Creekmore, who organized Salon Professionals of San Diego, a community network of more than 2,000 hair professionals, drafted and sent a detailed set of reopening guidelines on behalf of her organization to Sacramento and local public policy makers.
Her guidelines had the tone of a petition and opened with a statement of hair industry professionals' economic plight. "We have already been without income since March 18, 2020. Some have been without income longer. We fear that as this progresses, we will be hit harder than we ever imagined." She emphasized the fact that professionals must undergo hours of training and much certification to obtain and retain their licenses – sanitation schooling is required as part of that education and most salons already follow routine protocols – so they knew how to safely reopen.
Creekmore didn't hear back but hopes her guidelines were a "squeaky wheel that got attention."
Cultivate reopens June 2, and Creekmore is meanwhile busy lining up clients and preparing her salon. She will be following the spacing and sanitizing protocols she outlined in her guidelines, which reflect the current directives coming from the governor's office.
She is relieved her salon can reopen but anticipates a new financial hit in addition to the one experienced during months of no income. Costs haven't gone down – she has never stopped paying rent on her shuttered shop – and now she and other stylists in other salons will work with one client at a time rather than moving between two or three at once. "We have to limit the amount of people," she says, referring to one-at-a-time appointment model that will replace the practice of working on several at a time as stylists move from chair to chair.
They will also space appointments so there's time to thoroughly sanitize.
All that means a drop in volume.
"People are probably going to receive 50 percent of their previous income," she says. "It's like the restaurants limiting capacity." In other words: same costs, fewer customers.
Hair stylists – the vast majority of whom are women – don't live large even when not shut down by a pandemic. The average income nationally is $15 an hour. Salary.com pegs the median annual income for stylists in California at around $30,000 – but it can depend on the kind of salon, its location, the hair technician's certifications and other factors.
Some stylists get paid only commission plus tips while many rent their space in a salon and there's anxiety now about having to pay rent even when there have been no clients.
Creekmore worries if there will be another wave of infections in the fall – and if salons will shut down and their staffs shut out. Should that all happen, she asks, "Are we going to be destroyed?"
Eclipsing financial uncertainties, however, is the understanding that salons will be reopening while COVID-19 is very much still in full swing.
Like Bellantoni, health is tops in Creekmore's mind. "There's always going to be a reservation or fear of getting sick. I have that concern. My message is that we want to make sure that clients and our families and that people who work in our industry are safe."
Bobbi Murray
Capital & Main