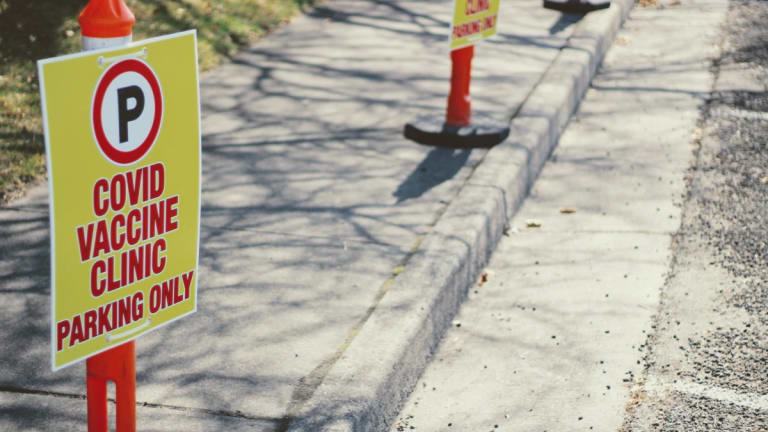 Virus Variants and the Race Against Vaccination Efforts
Mark Kreidler: In the end vaccines, and how quickly we can distribute them, remain the greatest hope for beating back the worst of the COVID-19 experience.
Despite declining case numbers overall, the grand notion of finally getting past COVID-19 and back to a sense of normalcy in California is suddenly on pause. The goal from health officials is ominously more prosaic than it was a month ago: hunker down to avoid the worst of the possible damage from a cluster of variants of the virus that have the capacity to spread rapidly.
"Right now, we are in a race between the variants and the vaccine," Dr. Sara Cody, Santa Clara County's chief health officer, told a news conference late last week. "If we cannot get more vaccine supply, and if we can't get continued adherence to behavioral change, we do anticipate that we'll have another surge."
It's a dire warning that portends a looming battle. In so many ways, though, this isn't a story of Californians vs. COVID. It's something much closer to Californians vs. Californians, as public policy and politically driven decisions clash with the latest medical information and suggested guidance.
Just as health experts nationwide are forecasting a spike in cases from newer variants of the virus and early reopenings, Gov. Gavin Newsom's administration has lowered the bar for individual counties to shed restrictions. At a time when vaccine distribution is essentially the ballgame, Newsom's forcible transition to a Blue Shield-directed network has provoked blowback and confusion.
And community clinics have been left mostly out of the loop, a critical mistake. Instead of reaching out to their low-income patients, harried clinic administrators are spending time trying to figure out how to use the state-mandated My Turn system for signing people up for appointments — a system with absolutely no local knowledge or outreach ability.
It is what comes next, though, that worries health experts most. Taken collectively, California's recent actions suggest an easing of the COVID nightmare — but the new variants of the virus are pushing hard in the other direction.
In the end vaccines, and how quickly we can distribute them, remain the greatest hope for beating back the worst of the COVID-19 experience.
Dr. Michael Osterholm, director of the Center for Infectious Disease Research and Policy at the University of Minnesota, started banging the drum on this topic nationally in early March, and he amplified his concerns during a series of media appearances last weekend.
Among other things, he told Fox News' Chris Wallace that Americans needed to accept that a new surge of the virus has already hit the country in the form of one variant in particular: the U.K. strain, or B.1.1.7.
"We are the only country in the world right now experiencing this increasing number of cases due to this variant and, at the same time, opening up, not closing down," Osterholm said. "The two basically are going to collide, and we are going to see substantially increased numbers of cases."
Is this the long-predicted "fourth wave" of the virus? Even the experts don't have consensuson that. Osterholm thinks so, saying on NBC's Meet the Press that the next two weeks will produce "the highest number of cases reported globally since the beginning of the pandemic."
But Dr. Scott Gottlieb, former commissioner of the Food and Drug Administration, suggested that between those Americans who've already had COVID and those who've been vaccinated, "You're not going to see a true fourth wave of infection. What we're seeing is pockets of infection around the country, particularly in younger people who haven't been vaccinated and also in school-age children."
Unfortunately, that last thought could be a bull's-eye on California's back. With many school districts only days away from resuming some form of in-person instruction, a variant of the virus that can infect younger people at high rates is genuinely bad news.
Michigan, which reopened many schools and jump-started youth sports several weeks ago, is seeing case rates rise among all age groups, to the highest such levels in the nation and similar to numbers that preceded that state's viral spike last fall. But the fastest growth in Michigan is occurring precisely among those school age kids, 10 to 19 — and that doesn't yet account for the return of spring breakers, vast numbers of whom traveled to Florida, the site of mass and maskless gatherings over the past several weeks.
In Massachusetts, which began five-day in-person learning for elementary school students on Monday, new cases among those 19 and under outpaced every other age group over the past two weeks.
Nationally, researchers have for weeks focused on the emergence of B.1.1.7, which, according to the National Institutes of Health, "is considerably more contagious than the original virus" and comes with "an increased risk of severe illness and death."
More recently, U.S. health officials have reported virulent strains originating from Brazil and South Africa as well, and last week a case involving a "double mutant" variant in the San Francisco Bay Area was confirmed by Stanford's Clinical Virology Laboratory. That strain has been associated with an explosion of cases in India, particularly in the populous southwestern region that includes Mumbai.
Small numbers of cases involving every variant of "concern," Sara Cody said, have been recorded in Santa Clara County alone — and that county has consistently stood among California's most aggressive in enacting health policies to keep transmission rates low. When the variants fully hit counties that are springing open with far less oversight, the potential for another surge is obvious.
In the end, vaccines remain the great hope for beating back the worst of the COVID-19 experience. According to the health news site Becker's Hospital Review, California currently ranks 36th among the 50 states and the District of Columbia in the percentage of its residents who are fully vaccinated, at 18.2%. The Centers for Disease Control and Prevention ranks the state 31st in that same group when it comes to the number of doses administered per 100,000 residents.
The vaccine rollout has been jagged, and the longer-term effects of Newsom handing the oversight reins to Blue Shield, a longtime political contributor, aren't yet clear. Right now, state and county officials are fixated on the most obvious problems:
They're still running way behind on vaccine supply;
They continue to face resistance from those who don't want the vaccine or haven't been convinced they need it (a group that includes some health care workers);
And another surge threat is already here.
"Vaccines are going to help, but we need more supply so we can get it out faster," Cody said. It's an open question whether the state has put the machinery together that can make that happen — and whether it has even made the case for the urgency that may be required to fend off a new spike.
Mark Kreidler
Capital & Main