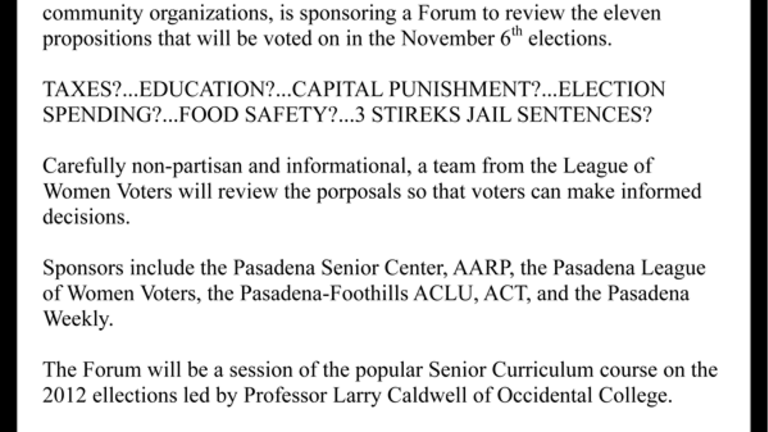 11 Propositions Forum in Pasadena - Tuesday, September 25th
Attend a discussion of the 11 initiatives on California's November ballot: Tuesday, September 25th, at 2 p.m.
11 California Initiatives
11 California Initiatives
Tuesday, September 25, 2012 at 2:00pm at the Pasadena Senior Center, a cooperating effort by a group of actively involved community organizations, is sponsoring a Forum to review the eleven propositions that will be voted on in the November 6th election.
Taxes, education , capital punishment, election spending, food safety, three strikes -- All of these issues and more will be decided through the California initiative process in the next election.
Carefully non-partisan and informational, a team from the League of Women Voters will review the proposals so that voters can make informed decisions. The propsitions that will be discussed are:
Sponsors include the Pasadena Senor Center, AARP, the Pasadena League of Women Voters, the Pasadena-Foothills ACLU, ACT, and the Pasadena Weekly.
The forum will be a session of the popular Senior Curriculum course on the 2012 election led by Professor Larry Caldwell of Occidental College.
The forum is free and open to all. The forum will be held at 85 E. Holly Street, Pasadena, CA 91103 from 2:00pm - 3:00 pm on Tuesday, September 23, 2012.