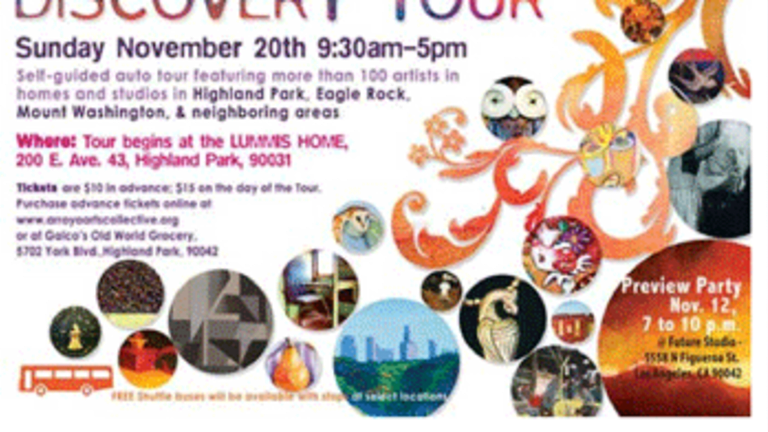 Arroyo Arts Collective Discovery Tour
It's the 19th Annual Tour of Artists' Studios & Homes. Opening Sat. Nov. 12, 2011 • 7 to 10 pm
Arroyo Arts Collective
DISCOVERY TOUR
PREVIEW PARTY
It's the 19th Annual Tour of Artists' Studios & Homes
Opening Sat. Nov. 12, 2011 • 7 to 10 pm
Open by appointment until Dec. 2 • Call 323-254-4565
It's nelaart.com's Second Saturday Gallery Night in North East Los Angeles!
Yes it's that time of year already again... the legendary DISCOVERY TOUR will happen on Sunday, Nov. 20 from 9:30 am to 5 pm. Prepare your tour day itinerary by seeing work samples of many participating artists on display at the PREVIEW SHOW & PARTY. Pick up pointers on how to navigate tour day (including lunch stop recommendations). At the Preview Party, you can purchase tickets (advance tickets are only $10; tour day it'll be $15) and meet many of the amazing artists, Collective board members, and enjoying another wonderful Art Night in Highland Park.
The gallery (and Chicken Boy Shop) will be open on tour day.
Advance tickets are also available at Galco's Old World Grocery and online here.