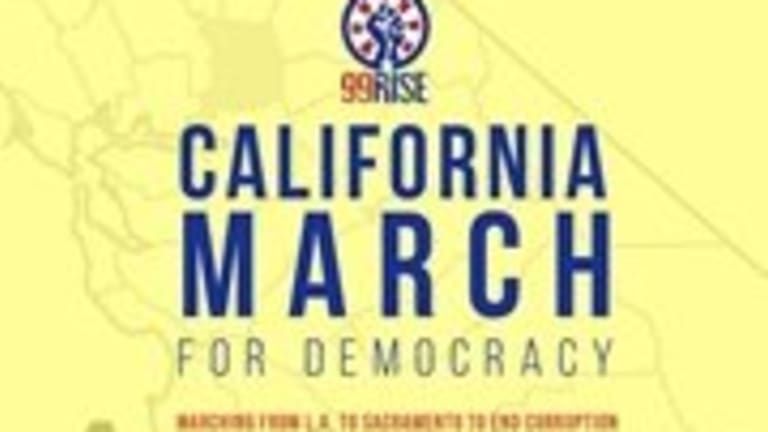 California March for Democracy
California March for Democracy: Join us at 10am on Saturday, May 17th at Los Angeles City Hall to launch the California March for Democracy
Join us to launch the California March for Democracy at Los Angeles City Hall. The time has come to stand up to end corruption and defend our democracy.
Sign the Petition: https://bit.ly/PzswHa
RSVP: https://bit.ly/1f9NTLR

480 Miles. 37 Days. 1 Mission.
Join 99Rise and our allies at 10am on Saturday, May 17th at Los Angeles City Hall to launch the California March for Democracy with a rally & ceremony. Let's come together to start off as strong as possible.
The rally will feature speeches from Marianne Williamson, Derek Cressman (candidate for CA Secretary of State), and Kai Newkirk of 99Rise. Political hard rock band Rooftop Revolutionaries will perform. Bridie Roberts of Clergy & Laity United for Economic Justice will lead a ceremony blessing those will march to Sacramento.
After the rally, we will march 11.5 miles to Burbank City Hall for a closing event at 5:30pm.
About the March
www.marchfordemocracy.org
The corruption of big money in politics is complete. Plutocracy is here. It's time to move the millions of Americans who believe in the rule of "one person, one vote" to stand up and say: enough.
On May 17th, 2014, we will gather in Los Angeles and begin a 480 mile march over the mountains and valleys of California to the state capitol in Sacramento. There we will deliver a simple demand to the leaders of our nation's biggest state: publicly acknowledge the crisis of corruption and take immediate action to end it.
As a first step, we will demand that California's lawmakers issue a formal call for an Article V Convention to propose a Constitutional Amendment to outlaw big money corruption. If they haven't yet met our demand when we arrive in Sacramento on Sunday, June 22nd, we will nonviolently occupy the capitol until they do.
The California March for Democracy is endorsed by the following organizations and leaders:
Lawrence Lessig & Rootstrikers
Dolores Huerta
Courage Campaign
WolfPAC
California Clean Money Campaign
The Dream Defenders
Code Pink
MOVI (Money Out Voters In)
The 28ers
Sunflower Alliance
East Point Peace Academy