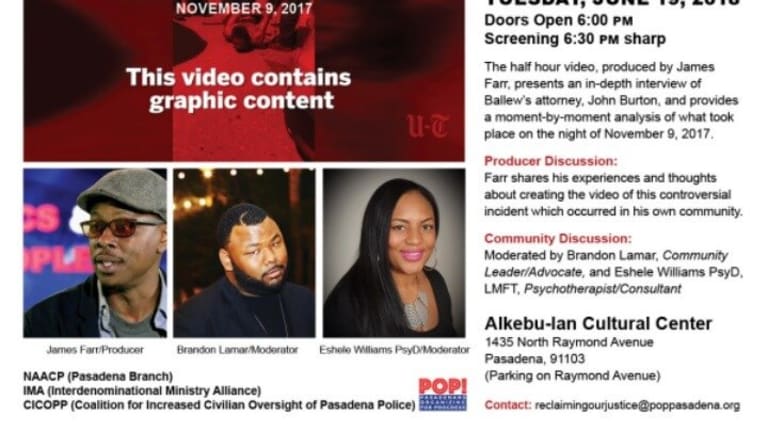 Chris Bellew Film and Discussion: June 19th
What: Screening of video -- James Farr interviewing attorney John Burton walking through the video of the Pasadena PD beating of Chris Ballew. Talk-back with Producer
When: Tuesday, June 19, 6-8:30
Who: Moderators Brandon Lamar & Eschele Williams, Producer James Farr
Where: Alkebu-Ian Cultural Center, 1435 North Raymand Avenue, Pasadena
Sponsors: NAACP, IMA, CICOPP, and POP!
Several thousand Pasadenans and Altadenans have already viewed the POP!-commissioned video produced by journalist James Farr. In it, Chris Ballew's attorney John Burton walks the viewer step-by-step through the Pasadena PD's Rodney King moment – a traffic-stop than the police escalated into a detention/baton-beating/near-shooting/arrest. Mr. Burton uses the video as a teaching tool to dispel the the officers' false explanations of the incident and to make the case that Mr. Ballew never resisted arrest but rather was the victim of unconstitutional stop-and-frisk, racial profiling, and excessive force.
Join us for a Tuesday, June 19, for a showing of the 30-minute video followed by an hour or so discussion of the video and the Ballew incident.
You can access the video by going to the POP! website https://poppasadena.org/ or clicking on the following link
https://www.facebook.com/TheConversation.Live/videos/2018604708465603/UzpfSTE0MDYxODM5MDYzNDE0ODU6MTgzNDczNTMwNjgxOTY3NA/