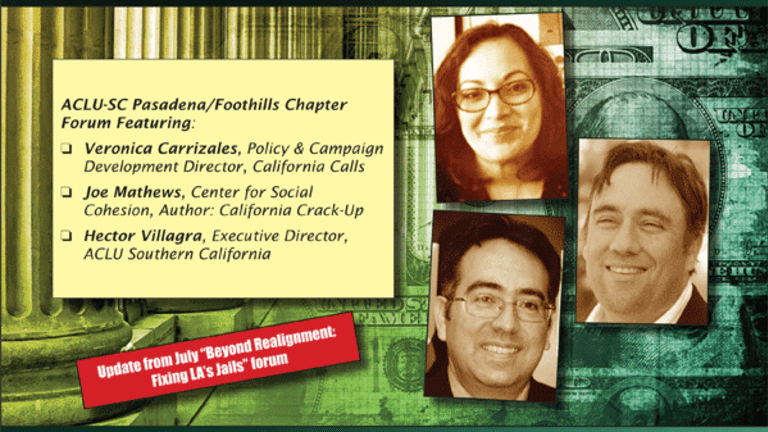 Let's Take Control of California's Budget -- September 10
ACLU-SoCal Pasadena/Foothills Chapter Forum Featuring Veronica Carrizales and Hector Villagra.
Corporate America has bounced back nicely from the Great Recession, while housing prices and foreclosure rates are both going in the right direction in many cities across America. But for average wage earners—and especially for low-wage workers—the story is much bleaker.
Citing a report by the Economic Policy Institute, former Labor Secretary Robert Reich notes that the "bottom 60 percent of working Americans are earning less now than thirteen years ago," even as large corporations employing low-wage workers are "raking in higher revenues than they did before the recession."
What: ACLU-SC Pasadena-Foothills Chapter Public Forum
When: Tuesday, September 10, 7 p.m.
Where: Neighborhood Church, 301 N. Orange Grove Blvd, Pasadena
The ACLU-SoCal Pasadena/Foothills' September Forum will look at the leading role the ACLU of Southern California and partnering organizations are doing to address these inequities.
"ACLU's revenue enhancement efforts are designed to make sure that California corporations pay their fair share of fees and taxes and to curtail the practice of shifting such corporate responsibilities to individual taxpayers," says Hector Villagra, panelist and ACLU-SoCal executive director. "Unless corporations resume paying their fair share, California's system of public school education and safety net public benefits programs will continue to be compromised."
California Calls—a "boots on the ground" organization—works to create good jobs across the Southern California/Mexico region.
"We look forward to ACLU-SoCal and its Chapters becoming very active partners in the coalition to motivate new and infrequent voters to engage legislators and others in developing rational, progressive political solutions to California's current and long term fiscal crisis," says, Veronica Carrizales, panelist and Policy and Campaign Development Director for California Calls.
The forum will examine legal and organizational efforts to ensure economic justice for California's low and moderate income households. "The failure to fund basic safety net programs impacts the ability of poor people exercise their First Amendment rights and to be free from racial and ethnic discrimination under our state and federal constitutions," says Michelle White, panel moderator and Chapter past president.
The event is free and open to the public. For more info, contact Sharon Kyle, Communications Chair, ACLU-SC Pasadena/Foothills Chapter, aclupasadena@yahoo or 213.434.4643.