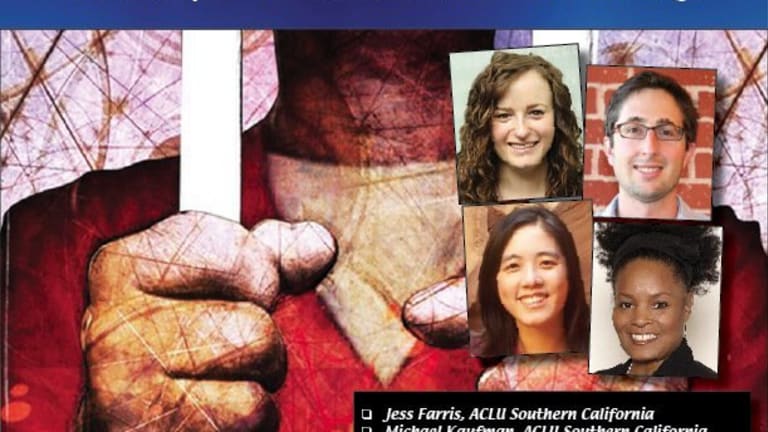 The Law & Your Money — Followup
Dick Price: With Sharon Kyle moderating, panelists Theresa Zhen, Jess Rae Farris, and Michael Kaufman discussed parallel ways our legal processes unfairly target the poor among us—and especially people of color. Targeting the Poor
Tuesday night, our ACLU SoCal Pasadena/Foothills Chapter hosted a lively, fact-filled forum called "Targeting the Poor: The Law and Your Money." With Sharon Kyle moderating, panelists Theresa Zhen, Jess Rae Farris, and Michael Kaufman discussed parallel ways our legal processes unfairly target the poor among us—and especially people of color. The panelists fielded dozens of questions, supplying pointers to lots of relevant articles and maps and upcoming pieces of legislation—so many so that we asked each panelist to provide a recap of their discussions so audience members can follow up and take action. We thought you might enjoy their information as well.
Theresa Zhen, A New Way of Life—Traffic citations and driver's license suspensions have increasingly been used as a state-sanctioned means of collecting court-ordered debt. The result is a disproportionate impact on low-income black and brown communities and families, particularly in South Central Los Angeles. This is evident in the side-by-side maps depicting driver's license suspension rates alongside maps depicting poverty rate and racial demographics (by zipcode). A report Stopped, Fined Arrested: Racial Bias in Policing and Traffic Courts in California found racial disparities in traffic stops and arrests of Black and Latino people in low-income racially segregated neighborhoods in California. This report follows Not Just a Ferguson Problem: How Traffic Courts Drive Inequality in California, which found that the California DMV suspended over 4.2 million driver's licenses for failure to pay traffic fines. SB881 (Hertzberg) is a bill that would end the practice of suspending driver's licenses for failure to pay traffic fines. Call your representative or senator today to express support!
Jess Rae Farris, ACLU of Southern California—For years, California law enforcement has taken advantage of a loophole in outdated federal asset forfeiture lawsthat lets them take—and permanently keep—a person's cash, car, or home without even arresting them. This was never meant to happen. Senate Bill 433, introduced by Sen. Holly Mitchell will help end policing for profit. The legislation will close the door on this predatory practice by preventing local law enforcement agencies from permanently keeping someone's cash or property if the person hasn't been convicted of a crime. We've heard far too many storiesof law enforcement agencies cashing in on poor people's life savings, their hard-earned wages, their wedding rings, and their homes with no accountability. Our communities deserve an end to predatory policing for profit. Please support SB 443 by urging your legislator to vote AYE with this simple form and by emailing Jess Farris (jfarris@aclusocal.org) if your organization would like to join as a supporter or if you'd like to volunteer to help pass the bill.
Links:
Michael Kaufman, ACLU of Southern California—The ACLU is working to challenge the federal government's unjust detention policies that lead to the unnecessary incarceration of asylum seekers and long time residents for months and years. In Rodriguez v. Robbins, we are litigating a class action to require the government to provide a bond hearing to any immigrant detained for six months or more to ensure that such lengthy detention is justified. As a result of court rulings we've won in the case, thousands of immigrants have been scheduled for bond hearings and ultimately been released. Learn more about the outcomes of the bond hearings, and some of our clients who have won release, in this report.
Recently, we filed Hernandez v. Lynch, a class action challenging the federal government's policy and practice of setting bonds for non-citizens in immigration proceedings, without consideration of their ability to pay the bond, that results in the detention of individuals merely because they are poor. You can read the complaint here.
Here is a survey and followup report we created related to the evening's topics "Civil Asset Forfeiture—Policing for Profit" and "Asset Forfeiture: "Tenny Mucho Mucho Deniro In Su Trucky-Trailer?"
Contact us if you'd like to get more involved with our activities: 626.427.7950. chap-pasadena@aclusocal.org, ACLU Pasadena/Foothills Chapter on Facebook.
Dick Price
Editor, LA Progressive