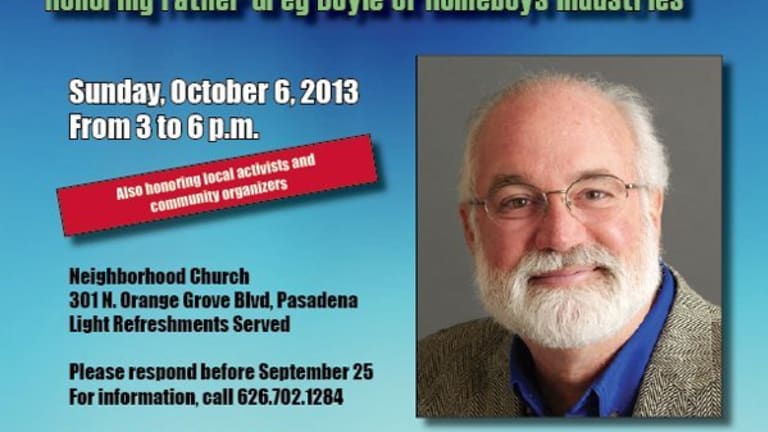 ACLU-SC Pasadena / Foothills Garden Party Honors Father Greg Boyle -- October 6th
ACLU-Southern California's Pasadena/Foothills Chapter will honor Homeboys/Homegirls Inc.'s Father Greg Boyle, Sunday, October 6th.
The founder and director of Homeboy Industries - the largest gang intervention rehab reintegration center in the country - Father Greg Boyle, will be honored by the ACLU-SC Pasadena Foothills Chapter at its 14th Annual Garden Party on Sunday, October 6, 2013 at 3:00 p.m. The event takes place at Neighborhood Unitarian Universalist Church located at 301 N. Orangegrove Blvd, Pasadena, CA.
Anyone can attend. Membership to the ACLU is not necessary. The chapter is asking for a $35.00 donation but no one will be turned away for lack of funds.
Father Boyle's inspirational story makes this event well worth attending. He has been a featured speaker on "Ted" and has been an advisor to presidents and gang members alike.
This is a not to be missed event.

The suggested donation for the event is $35.00 for all but students and low income persons, for whom the suggested donation is $10.00. Light refreshments will be available. RSVP and for more information call 626.792.0657. Please RSVP by September 24th.