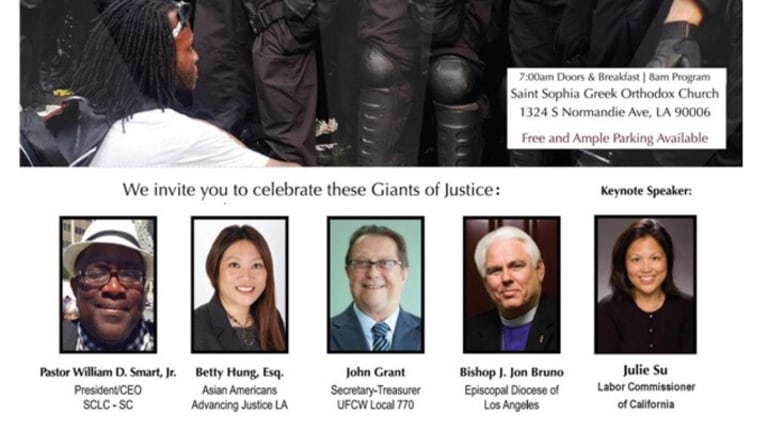 14th Annual Giants of Justice Breakfast -- May 25th
We invite you to join us in our Thursday, May 25th celebration of extraordinary Giants of Justice, people of conscience who have shaped this Movement of Morality and empowered phenomenal wins for working people and their families
Please support CLUE's crucial work in the community and join us at our 14th Annual Giants of Justice Breakfast: A Celebration of Sacred Resistance.

For over twenty-one years, CLUE has been faithful to its mission to bring religious voices-- with the power of thousands of years of moral authority—into the struggle for good jobs, dignity in the workplace, healthy communities, and racial and immigrant justice. We are proud of our unflinching commitment to doing justly, loving mercy, and walking humbly with God (Micah 6:8).

ALL religions believe in justice-- Jews, Catholics, Protestants, Muslims, Buddhists, Evangelicals, Hindus, Pagans, Sikhs, Unitarian Universalists, Baha'is... we KNOW because of our relationships with each and every one of these groups. It is our mission to ensure that this truth takes effect to combat both the hatred that punctuates our political processes and efforts to divide our multi-faith commitment to conscience, now more than ever.

And so, we invite you to join us in our Thursday, May 25th celebration of extraordinary Giants of Justice, people of conscience who have shaped this Movement of Morality and empowered phenomenal wins for working people and their families, in Los Angeles, in Orange County, and even in the State of California and beyond. We hope you will join us!

Act now: