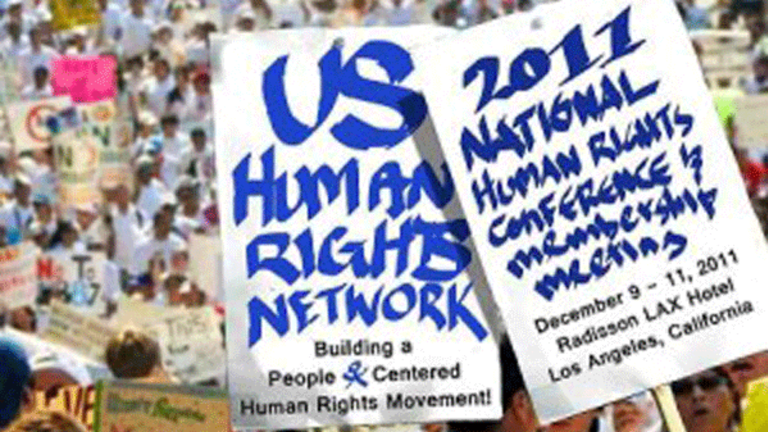 The US Human Rights Network Conference
US Human Rights Network Conference - International Human Rights Day is December 10th. The USHR Network is conducting a conference at the Radisson LAX this week
Did you know that the Guinness Book of Records describes the Universal Declaration of Human Rights as the most translated document in the world? The Universal Declaration of Human Rights is a declaration that was adopted by the United States and scores of other countries, including the United Kingdom, France, China, Afghanistan, Denmark, Liberia, New Zealand, Canada, Haiti and others shortly after World War II to declare the rights to which all human beings are inherently entitled.
The U.S. Human Rights Network believes the US government shouldn't be allowed to shield itself from accountability to human right norms. The network works to educate and inform by conducting a series of national, regional web-based and teleconference trainings and workshops on the fine points of the human rights framework.
This week, the US HR Network is conducting a conference at the LAX Radisson Hotel. The three-day conference begins on December 9 and concludes on December 11. Details can be found here.
I caught up with Kali Akuno, the Director of Education for the US Human Rights Network, who gave me some interesting tidbits about the organization and the upcoming conference.
Sharon: What is the mission of the U.S. Human Rights Network?
Kali: The US Human Rights Network was spawned after 50 leading activists from a variety of different disciplines and issue areas came together in 2002 to assess human rights work in the United States and identify ways to strengthen the human rights agenda.
They came together to foster dialogue and strategic thinking across issues as well as sectors of work. The issues represented were poverty, discrimination, immigration, incarceration, death penalty, and sovereignty.
After their summit, the participants decided that a human rights network would be the most useful way to enable a broad array of organizations and individuals to work collaboratively to strengthen human rights work in the United States. The US Human Rights Network was established the following spring.
Sharon: What kinds of issues will be addressed at the upcoming conference?
Kali: There will be several plenary sessions. Some of the issues covered will be defending the rights of indigenous of oppressed peoples; attaining economic and social rights in the United States; securing sexual and gender rights; fighting for racial justice and immigrant rights; fighting against torture and mass incarceration and more. On Friday night, Mumia Abu Jamal will deliver a message from death row. USHR Network is calling for Abu Jamal's release. We are also going to discuss the National Defense Authorization Act, a piece of legislation passed by the Senate this week and headed for the House – and a possible presidential veto – that could allow the US military to detain American citizens indefinitely.
Another area we'll be covering is the Universal Declaration of Human Rights. December 10th is International Human Rights Day. Isn't it ironic that as we honor this day around the world, here in the United States, we're waiting for Congress to vote on legislation that if passed could result in indefinite detention for U.S. citizens?
Sharon: By adopting the Universal Declaration of Human Rights, is the United States under any obligation to adhere to its provisions or articles?
Kali: Well,the US HR Network has used the Universal Declaration of Human Rights to successfully mount a couple of campaigns and we've had good outcomes. For example, before there was Occupation Wall Street, we had Occupation Glen Cove in Vallejo, California where the Yocha Dehe and Cortina tribes conducted a prayer vigil and occupation for 98 days before an agreement was reached with the Greater Vallejo Recreation District this past summer. The agreement set a legal precedent for granting Native people jurisdiction over their sacred sites and ancestral lands.
Sharon: Tell me more about the speakers who will be presenting at this conference.
Kali: There is a complete list on our website but here are a few:
Marcela Olivera is the Latin American coordinator for the Water for All campaign. She'll be talking about the water rights and the fight that was won by the people of Bolivia against privatization.
R. J. Thompson is a Domestic Human Rights Projet Director at Woodhull Sexual Freedom Alliance. He's also a human rights attorney and educator advocating sexual freedom as a fundamental human right.
Radhika Balakrishnan is the executive director of the center for Women's Global Leadership. She has a Ph.D. in Economics from Rutgers University and will discuss economic policy and human rights.
We really have a broad range of topics being covered by an excellent group of academics, attorneys, and activists.
Sharon: How can people find out more about this event?
Kali: The should go to www.ushrnetwork.org -- we want to encourage as many as possible to come out and learn how we can create the kind of society that operates as though all human beings are born free and equal in dignity and rights.
Sharon Kyle, Publisher LA Progressive