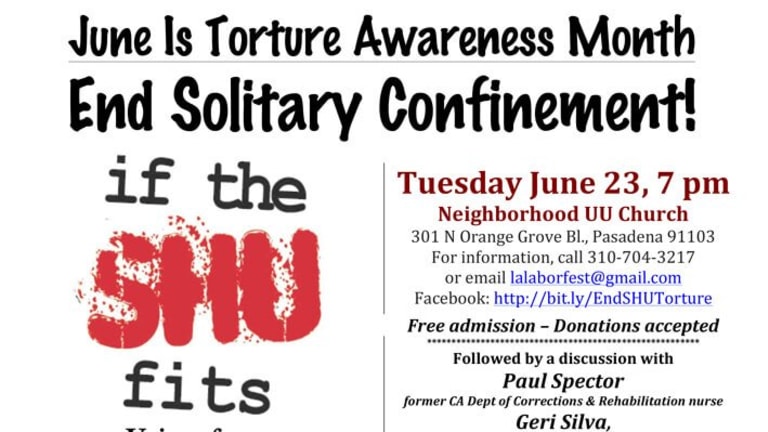 If the SHU Fits
The event is a part of the Statewide Coordinated Actions to End Solitary Confinement, a call by prisoners in solitary to their supporters outside to STOP THE TORTURE with events on the 23rd of each month, signifying the number of hours prisoners are kept in solitary.
June is recognized around the world as Torture Awareness Month. The Convention Against Torture and other Cruel, Inhuman and Degrading Treatment or Punishment (CAT) was adopted on June 26, 1987, and the day was declared the "International Day in Support of Victims of Torture."
At this event, we will present If the SHU Fits-Voices from Solitary Confinement, and follow with a session to:
* Share Stories
* Discuss Strategies to make meaningful change and
* Take Action!
If the SHU Fits is produced by Dramastage Qumran, LA Laborfest, & Public Works Improvisational Theatre, and supported by the Bill of Rights Defense Center (BORDC), National Religious Campaign Against Torture (NRCAT), and the Prisoner Hunger Strike Solidarity Coalition (PHSSC).
The event is a part of the Statewide Coordinated Actions to End Solitary Confinement, a call by prisoners in solitary to their supporters outside to STOP THE TORTURE with events on the 23rd of each month, signifying the number of hours prisoners are kept in solitary. For info: https://bit.ly/23rdMonthlyEndSolitary
Endorsing Organizations to date: ACLU of Southern California• ACLU-SoCal Pasadena/Foothills Chapter • American Friends Service Committee – LA • Anti-Racist Action -LA • Bill of Rights Defense Committee (BORDC) • California Families Against Solitary Confinement (CFASC) • Café Intifada • Children's Defense Fund of California • Californians United for a Responsible Budget (CURB) • Critical Resistance –LA • FACTS Education Fund • Fair Chance Project • Global Women's Strike & Women of Color/GWS • Interfaith Communities United for Justice and Peace (ICUJP) • LA No More Jails • LA Progressive • MLK Coalition of Greater LA • National Religious Campaign Against Torture (NRCAT) • Neighborhood Unitarian Universalist Church • Prisoner Hunger Strike Solidarity Coalition (PHSSC) • Progressive Christians Uniting (PCU) * Stop Police Violence • The WE Empowerment Center • Youth Justice Coalition