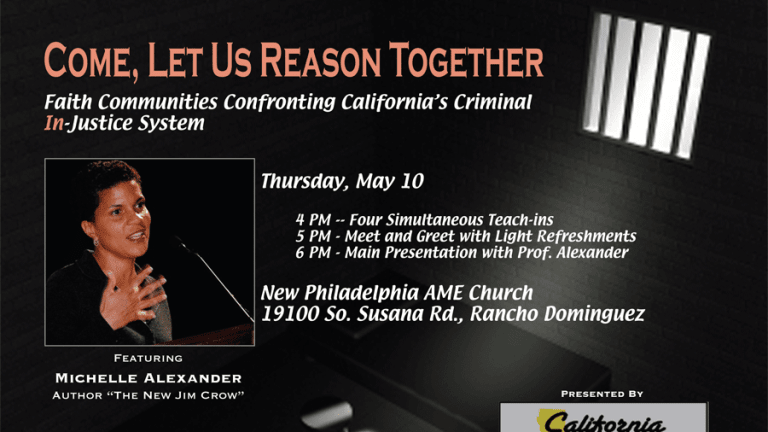 Confronting California's In-Justice System with Michelle Alexander
Come Let Us Reason Together: Faith Communities Confronting California's In-Justice System -- with Author Michelle Alexander -- Thursday, May 10 -- New Philadelphia AME Church, Rancho Dominguez, California
Michelle Alexander, author of the award winning book, The New Jim Crow, will be the featured guest at the Faith Communities Confronting California's Criminal In-Justice System Teach-In on May 10, 2012.
Alexander, a graduate of Stanford Law School and one-time attorney with the ACLU in Northern California, argues that mass incarceration in America functions as a system of racial control. Comparing the current system of incarceration to the ways in which Jim Crow once operated, Michelle Alexander lays out the many ways the two systems overlap. Her work draws attention to the racial disparity that exists in the criminal justice system noting that, "Race plays a major role-indeed, a defining role – in the current system, but not because of what is commonly understood as old-fashioned, hostile bigotry. This system of control depends far more on racial indifference (defined as a lack of compassion and caring about race and racial groups) than racial hostility – a feature it actually shares with its predecessors."
The New Jim Crow is Michelle Alexander's first book. It was the winner of:
Winner, Constitutional Commentary Award
Silver Medal Winner, Independent Publishers Association
Finalist, Silver Gavel Award
Finalist, Phi Beta Kappa
Emerson Award
Finalist, Letitia Woods Brown Book Award
Michelle Alexander is the winner of the 2011 NAACP Imgage Award. The New Jim Crow is now available in paperback.
The schedule for this event includes:
4:00 pm - Four Simultaneous Teach-Ins on Four Topics
School "Pushouts" and the School-to-Prison Pipeline
LA County Focus: Making Realignment Serve the People
Drug Laws and Drug Law Enforcement That Target People of Color
Urgent Statewide Campaigns (Death Penalty, 3 Strikes, Solitary Confinement)
6:00 pm - Meet and Greet Time where light refreshments will be served
6:00 pm - Main Presentation by Professor and author Michelle Alexander
This event is free and open to the public, but you must register to attend. You can register by clicking here. Please select 1 of the 4 Teach-in topics from the list at the bottom of this form that interests you most.
Sharon Kyle
Publisher