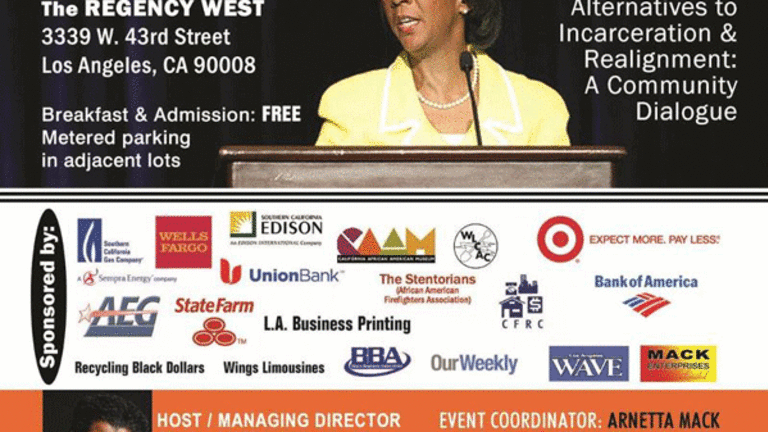 Urban Issues Forum Welcomes Jackie Lacey -- September 28th
Anthony Samad's Urban Issues Breakfast Forum welcomes Jackiet Lacey, Candidate for LA County District Attorney, Friday, Sept. 28, at The Regency West, Los Angeles.
Jackie Lacey Urban Issues Forum
The Chief Deputy District Attorney for the City of Los Angeles will be speaking at a forum on Friday, Sept 28, 2012. Ms. Lacey, who is running for Los Angeles District Attorney, has been endorsed by the Los Angeles Times, Daily News, California Attorney General Kamala Harris, current Los Angeles District Attorney Steve Cooley, Los Angeles County Sheriff Lee Baca, L.A. County Supervisor Mark Ridley-Thomas, the Los Angeles County Federation of Labor, The L.A. County Democratic Party, Service Employees International Union Local 721, Los Angeles County Police Chiefs' Association, as well as others. Jackie Lacey is a veteral of the L.A. County Attorney's Office. She has served for 26 years.
For the past ten years, Ms. Lacey served the District Attorney's Office as a member of its management team.
As a longstanding member of the District Attorney's executive management team, Jackie has reviewed almost every major case involving public corruption, police misconduct, organized crime, complex fraud and other crimes since 2004.
For 10 years, Jackie served on the District Attorney's special circumstance committee, which reviews the evidence in every death penalty-eligible case in the office and makes recommendations on the appropriate penalty in these cases.
Jackie assists the District Attorney in making high-level policy decisions affecting the pursuit of justice and management of the District Attorney's Office. She considers federal, state and local legislation to determine their impact on the operation of Los Angeles County's criminal justice system.