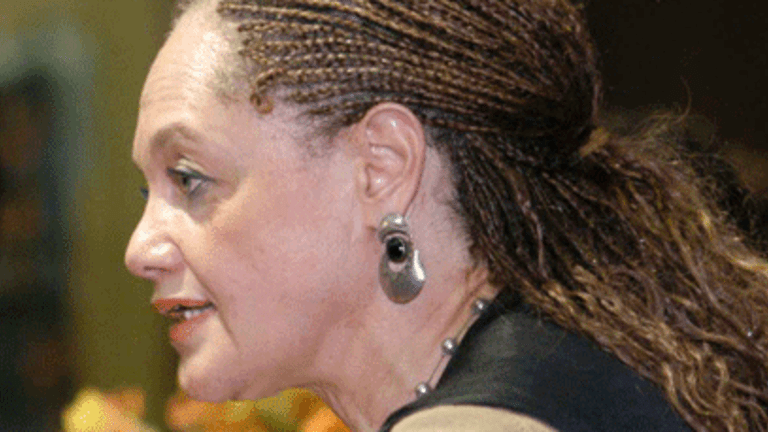 The Struggle Continues, with Kathleen Cleaver: April 21
Fundraiser for Elder Ronald Freeman, with Kathleen Cleaver, Emory Douglas, and Danny Glover.
Kathleen Cleaver was the first female member of the Black Panther Party's decision making body. Before joining the Panthers, Cleaver was in charge of organizing a student conference at Fisk University in Nashville, Tennessee. While at the conference, Kathleen whose name was Kathleen Neal at the time, met Eldridge Cleaver. Eldridge Cleaver was serving as the Minister of Communications for the Panthers. She moved to San Francisco in November, 1967, to join the Black Panther Party. Kathleen Neal and Eldridge Cleaver were married on December 27, 1967. Kathleen Cleaver became the communications secretary of the Black Panther Party. She also became the spokesperson and press secretary.
According to Wikipedia, Kathleen Cleaver "organized the national campaign to free the Party's minister of defense, Huey Newton, who was jailed. In 1968 (the same year her husband ran for president on the Peace and Freedom ticket) she ran for California's 18th state assembly district, also as a candidate of the Peace and Freedom party. Cleaver received 2,778 votes for 4.7% of the total vote, finishing third in a four candidate race. As a result of their involvement with the Black Panther Party, the Cleavers were often the target of police investigations. The Cleavers' apartment was raided in 1968 before a Panther rally by the San Francisco Tactical Squad on the suspicion of hiding guns and ammunition. Later that year, Eldridge Cleaver staged a deliberate ambush of Oakland police officers during which two police officers were injured. Cleaver was wounded and fellow Black Panther member Bobby Hutton was killed in a shootout following the initial exchange of gunfire. Charged with attempted murder, he jumped bail to flee to Cuba and later went to Algeria.
On April 21, 2013, Kathleen Cleaver will be the keynote speaker for a fundraiser promoted by The Black Panther Alumni Association. This funds raised for this event will be used to support Elder Ronald Freeman a former field marshall of the Panther Party who is now battling cancer. Freeman plans to seek medical treatment in Cuba.
The event will be held at the Mayme A. Clayton Library & Museum located at 4130 Overland Ave in Culver City. It begins at 2 p.m. with the screening of the film documentary "41st and Central," the story of the Los Angeles Black Panther Party. Food will be served at 5:00 p.m. and all are welcomed.