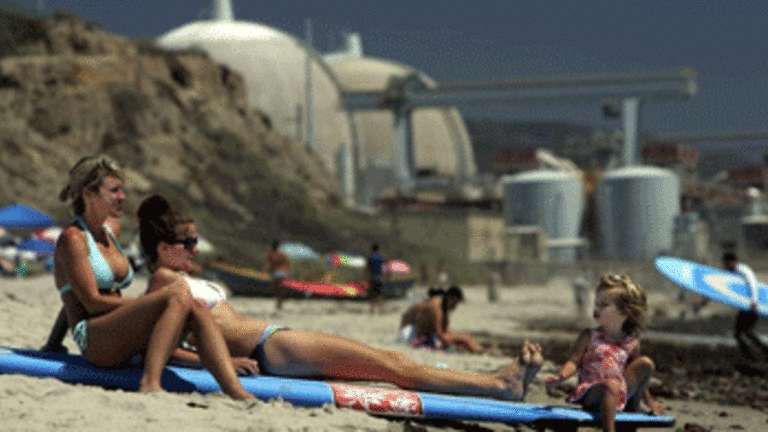 Keep San Onofre Closed
"We must win this battle for health, safety, economy, environment as well as rate and regulatory issues" Wasserman claimed, "Southern California Edison wants to impose a cost of $765M on its customer base for steam generators at San Onofre that don't work."
Long-time veteran of the fight against nuclear power plants, activist Harvey Wasserman, will be addressing a group at the Santa Monica home of Jerry Manpearl and Jan Goodman on Sunday, March 24th, at 2:00 pm.
In a telephone conversation with Harvey, the LA Progressive learned that the purpose of the event is to work with activists to implement an action plan geared to keep the two reactors at San Onofre shut. Explaining that it's easier to stop a plant from opening than it is to shut one down, Wasserman said, "I've been doing this for 40 years and we have an opportunity that is rare. My goal in coming to this event is to impress upon the activists that we have this opportunity and to get them to participate in the action plan. We have to make sure these two reactors remain shut."
The San Onofre nuclear power plant was shut down in January 2012 after it was discovered that there was a radiation leak that caused an unusual amount of damage to hundreds of tubes within the plant – tubes that carried radioactive water. This news came out on the heels of the worst nuclear disaster since Chernobyl, the Fukushima nuclear power plan disaster in Japan.
This week, the Fukushima plant made headlines again when, according to the BBC, the power at the plant was cut, causing the shutdown of cooling systems for four spent fuel ponds at reactors 1, 3 and 4. The BBC reported on Tuesday that, "The system cooling water which contained spent - but still highly radioactive - nuclear fuel rods failed and it took engineers some 30 hours to repair the damage." And the suspected cause of this failure is the apparent carcass of a rat found inside the switchboard of the plant. Referring to the recent black out at the Fukushima plant, Harvey said, "a rat almost brought humanity to the brink of apocalypse".
"We must win this battle for health, safety, economy, environment as well as rate and regulatory issues" Wasserman claimed, "Southern California Edison wants to impose a cost of $765M on its customer base for steam generators at San Onofre that don't work."
According to a report by the Huffington Post, the problems at San Onofre focus on its steam generators. As a part owner of the San Onofre plant, Southern California Edison has been trying since October to convince the Nuclear Regulatory Commission that it's safe to run Unit 2 at no more than 70 percent power.
Waasserman ended the conversation by pressing on the need for everyone to get involved. Calling the event a "potluck" where everyone should bring a pot, Wasserman said, "This is a FREE meeting. We just want people to come and get involved. We're not dictating what people should do. This is a time for people to decide what they do well and do it." (Note: Folks are asked to bring pot luck snacks and desserts. They are also encouraged to give a donation to help the cause)
WHEN: Sunday, March 24th at 2PM

WHERE: Jan and Jerry Manpearl

939 San Vicente Blvd

Santa Monica, CA. 90402

(310) 458-7213

Please RSVP via email: proctor@artnet.net