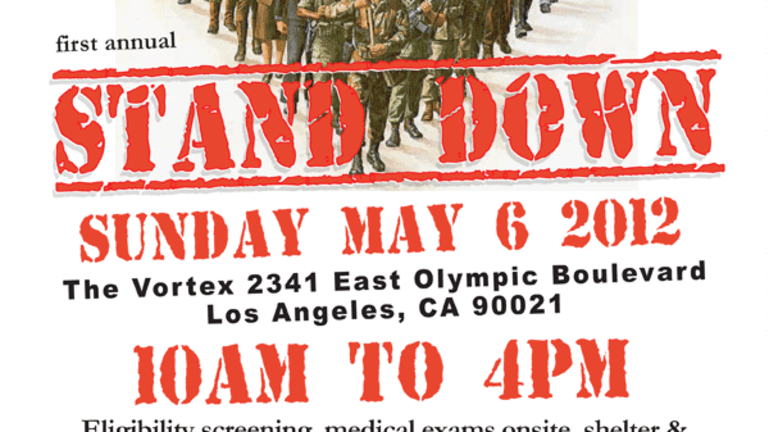 First Annual Downtown Los Angeles Stand Down -- May 6
First Annual Downtown LA Stand Down, Sunday, May 6, 10 a.m. to 4 p.m., 2341 East Olympic boulevard. Help homeless vets combat life on the street.
First Annual Downtown Los Angeles Stand DownSunday, May 6
The Veterans Project, Dramastage-Qumran and the Robey Theatre Company present the 1st Annual Downtown LA Stand Down (DLASD) for military veterans in need, on Sunday, May 6, 2012 from 10 AM to 4 PM at The Vortex located at 2341 East Olympic Boulevard, Los Angeles 90021 (just west of Santa Fe Avenue). Free street and lot parking is available. More info here.
"Stand Down" is a military term for a time of rest and recovery for exhausted combat units. Today Stand Down refers to the grassroots, community-based outreach program designed to help the nation's estimated 200,000 homeless veterans "combat" life on the streets. Currently there are over 100 Stand Downs held each year around the nation. It is estimated that there are 80,000 homeless on any given night in LA. At least 20% of that number has served their country with military service!
DLASD expects about one hundred men and women to attend this year's inaugural event. Services to be offered include:
haircuts
medical exams
mental health counseling
eligibility screening
shelter and housing referrals
substance abuse treatment
legal advice
career counseling
A continental breakfast and hot lunch will be provided. Clothing and hygiene kits will be given away. Several local artists have volunteered to provide photo and drawn portraits of the veterans. A third artist will lead a class in creating greeting cards from found and recycled materials.
In the years to come, we will work to attract additional dedicated service providers, volunteers, community-based organizations, and representatives from city, county, state and federal agencies to join together in a collaborative effort to see that our community's homeless and recovering veterans do not get left behind or forgotten.
Melvin Ishmael Johnson, one of the event coordinators, explains his involvement: "I'm a Marine (1969-71) and really proud of my service. After the service, my life was pretty much a wreck for a lot of years and I didn't know why. It took a while to find out about Post Traumatic Stress Disorder (PTSD) and even longer to fight through the effects. I discovered a voice as a writer. My work ("Surviving the Nickel") introduces the tough life that awaits many a veteran after his or her service is over. Focusing one time each year on men and women who find themselves today where I was 40 years ago is my way of saying, 'Here, take my hand'."
For all who served and for those that did not, the Stand Down is a way to extend that hand to less fortunate veterans who need our help.
Volunteers and cash or in-kind donations are still needed. No gift or amount of time is too small. Checks made payable to SEE/The Veterans Project can be mailed to The Veterans Project, 3520 Overland Avenue, Suite 110, LA, CA 90034. Donations can be made online.
Other DLASD special features include a Special Honor Guard –New Directions, Inc. and a special remembrance ceremony for any WIAs, KIAs, MIAs, and POWs that have made the ultimate sacrifice in the wars and conflicts of our nation.
For more information please visit The Veterans Project or call 310.842.8794.