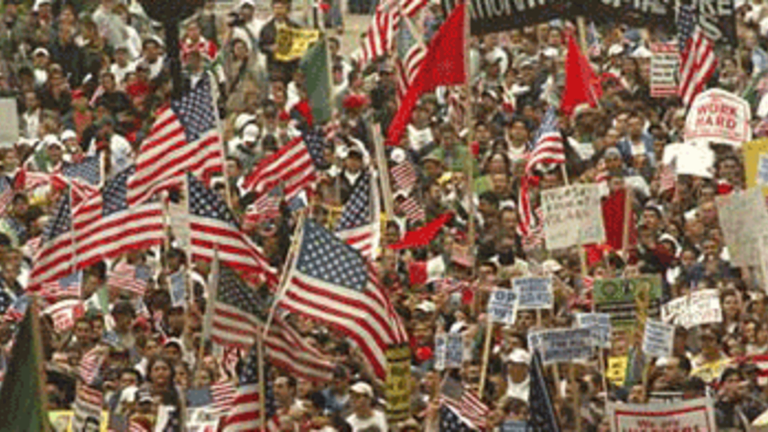 May Day Events In Los Angeles
May Day Events in and around Los Angeles
National Lawyers Guild/LA Executive Director Jim Lafferty wrote
on Fri, 4/27/12:
The protests this May 1st will be historic. This year traditional immigrant rights groups are joining with the L.A. County Federation of Labor and Occupy LA, in staging protests starting at nine different locations around the city, and then coming together for a massive rally down town. They are demanding justice for our immigrant sisters and brothers, and full economic justice for all workers. The day will take on the flavor of a "general strike."
So we will need many legal observers, as well as attorneys ready and willing to defend any protesters who are arrested. I URGE YOU TO MARK YOUR CALENDARS NOW TO BE SURE TO BE A PART OF THIS HISTORIC MAY DAY ACTION.
The following updated list was sent by another reliable source on
Sun, 4/29/12:
MAY 1 GENERAL STRIKE and other events:
6:00 AM SEIU-USWW strike action at LAX
7:00 Occ Pas rally at Lake Avenue overpass to the 210, followed by a
march to the Lake and Colorado bank cluster.
8:00 AM Occupy SFV/OLA "North Wind" march from 7915 Van Nuys Bl., Van
Nuys/Panorama City: Hermandad
Mexicana to Van Nuys Civic Ctr. 9:30 Town Hall at Rep.
Berman's office. 11:00 G.A. VN Civic Ctr
9:00 AM Rise Up LA youth march from Florence and Normandie to Central
Ave., joins South Wind (below)
9:30 AM Let Them Eat Cupcakes meets in Beverly Gardens Park on Santa
Monica and Rodeo
10:00 AM People's Power '4 Winds' Car/Bike Caravans and convergence:
South Wind from CSU Dominguez Hills, N. on Central Ave. to MLK, W. on
MLK to Figueroa, N. on Figueroa to Washington.
Park and march to Staples, convergence at 6th and Main
Rallies at Maxine Waters Employment Preparation Center,
11:00 AM Central & 108th
Ted Watkins Park, Century-103rd & Central 11:30
41st & Central: Honor survivors from Black Panther Party and
memory of Somayah and Geronimo 12-12:30
Take MLK to Figueroa & proceed north past Exposition Park,
USC to Washington/Figueroa
2:00 Park in vicinity of LA Trade Tech, march north on Fig
to Staples, east on 11th to Main/convergence
(SEIU LAX action and Rise Up LA youth march will converge
with this wind)
West Wind from Ocean & Wilshire Santa Monica, e. on Wilshire (joined
by Topanga Peace Alliance from Pine Circle)
Rallies at Veterans Administration Federal & Wilshire by
Vets for Peace start 10, join at 11:00,
Flash occupation "Let them Eat Cupcakes" Rodeo Drive &
Wilshire, BH, 11:00-noon, joins caravan
B of A protest by Queer Affinity Group, Occ Fights
Foreclosures Wilshire & LaBrea, starts 11:30, joins 12:30
1:30-2:00 pm Park near MacArthur Park and march on 6th St.
to downtown convergence at 6th & Main.
Feeders join this wind from LACC, Skylight Books (Los Feliz area).
East Wind starts 10:00am- Carl's Junior, 1231 Avenida Cesar
Chavez, Monterey Park, CA Steven Rodriguez memorial
10:50 March to Belvedere Park, leave on caravan at 11:30
Education as a Human Right Rally at Obregon Park- Michigan
Ave and Gifford St. at noon
1:00pm Health care as a Human Right Rally at Mariachi Plaza
1831 E. 1st St Boyle Heights. Take Gold Line.
2:00 meet up with OSFV, north wind at Plaza Olvera, march to
convergence at 6th & Main.
10:30 Occ Pas meets at Orange Grove Friends Mtg House, carpools to
the American Reclamation recycling facility.
11:00 AM noon, SEIU-USWW labor solidarity rally at LAX civil
disobedience planned (Tom Bradley, Century Bl)
11:00 AM, County Fed. Of Labor, Teamster action at American Recycling
4560 Doran Street, LA (near LA Zoo).
"No Somos Basura" OLA, OSFV, Occ Pasadena will send people here
11:30 Queer Affinity Group, Occupy Fights Foreclosures launch demo at
B of A, Wilshire & LaBrea
12 noon Central Convergence sets up at 6th & Main downtown, welcome
table and wellness tents, etc.
1:00 PM Official Start time for May 1 Coalition (Full Rights for
Immigrants, CHIRLA, MIWON, etc.) immigration
reform march from Olympic & Broadway
2:00 PM marches north to Broadway and 1st St., rallies, then
returns s. on Hill to Pershing Square, c. 4 PM
2:00 PM Central American contingent starts to gather in MacArthur
Park, marches 3:30 to Pershing Square
2:30 OccLA Four Winds Peoples Power caravans converge at 6th & Main;
financial district protest.
4:00 PM (or earlier) 99% Table begins rally in Pershing Square with
music, speakers.
4:00 Southern CA Immigration Coalition Immigrant Rights March,
Olympic & Broadway (OLA joins this)
March up Broadway to Bway and 1st St. OLA will head to
Pershing Square (6 PM, via Broadway, 5th St).
6:00 PM possible "Justice for Janitors" SEIU-USWW strike. If so, OLA
will help solidify picket lines.
7:30 PM Bilingual Spanish-English General Assembly @ Pershing Sq. to
discuss international solidarity, "Next Steps"
For info: www.occupymay1st.org, 323-250-MAY1, or occupymay1st@gmail.com