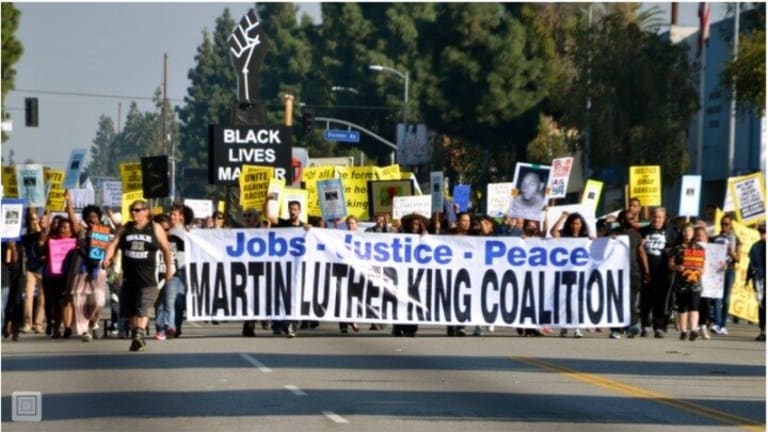 March for Humanity on MLK's Birthday!
Mark one full year of mass resistance to the Trump regime's efforts to roll back civil and human rights across the board in the interests of racism and corporate power!
Show your determination to resist police brutality, war, anti-Black, anti-Brown, anti-Muslim, anti-Indigenous and anti-Immigrant hatred, attacks on women, the LGBT communities, the poor, the homeless, the elderly, working people, youth and the environment! The MLK Coalition will march in unity with the New Poor People's Campaign in the 2018 Kingdom Day Parade! (More details to follow next week).
Mark one full year of mass resistance to the Trump regime's efforts to roll back civil and human rights across the board in the interests of racism and corporate power!
Join with the Martin Luther King Coalition of Greater Los Angeles, the New Poor People's Campaign and other civil and human rights advocates in expressing our on-going commitment to establishing and maintaining full social, economic and political justice for all!
The MLK -- PPC contingent plans to have two major focuses:
The signs we carry: All participating groups are encouraged to make signs related to their own primary issues, as well as the Four Pillars of the Poor People's Campaign: systemic racism, poverty, the war economy, and ecological devastation.
Street theater (especially at fast food places along the route, as well as on the sidewalks and in the Parade itself). A major focus of the street theater will be showing solidarity with the workers in the fast-food industry, who are fighting for decent pay and working conditions, and the right to have a union and collective bargaining.
On January 11, there will be a PPC-sponsored sign making party at the "Fight for 15" office at 1545 Wilshire Blvd from 6-10pm. All interested are invited.
The PPC street theater group will meet and rehearse at a local SEIU office. More specifics will be posted here soon. All interested are invited.
Help us to alert our communities, at large, to the coming of the New Poor People's Campaign and Moral Revival Movement this spring! More information about the plans for the Poor People's Campaign will be posted on this event page! -- MLK Coalition Coordinating Committee.
The MLK Coalition's Justice Agenda for 2018 includes the following:
1. Black Lives Matter!: End Excessive Use of Police Force in Our Communities. Prosecute Killer Cops.
2. End Mass Incarceration and Criminalization of Communities of Color: We Want Education, Not Mass Incarceration!
3. Healthcare Access for ALL: We Support Medicare, Medicaid, Single Payer Healthcare and Expanded Public Health Services -- Across the Board!!
4. Decent and Affordable Housing for ALL: Expand Rent Controls; End Gentrification, Displacement & Homelessness in Our Communities!
5. Defend the Civil and Human Rights Gains of Communities of Color, Women, and LGBTQ People. Defend the Sovereignty, Cultural and Treaty Rights of Native American Nations, including the rights of Free, Prior, and Informed Consent as articulated in the UN Declaration on the Rights of Indigenous Peoples. Massive and Immediate Aid and Reconstruction Assistance to the Island of Puerto Rico. Adopt a Just Immigration Policy -- End ICE Raids and Deportations of Immigrants! End travel bans and other exclusionary and discriminatory acts against people simply because they are Muslims.
6. New Jobs, New energy and A New Economy: Fight Global Warming and Climate Distortions, End Fossil Fuel Dependence, Support A Massive Public Investment in Energy Conversion and Jobs for a Green Economy!
7. Push Back Against Corporate Power: Tax the Corporations, Reverse the Republican Tax Grab. Overturn the "Citizens United" Court Decision -- Get Big Money OUT of Politics. Reverse the New FCC Ruling that Weakens Net Neutrality and Equality of Public Access on the Internet!
8. Raise the Minimum Wage in the Marketplace, Establish A National Minimum Family Income Policy: Defend Workers' Rights In the Workplace and in the Community -- Recognize the Value of Domestic Care, Child-Rearing, and Labor in the Home as well as Labor in the Marketplace.
9. Abolish war and militarism, in all its manifestations, both at home and abroad. As Dr. King himself repeatedly warned: "A nation that continues year after year to spend more money on military defense than on programs of social uplift is approaching spiritual doom... When machines and computers, profit motives and property rights are considered more important than people, the giant triplets of racism, materialism, and militarism are incapable of being conquered." End the long string of miliary interventions in other countries, the militarization of our domestic police forces and the current rhetoric about using nuclear weapons to solve international disputes with less powerful nations. Provide massive public funding for education, jobs, energy conversion and social programs, not the military-industrial-police complex!
10. Build the New Poor People's March and Moral Revival Campaign (coming in the Spring). We think that Dr. King summed it up very well when he launched the original Poor People's Campaign all the way back in 1968:
"And one day we must ask the question, "Why are there forty million poor people in America?" And when you begin to ask that question, you are raising questions about the economic system, about a broader distribution of wealth.The time has come for an all-out war against poverty. Ultimately a great nation is a compassionate nation. No individual or nation can be great if it does not have a concern for "the least of these". A true revolution of values will soon cause us to question the fairness and justice of many of our past and present policies. A true revolution of values will soon look uneasily on the glaring contrast of poverty and wealth. We must rapidly begin the shift from a 'thing-oriented' society to a 'person-oriented' society."
The MLK Justice Agenda provides the themes for the March for Humanity, but it also provides a guide for the work of the MLK Coalition throughout the coming year.
Please join and endorse the Martin Luther King Coalition's March For Humanity on Dr. King's Birthday!
If your organization would like to participate and/or endorse this event please post directly on this event page or send a private message to Kathleen Hernandez on Facebook, call 310.339.1770 or email: hernandezkathleen@hotmail.com.
Endorsing organizations thus far are:
MLK Coalition of Greater Los Angeles, The American Indian Movement (AIM) Southern California, Sacred Places Institute, Black Lives Matter, L.A., Los Angeles Community Action Network (LA CAN), Health Care For All - LA Chapter, Los Angeles Anti-Eviction Network, Veterans for Peace LA, Topanga Peace Alliance, Global Women's Strike, Code Pink, Military Families Speak Out CA (MFSO), Office of the Americas, Food and Water Watch, SoCal350, Los Angeles Anti-Eviction Campaign, Revolutionary Autonomous Communities Los Angeles, Common Peace, Center for the Advancement of Nonviolence, The Bernie Sanders Brigade, Occupy Fights Foreclosures. Anti-Racist Action LA, Progressive Democrats of The Santa Monica Mountains, OUT AGAINST WAR, Schools L.A. Students Deserve, Revolutionary Poets Brigade, Project Great Futures, HealthyCA, San Fernando Valley Peace Alliance, SFV Greens, Addicted to War, Radio Justice LA, LA LGBT GREENS, Peace and Freedom Party LA, The ANSWER Coalition, L.A., National Alliance of Social Workers Social Action/Social Justice Council, SOA Watch-LA, the Colectivo Guatemalteco, La Resistencia - LA, LA Progressive, CWA Local 9003