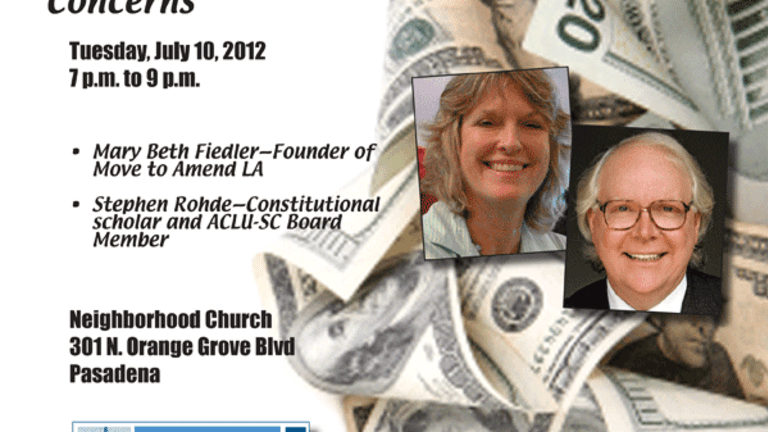 Forum: Getting Money Out of Politics - Tuesday, July 10th
ACLU-SC Pasadena/Foothiils Chapter forum on Getting Money Out of Politics, with Mary Beth Fiedler of Move to Amend LA and Stephen Rohde, ACLU Southern California board member -- Tuesday, July 10, 7 p.m., Pasadena
Getting Money Out of Politics
The Civil Liberties and Economic Justice Concerns
In the wake of the recent Citizens United v. FEC Supreme Court decision, corporate money is flooding into elections in unprecedented amounts, giving a few wealthy individuals inordinate influence over political processes at all levels.
Legal scholars argue that this creation of absolute corporate "speech" rights to spend money on elections is contrary to Constitutional principles and to the American vision of self-government by free people.
"That vision cannot coexist with elections dominated by hundreds of millions of dollars of corporate electioneering money," says Harvard law professor Jeffrey D. Clements.
Other scholars -- supported by a narrow Supreme Court majority -- contend that attempts to limit corporate campaign donations violate First Amendment free speech rights.
Locally, activists organized a successful effort to have the Los Angeles City Council approve a resolution calling for a constitutional amendment to abolish "corporate personhood," the legal footing for this flood of corporate campaign cash.
Hear how this debate will play out in this critical election year:
Mary Beth Fiedler, founder of Move to Amend LA, will discuss how citizens groups are organizing to fight corporate influence on our political process at local, state, and national levels.
Stephen Rohde, ACLU Southern California board member, will address issues around the Supreme Court's Citizens United decision from a legal perspective..
What: ACLU-SC Pasadena/Foothills Chapter Forum:
When: Tuesday, July 10th, 7 p.m.
Where: Neighborhood Church, 301 North Orange Grove Blvd., Pasadena
The event is free and open to the public.
For more info, see here, or contact Sharon Kyle or Chamara Russo, Communications Co-Chairs, ACLU-SC Pasadena/Foothills Chapter, aclupasadena@yahoo.com