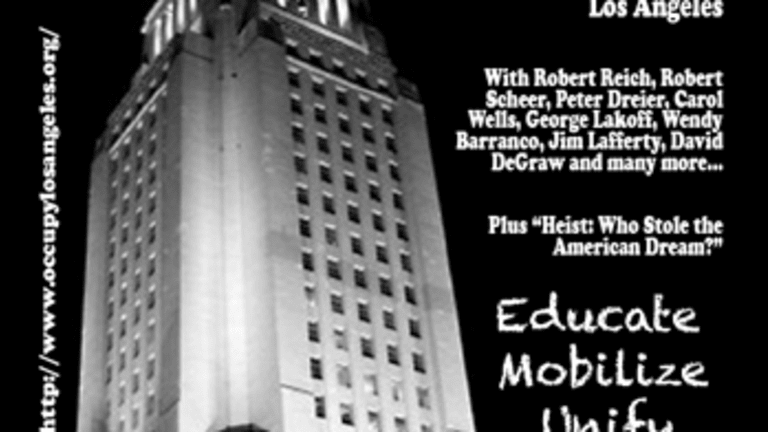 Occupy LA Teach In and More
Occupy LA Teach-In - Nov.5 & Nov.6 a weekend of actions, speakers, panel discussions and more created to educate, mobilize, unify and inspire the Occupiers
Occupy LA - Nov.5 & Nov.6 Teach-In and More! is a weekend of actions, speakers, panel discussions and more created to educate, mobilize, unify and inspire people in regard to issues surrounding this amazing moment in history and the global Occupy Movement.
The teach-in is designed to discuss the existing conditions and systems which have led to the housing collapse,"recession", the corporate control of our legislature, courts, media and regulatory agencies. It also continues the dialogue on organizing movements for social and economic justice and sustainable alternatives for people and the planet.
There will be further discussions on how the wealthiest individuals and corporations have dominated other aspects of life.
Saturday, November 5
10:30 a.m. - Bank Transfer Day/ Move Your Money March Through Financial District - Rally begins at California Plaza All the following events at City Hall South Lawn
2:30 p.m.- Introductory Remarks
2:45 - Robert Reich, Professor of Public Policy at UC Berkeley and former US Labor Secretary
3:15 - Robert Scheer, Executive Editor, Truthdig.org, author of The Great American Stick Up: How Reagan Republicans and Clinton Democrats Enriched Wall Street While Mugging Main Street
3:30 - 5:00 - Economics Panel:
William Black, professor of Economics and Law at the University of Missouri
Joel Rogers, professor of Law, Political Science, Public Affairs and Sociology at the University of Wisconsin and president of the Center for Wisconsin Strategies in Madison, Wisconsin
Michael Hudson - (via livestream) President of The Institute for the Study of Long-Term Economic Trends (ISLET), a Wall Street Financial Analyst, Distinguished Research Professor of Economics at the University of Missouri, Kansas City.
Robert Scheer - Moderator
5:00 - Carol Wells, Executive Director of Center for the Study of Political Graphics
5:15 - George Lakoff - (via livestream) - Professor of cognitive linguistics at UC Berkeley and author of Don't Think of an Elephant! Know Your Values and Frame the Debate
5:30 - Ellen Brown, Attorney and President of the Public Banking Institute - Author of Web of Debt
6:00 - Music - Performers TBA
8:00 pm - Sneak Preview of Heist: Who Stole the American Dream?- a documentary film which reveals how American corporations orchestrated the dismantling of middle-class prosperity through rampant deregulation, the outsourcing of jobs, and tax policies favoring businesses and the wealthy and gave rise to corporate power. The Director Donald Goldmacher will present the film.
Sunday, November 6
11:00 - Opening Speaker TBA11:30 - 1:00 - Organizing and Civil Disobedience Panel:
Madeline Janis - Executive Director of LAANE
Kent Wong - Director of the Center for Labor and Research at UCLA
Erick Huerte - Organizer at Dream Team Los Angeles
Peter Kuhns - ACCE, the Alliance of Californians for Community Empowerment
Jill Furillo - California Nurses Association, National Nurses United Union
Rose Gudiel - ACCE, the Alliance of Californians for Community Empowerment
Peter Dreier - Chair of the Urban and Environmental Policy Department at Occidental College - Moderator
1:00 - lunch
1:30 - Sustainable Living Panel
Frank Tamborello - Hunger Action LA
Autumn Rooney - Echo Park Time Bank
South Central Farms
Open Neighborhoods
Joan Stevens - Los Angeles Permaculture Guild and the NELA Permaculture Guild, Organizer of the West Coast Women's Permaculture Gatherings and the 2011 SoCal Permaculture convergence
Hop Hopkins - Los Angeles Conservation Corps, ISA Certified Arborist, Master Gardner, CERT, Certified in Permaculture - Moderator
3:00 - American Civil Liberties Union - speaker TBA3:15 - Iraq Veterans Against the War - speaker TBA3:30 - 5:00 - Corportacracy Panel
Axel Caballero - Brave New Foundation
Trent Lange - President and Executive Director, California Clean Money Campaign
Katherine McFate - President and CEO, OMB Watch
Mary Beth Fielder - Organizer Move to Amend
Derek Cressman - Common Cause, director of Campaign to Reverse Citizens United
Lauren Steiner - Local political activist, - Moderator
5:00 - Jim Lafferty of National Lawyers Guild
5:15 - David DeGraw - Organizer at Occupy Wall Street, publisher of ampedstatus.org
Additional speakers/updates to be announced. (There will be limited seats for the elderly and disabled. So feel free to bring your own seat.) The Occupy LA Education and People's University will also be holding workshops at various times of the day to discuss some of the topics addressed for those who are interested. https://goog_925843868/
To see the most up to date schedule, please visit www.occupylosangeles.org. Search the Facebook event page: Nov.5 & Nov.6 Occupy LA - Teach-In and More!