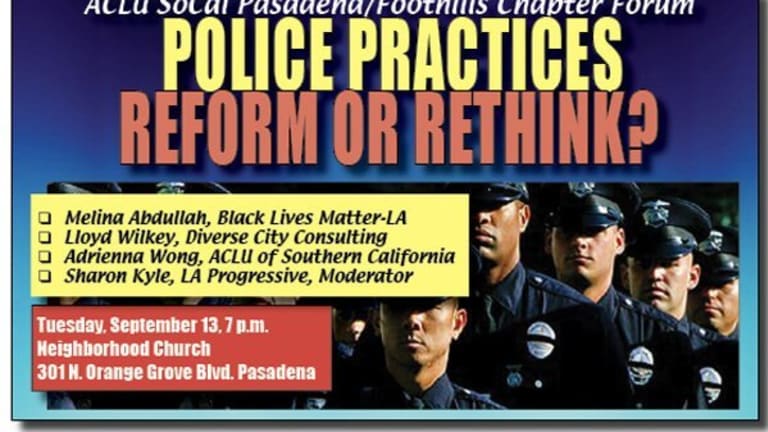 Police Practices Reform or Rethink ?
Police Practices Reform or Rethink
Given the endemic problem of police violence and surging public mistrust in law enforcement, how long can we tolerate the current glacial progress in reforming police practices?
Can we permit the dug-in opposition by police officer unions and their political supporters to dictate the way we keep ourselves safe—or not safe at all?
Or is it time to seriously address more radical approaches that would reset the role the police officer plays in our society?
This panel session brings together three experts with long experience in criminal justice reform to discuss the current state of police reform here in Los Angeles and across the country, and then suggest deep reforms that might actually make a difference.
Melina Abdullah is Professor and Chair of Pan-African Studies at California State University, Los Angeles and immediate past campus president and current Council for Affirmative Action Chair for the California Faculty. She serves on the leadership team for #BlackLivesMatter and is committed to ending state-sponsored and police violence towards all people, and especially Black people. @docmellymel
Lloyd C. Wilkey has over 20 years experience as a law enforcement trainer, facilitator, youth worker, mentor, coach, community activist, and human relations consultant. He has contributed to efforts aimed at reducing community violence, gang involvement, crime, gun violence, and drug abuse. @mindfulpolicing
Adrienna Wong is a staff attorney at the ACLU of Southern California, where she works on policing and economic issues. She has been involved in lawsuits against the Federal Bureau of Prisons, Immigration and Customs Enforcement (ICE), and private prison contractors. @ACLU_SoCal
Sharon Kyle, moderator, Professor of Law, People's College of Law, and Publisher, LA Progressive @LAProgressive
The event is free and open to the public. It will be held Tuesday, Sept 13, 2016 at 7:00pm in the small chapel at (see map below):
Neighborhood Unitarian Universalist Church
301 N. Orange Grove Blvd
Pasadena, CA 91103
Click here to RSVP
For more info, contact Joanna Amador, ACLU SoCal Pasadena/Foothills Chapter, 626.427.7950 or chap-pasadena@aclusocal.org.
Cosponsors: ACLU of Southern California • Clergy and Laity United for Economic Justice • Interfaith Movement for Human Integrity • Justice Not Jails • LA Progressive • Neighborhood Unitarian Universalist Church